Updated: 08/18/2015 - Sponsored by Leptigen
NutriSlim Review – Does This Carbohydrate Blocker Work?
Are NutriSlim's lack of product reviews and poor customer service deal breakers?
PUBLISHED: 07/28/2015 | BY: TORY GRAY, SENIOR REVIEWER
Editor
's Review:
2.6
/ 5.0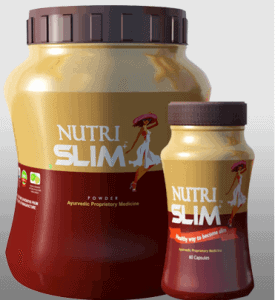 We hear lots of interest in NutriSlim carbohydrate blocker, so we looked deep into the clinical research, customer service, ingredients and potential side effects. We took all this information and condensed it so you have just what you need to make the best decision.
EDITOR'S TIP:
Combine NutriSlim with a proven fat burner such as
Leptigen
for better results.
What You Need to Know
To start, NutriSlim is a carbohydrate blocker containing glucomannan, ChromeMate, green tea extract and phaseolus vulgaris. The product is taken two times daily as three capsules. Directions claim the dieter can consume up to 12 NutriSlim each day for additional support.
You can purchase NutriSlim via the official website or by phone. We like the ease of ordering and availability of customer service, but read on…
Lack of Product Reviews – "Who Buys This?"
Our first issue with NutriSlim is the lack of product reviews. According to our Research Editor, "A company can claim all kinds of weight-loss benefits, but if the dieter can't learn from other dieters how the product really works, how can a company expect anyone to trust the supplement?" We tried forums, online retailers and the official website with no luck.
One dieter says, "Planning to give [this one] a try…any satisfied customers or reviews would be good."
You can scroll below for one of the best products we've seen in 2015.
Poor Customer Service – "Not What the Dieter Ordered!"
We gave the customer service department for HealthNet Nutritionals, the company that makes NutriSlim, a call. We waited for more than five minutes for a representative to pick up. Once connected with a live person we were immediately disconnected. We called back and waited another five minutes. When we finally reached someone she was rude and not helpful at all. When dieters do talk to the company they are not satisfied. "Their customer service reps do not know their business and misinform you," a customer reports.
According to the research we've done, if there is a specific issue with a supplement, like poor customer service, the chance of achieving long-term success is not very good. If NutriSlim isn't backed up with good quality support, there is a problem.
The Science
The NutriSlim website guarantees, "safe, natural, herbal weight-loss." This implies clinical support, but there's not a single study on this carbohydrate blocker. There is some research for a couple of the ingredients, but two beneficial ingredients do not mean the formula is worth a try. At DietSpotlight, we look for science to support a product. If it's just not there, we become concerned.
The Bottom Line
We were intrigued by NutriSlim, but we can't tell dieters to try out a product with no reviews and poor customer service. We're also concerned about the lack of clinical support for the formula.
If you want to shed those extra pounds, we think you should try out a supplement that offers a great price and strong customer support. It also helps if the ingredients are clinically proven by research.
One of the best products we've found in 2015 is Leptigen. The formula is a proprietary blend of ingredients that help boost metabolism and support fat loss. The ingredients have been clinically tested. Reviews are positive and we can't find mention of a single side effect.
The company behind Leptigen is confident you'll love the product so they're offering a special trial offer – a positive sign.
(Feel free to scroll below for our previously published full-length reviews of NutriSlim)
Previous NutriSlim Review (Updated March 18, 2014):
What You Should Know
Click Here To See Our Highest Rated Review
NutriSlim is marketed as a carbohydrate blocker. The website proclaims that the new formula will help dieters lose more weight without the use of stimulants. They further state that NutriSlim will help to boost metabolism while suppressing appetite due to the addition of fiber in the formula. The formula also contains ChromeMate which is a form of chromium. Chromium has long been touted in the diet supplement community as a trace mineral that levels out blood sugar to aid in weight loss.
NutriSlim is purported to promote lean muscle building while increasing the amount of fat lost as compared to diet and exercise alone. The addition of green tea extract is said to give dieters extra energy without the side effects of harmful stimulants. The ingredient L-Carnitine is an amino acid that is said to burn fat for energy as well as benefit heart function.
NutriSlim contains Phase 2 which is a proprietary starch neutralizer which is the primary carbohydrate blocker. This blocker is supposed to keep carbohydrates from turning to sugar and being stored as fat. The main claim by this company is that you can eat starches such as bread and pasta without guilt since the pills will block the carbohydrates and thus allow dieters to lose weight without giving up foods.
List of Ingredients
Chromium (as chromium polynicotinate)(Chromemate®) , Glucomannan,   Phaseolus Vulgaris (Phase 2® Brand Bean Extract) , Green Tea Extract (50% polyphenols, 35% catechins, 15% EGCG, 5% caffeine), B. Bifidum , L. Acidophilus, L-Carnitine, Other ingredients: Kosher gelatin (capsule), silica and magnesium stearate. Free of Gluten, corn, soy, yeast, wheat, lactose, fish, eggs, colorings, or preservatives.
Product Features
NutriSlim is a pill that targets carbohydrates in the foods eaten. Dieters must take 3 pills 30 minutes before the two largest meals of the day. The pills will then block some of the carbohydrates in the food and keep it from turning into fat.
Advantages
This product contains no: Gluten, soy, wheat, yeast, lactose, corn, eggs, fish or colorings and preservatives.
The company website contains customer testimonials.
This product fits into a low-carbohydrate lifestyle.
Disadvantages
The product does not help to change eating habits as the dieter depends upon the pill to block the "fattening" foods.
The product cannot be used by pregnant or lactating women.
The dieter must take 3 pills 30 minutes before each meal which could be easy to forget.
Conclusion
While this product could be of assistance to a dieter who is already following a lower calorie, lower carbohydrate diet, it should not be considered a magic pill. The dieter will still need to follow a sensible eating plan as directed by the company that manufactures NutriSlim. Since the pills block some and not all of the carbohydrates, it is illogical to think that one could eat as much carbohydrates as they wanted and still lose weight.
GD Star Rating
loading...