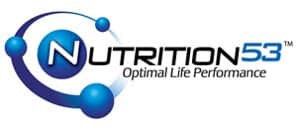 The results of my research were somewhat surprising. We decided to take a closer look at Nutrition53 side effects, ingredients, clinical studies and customer service quality. Additionally, we examined hundreds of dieter responses and comments. Then, we condensed and summarized to give you the info you need.
What is Nutrition53?
Firstly, Nutrition53 ingredients include hey protein isolate, L-leucine, micellar casein, L-glutamine, milk protein isolate, pea protein isolate, green coffee bean extract and various vitamins and minerals, among others. The company promotes weight-loss by offering solutions, including, Burn1 Fat Burning Formula, Sleep1 The Ultimate Sleep Formula, Neuro1 Brain Performance Drink, Lean1 Pro Fat Burning Protein Shake and Gainer1 Muscle Building Protein Shake.
Nutrition53 was founded by Bill Romanowski in 2007. The supplements are sold on the official website and through trusted retailers. We like that we found some positive customer comments, but read on…
Steep Price – "Ouch!"
The first concern about Nutrition53 was the high price. "Individual supplements tend to be cost-effective," said our Research Editor. "Unfortunately, the company recommends staking products together, which leads to a higher price tag."
One dieter said, "The only thing that go lean was my wallet."
"The shakes contain 15 servings and cost $45. I'll have to pay $300.00 just to lose a few pounds," said another user.
On the other hand, some dieters didn't talk about the cost of the supplements. "Signed up for the VIP program to save a few bucks," stated a customer.
Scroll below for one of the best products we've seen over the last year.
Unpleasant Taste – "Not Good"
There are numerous customer complaints about the poor taste of Nutrition53 ingredients. One user commented, "It did not taste good at all and smelled horrible."
Another stated, "The taste of this product was awful and it had an after taste."
We found some customers that had a different take on the taste of Nutrition53 products. "I like the vanilla. It tastes like a milkshake," commented a customer.
"Mixed the chocolate with almond milk, ice and blended. It hit the spot," said another.
Our research has shown if there is a certain aspect of a diet supplements that's concerning, such as offering products that aren't flavorful, the likelihood of long-term success is minimal. You may have difficulty reaching your goals if you can't get past the poor taste of Nutrition53 shakes.
The Science – "Backing?"
We did find some information presented on the Nutrition53 website about the benefits of the supplements. What was missing was research connecting ingredients to weight-loss. This is concerning, considering we found solid science backing ones like caffeine and green tea. At DietSpotlight, we prefer to see documented scientific studies used to support claims. If there's none, we simply cannot get behind the company.
The Bottom Line – Does Nutrition53 Work?
So, are we ready to buy up all of this one? We are excited to see that Nutrition53 provides a good selection of supplements to address different needs. On the other hand, there are quite a few customer complaints about the taste of these protein shakes and that's more than enough reason to have doubts about recommending the line. Also, the cost of Nutrition53 products is certainly not very affordable. These are factors that cannot be overlooked.
If you need to get rid of serious body fat, then we encourage you to go with a supplement that uses clinically proven ingredients, does not break the bank account and is supported by positive customer feedback.
Among the best products we've seen in 2016 is one called Leptigen. This diet supplement contains a unique blend of four effective ingredients, which have been tested in clinical research to encourage fat loss and increase metabolism. Furthermore, we cannot locate any complaints of side effects and user comments posted on the web reveal people are seeing substantial results.
Plus, we think it's a good sign that the makers of Leptigen are so confident they're offering a Special Trial Offer.