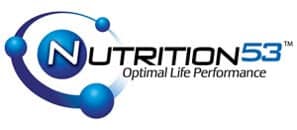 We've heard plenty of chatter concerning Nutrition 53 supplements, so we spent some time researching and writing a detailed review that focuses closely on the ingredients, side effects, scientific research and quality of customer-care. We additionally examined dozens of user reviews and dieter responses from around the internet. Finally, we compressed all the data we found to give you the bottom line.
EDITOR'S TIP:
Combine Nutrition 53 with a proven fat burner such as
Leptigen
for better results.
What You Need To Know
Nutrition 53 is a supplement company that offers products for weight management, daily performance, muscle building and fat loss. Here are some of the products available in this lineup; Burn1 Fat Burning Formula, Sleep1 The Ultimate Sleep Formula, Neuro1 Brain Performance Drink, Lean1 Pro Fat Burning Protein Shake and Gainer1 Muscle Building Protein Shake. All of these supplements can be purchased directly through the official website. Nutrition 53 protein shakes contain ingredients such as; Whey Protein Isolate, L-Leucine, Micellar Casein, L-Glutamine, Milk Protein Isolate, Pea Protein Isolate, Green Coffee Bean Extract and various Vitamins and Minerals. These shakes can serve as meal replacements to aid with weight loss.
Nutrition 53 was founded by Bill Romanowski, a four-time Super Bowl champ. This company has been around since at least 2008 and offers a pretty good selection of supplements. Also, the website does offer some free samples, but read on…
Steep Price – Ouch!
According to our Research Editor, "The actual cost of Nutrition 53 Lean1 Fat Burning Meal Replacement powder is $29.97, which is only 15 servings. If used twice a day, a container will only last about one week. Therefore you will have to spend nearly $120 a month on this protein supplement. This is not very affordable."
One customer said, "My wallet got lean!"
"One container gives a serving ranged from 10-15 shakes only. That is insane for the price they are asking. It was recommended to complete a three month plan for best results. However, for the cost of $45 each plus tax, this would be roughly $300.00 just to lose a few pounds," said another user.
Scroll below for one of the best products we've seen in 2015.
Unpleasant Taste – Not Good
There are numerous customer complaints about the taste of Nutrition 53 Lean1 powder. One user commented, "It did not taste good at all, it was horrible. Plus it not only tasted horrible, but it smelled horrible."
Another person stated, "The taste of this product was awful. I would not recommend it to anyone. It had such a terrible after taste, could not stand the taste long enough to see if it really worked or not."
Our research has shown if there is a certain aspect of a diet supplement or weight loss system that is quite bothersome (a painful/difficult exercise routine, high price, unpleasant taste) the likelihood of prolonged weight loss success is minimal. In other words, if Nutrition 53 supplements are too pricey for many people to afford, this could be a serious problem.
The Science
First of all, we did find some good information presented on the official website for Nutrition 53 supplements. On the other hand, we did not find clinical studies that prove these products work as claimed. At DietSpotlight, we prefer to see documented scientific research that supports the diet product or we simply cannot get behind the supplement.
The Bottom Line
We are excited to see that Nutrition 53 provides a good selection of supplements to address different needs. On the other hand, there are quite a few customer complaints about the taste of these protein shakes. Also, the cost of Nutrition 53 products is certainly not very affordable. These are factors that cannot be overlooked.
If you need to get rid of serious body fat, then we encourage you to go with a supplement that uses clinically proven ingredients, does not break the bank account and is supported by positive customer feedback.
One of the best products we've seen in 2015 is Leptigen. This diet supplement contains a unique blend of four effective ingredients, which have been proven in documented clinical research to encourage fat loss and increase metabolism. Furthermore, we cannot locate any complaints of side effects and user comments posted on the web reveal people are seeing substantial results.
Also, the makers of Leptigen are so confident in their product they're offering a Special Trial Offer, which is a good sign.