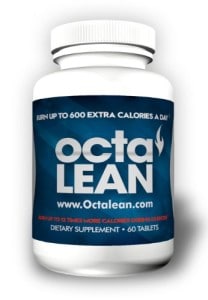 With the recent buzz about Octalean, we decided to conduct a more thorough review to see if the product is what it claims to be. We looked closely at the product itself, the company and endorsements, the science, and user reviews. Then, we summarized and condensed everything to make it easier for you to make an informed purchasing decision.
EDITOR'S TIP:
Combine Octalean with a proven fat burner such as
Leptigen
for better results.
What You Need to Know
First off, Octalean is a weight loss supplement designed for women, featured on Dr. Oz, and in Women's Magazine. Just because the supplement received good publicity, however, doesn't mean it is an effective solution. It contains: sea buckthorn, EGCG green tea extract, fucoxanthin, rhodiola extract, caffeine, raspberry ketones, capsicum extract, black pepper extract, panax ginseng extract, and digestive enzymes.
We like the availability of product information and what some users have the say about it, but read on…
Fad Ingredients
The majority of the ingredients in this formula including raspberry ketones, fucoxanthin, and green tea extract, are considered bad ingredients. They are wildly popular in supplements because of the attention they have received from the media. Science and research is limited in terms of the effectiveness of these products. And while there may be some science to support them, it is usually in dramatically high doses which are not seen in the supplements that contain them.
"These fad ingredients are popular for weight loss because of the exposure they've received in the media, but they aren't actually effective." said our Research Editor.
"I have been taking this for almost a month and haven't noticed a difference in how I have felt, but it tastes alright." said one user.
Scroll below for one of the best products we've seen over the last year.
Side Effects – Not Worth It?
Even though the formula appears to be all-natural, many users report experiencing negative side effects. Some reported feelings of nausea, stomach pain, and diarrhea..
"I was nauseous, nervous, had a hard time sleeping and most of all had to go to the bathroom # 2 a lot! I was miserable." , said another.
Another user said, "This made me so sick. I only took 1 a day for 3 or 4 days; I'm home sick today as I was up all night dry heaving and with the worst stomach pains ever."
Our research shows that if something has problems, like if it's too expensive and causes side effects, dieters just aren't going to have a high chance of success.
The Science – "Solid?"
Octalean doesn't provide any links to published clinical research. There is some science to support the effectiveness of some of these ingredients, but without knowing how much of each is in the formula, it's hard to say the science is really there to support it..
The Bottom Line
Even though this product got Dr. Oz's seal of approval, users say it doesn't work, and has caused a number of side effects. This, combined with the lack of real clinical research, leads us to believe there are better options on the market.
Trying to shed a few pounds? Use a clinically proven safe and effective weight loss supplement with a healthy balanced diet and regular exercise routine.
Among the best products we've seen in 2016 is Leptigen. It contains four clinically proven safe and effective ingredients known for their fat burning power. Throughout our research, we couldn't find any negative mentions of side effects and we saw many users who reported experiencing solid results.
The makers of Leptigen are so certain their product works, they're providing new customers with a Special Trial Offer, which we love to see.