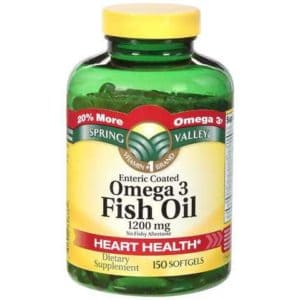 Diet products either work or they don't. Period. Let's find out which one Omega 3 is. We decided to take a closer look at all the ingredients, side effects, customer service, and clinical research to see what we could figure out. We dug deeper into reviews to see what people actually thought and experienced. Then, to make things easier for you, we refined and condensed it all to give you the bottom line.
What is Omega 3?
Firstly, Omega 3 ingredients include DHA, EPA, and DPA. Some formulas may also include additional fatty acids such as ETA 3, SDA, ETA, ALA, and HPA – ingredients known as omega 3 "family members." There is a strong connection between these and heart health.
No single company has the lock down on omega-3 supplements. We like that there's a variety to choose from on the market, but it does require users to do their due diligence in terms of quality and dose. It sounds good, but read on…
Many Product Claims – "Weight-Loss and More"
The first issue is that Omega-3s claim to help with everything from weight-loss to memory issues, to anti-aging, prostate, and cardiovascular health. That's a lot for a single supplement to do. "Fatty acids are essential and you must get from your diet because your body cannot make them. They are necessary for health, but they aren't the be-all-end-all cure they're made out to be," said our Research Editor.
"It is hard to say if this product is doing me any good," was one users thought.
"And, I experienced fish burps with these. No other brand had done that," said another.
Not everyone felt this way, however.
One user said, "So far all I can attest to is that there is no fishy aftertaste and my joints (left ankle in particular) no longer hurts when I play squash."
Another claimed, "I have never had Omega 3 fish oil that works as good as this does!"
Scroll below for one of the best products we've seen over the last year.
Many Omega 3 Supplements Available – "Quality Issues?"
Omega 3 is so widely available that it's hard to tell if one brand is better than another. You can find it at nearly every price point in a wide budget range, and some companies are certainly more reputable than others. As such, what you get from one brand, may or may not be as good as another.
"I'm slightly concerned that the capsules appear cloudy (the other brand I used were clear)," said one reviewer.
"I bought these hoping they wouldn't have a fishy aftertaste, but they do," shared another.
There were others who felt their Omega 3 supplements were top notch.
"Love these fish oil capsules. They don't get soft and sticky and are easy to swallow," said a user.
"I have started to notice some improvement in my focus, cognitive abilities. I am not sure if this is totally due to this but I am seeing some difference," according to another.
Over the years, we've noticed that all it takes is one little thing, like poor results or taste to send dieters running to the competition. With Omega 3, they may have to try several brands before they find the right one that works for them and that's bothersome and costly.
The Science – "Lots of Studies, But…"
There are tons of studies out there to support Omega 3s for heart health and joint health. There is little research to support it for weight-loss, and even still, not all supplements will provide the right dose to get results. Pay close attention to how much you're using every day so you can make sure to get therapeutic amounts. At DietSpotlight, we want to see science before we can recommend any product, and the science for this one is relatively spotty.
The Bottom Line – Does Omega 3 Work?
What's the real deal with Omega 3? Some supplements of high quality may help support overall health, but may not affect weight-loss the same way clinically tested appetite suppressants and fat burners would. For this reason, we are hesitant to give the green light.
If the time has come to jumpstart your metabolism, you may want to consider turning to a weight-loss supplement that contains clinically tested ingredients known to support your efforts.
Among the best products we've seen in 2016 is one called Leptigen. Not only does it have a unique blend of ingredients that are known to help boost the metabolism for faster weight-loss, we couldn't find any negative reviews or comments. This tells us people are happy with the result they see. Plus, the quality has never come into question.
Right now, those who are interested in trying it can take advantage of a Special Trial Offer direct from the manufacturer. This is always a good sign because it shows such confidence in the product.