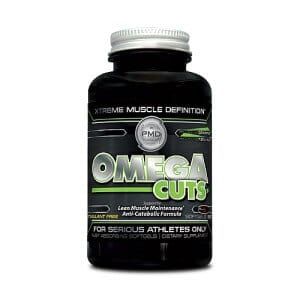 There's been a great deal of chatter about Omega Cuts Extreme Muscle Definition softgels, so we did one of our extensive reviews, taking a close look at the ingredients, side effects, scientific studies and overall customer care. Furthermore, we sorted through hundreds of dieter comments and customer responses from around the web. At this point we compressed all the data to give you the important information.
EDITOR'S TIP:
Substitute Omega Cuts with a proven testosterone booster such as
Pronabolin
for better results.
What You Need To Know
Omega Cuts is touted as a "lean muscle maintenance anti-catabolic formula" for serious athletes only. This product should be taken in the morning and before workouts (two softgels is a serving). Regular exercise is encouraged with this formula. Omega Cuts is claimed to support lean muscle mass, help with extreme muscle definition, stimulate thermogenesis and encourage fat loss. As for the ingredients used in this supplement, they include the following; MTC (Medium Chain Triglycerides), Gamma-Linolenic Acid (GLA), Lauric Acid, Myristic Acid, Linoleic Acid, Oleic Acid, Caprylic Acid, Conjugated Linoleic Acid (CLA), Omega 3 Acids and Alpha Linoleic Acid (ALA).
This product is made by PMD and has been available since 2011. It can be purchased via the official website for $49.99 (90 softgels). Natural oils are used in Omega Cuts and there are a few customer testimonials posted on the company website, but read on…
Side Effects!
According to our Research Editor, "We read a lot of customer reviews posted online and discovered that numerous people experienced side effects while taking Omega Cuts. This is a red flag, and it's wise to stop using any supplement that causes adverse effects."
One customer said, "My wife said she felt bloated from these pills."
Another user stated, "First day I took 2 before my workout the next day I woke up suddenly around 6am with a minor headache. Day 2 on Omega cuts I took 4 Caps, one in the morning and 2 before my workout. Woke up the next morning same thing 6am this time with a huge headache."
Scroll below for one of the best products we've seen in 2015.
Lack of Real Science
Even though this supplement contains natural fatty acids such as CLA, there is no proof that this helps with increasing strength and muscle size. In fact, one user commented, "These do not increase the size or definition of my muscles."
"Is there any additional supplement I should be taking with Omega Cuts in order to increase it's effectiveness?," said another customer.
According to our extensive research, if there is some particular facet of a weight loss supplement or diet program that is very bothersome (a painful/difficult exercise routine, lack of real science, too many side effects) the chances of long-term success are not good. In other words, if Omega Cuts does in fact fail to yield real results in a lot of people, this could be very problematic.
The Science
Here at DietSpotlight, we need to see published clinical research that supports the supplement and its ingredients. As for Omega Cuts, there is no research or study results presented on the official website. While we were able to find some studies that support essential fatty acids for heart health, we did not find any solid research that supports these ingredients for increasing muscle mass or encouraging fat loss and weight reduction.
The Bottom Line
We are glad to see that Omega Cuts softgels contain omega fatty acids to help with heart health and blood pressure. However, from what we gathered, these natural oils do not actually increase muscle size and strength. Nor do they encourage fat loss or weight reduction. Furthermore, we are concerned about the side effects that some users have experienced.
If you're ready to improve strength, boost vitality and elevate stamina levels, we suggest you choose a supplement that offers clinically proven ingredients, does not cause adverse effects and provides great customer service.
Among the top-rated products we've spotted in 2015 is one called Pronabolin. This supplement uses a proprietary blend of nine key ingredients that are clinically proven to enhance energy, improve strength and naturally boost testosterone levels. We have not found any discussion of adverse effects and customer comments found online show people are seeing substantial results.
The makers of Pronabolin are so confident in their product they're offering every customer a 120-day money-back guarantee and multiple-bottle discounts.