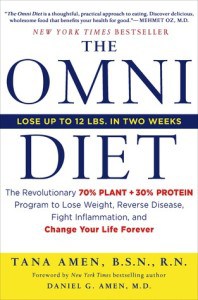 Losing weight based on diet and exercise is one of the most reliable methods, if the regimen is healthy and safe. However, it can be very difficult to find a diet plan that is effective and easy to use so we were looking forward to learning more about this diet plan. We examined the plan itself and read hundreds of reviews to put together all of the information you need to know.
What is The Omni Diet?
The Omni Diet plan was created by Tana Amen, who is a nurse and fitness expert. It promotes a holistic approach to losing weight by encouraging dieters to eat a diet that is 30% protein and 70% plant based. She also requires foods to be all organic and has several other restrictions.
This is an all natural diet program, however, the restrictions are extreme. Dieters are not allowed to have any dairy, meats and eggs must be free range and hormone free, everything must be organic, soy products are prohibited, as are most oils, fruit juice, and processed foods. This seems a lot like other popular health plans but read on…
Conflict of Interest
One of the main concerns is that throughout the book, the author heavily promotes dietary supplements made by her husband's company. This is extremely suspicious and for a diet plan to claim to be healthy and still require so much space dedicated to why supplements are needed seems more like a marketing ploy than a truly new way to eat.
According to our research editor, "Many of the changes recommended in the diet plan are useful in improving the health of people suffering from a variety of health issues, however, it is not revolutionary."
Scroll below for one of the best products we've seen over the last year.
Impossible Ingredients
After looking at numerous reviews and sample recipes, it appears that many of the staple ingredients are nearly impossible to find for many consumers. For those who are able to find them, they are frequently prohibitively expensive. One reviewer said, "Unless you live in a big city to have access to all items required, have unlimited time for preparation and a large food budget, this book is not for you. Well written, well researched but not for a dieter desperate for help."
Our research indicates that if you will likely lose weight following the method outlined in the book. However, according to the author you will probably still need supplements. Considering the cost and difficulty of implementing the plan by itself, this is not welcome news.
The Science – "Studied?"
The author is a medical professional who spent a decade looking for ways to improve her own health. She looked carefully at the relationship between the body and the food we fuel it with. Along the way she discovered good nutrition doesn't just impact weight loss, but can also help decrease inflammation, reverse chronic disease, and improve the quality of life. The research is interesting, but possibly biased. Independent verification of the results and advice are not provided.
last
The Bottom Line – Does the Omni Diet Work?
We looked forward to reviewing the Omni Diet because of the qualifications of the author. While it does have a solid plan, it is expensive and difficult for most people to implement. If you have the means to follow the diet, it may prove beneficial.
However, if you are looking for a way to lose weight that will not require extraordinary cost and personal time, you may be better off choosing a dietary supplement that is well researched and respected.
Among the best products we've seen in 2016 is one called Leptigen. The clinically-tested ingredients are all well known for their weight loss properties. Our research indicates dieters are satisfied with the product and have had no negative side effects.
The manufacturers of Leptigen believe so strongly in their product, they have offered new customers a Special Trial Offer, something we love to see.