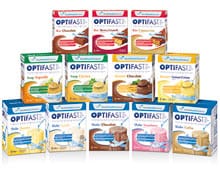 Optifast is a diet program I will surely never forget. We at DietSpotlight decided to create a comprehensive review, scrutinizing the ingredients, side effects, customer-service quality and clinical studies. Moreover, we read dozens of user comments that are posted online. Lastly, we compacted everything we found to give you the important facts you need.
What is Optifast?
To start, Optifast is boasted as "the serious solution for weight-loss" and it is suitable for both adults and teenagers with a body mass index (BMI) of 30 or greater. [1] Basically this is a medically supervised program that's intended to help with weight reduction and overall health. [2] It typically lasts for 26 weeks. This program involves the following; meal replacement diet, medical supervision, lifestyle education, counseling and ongoing personalized support. [3] There is a tool provided on the official website that allows you to pinpoint the nearest clinic location, so you can get started. The products from Optifast include shakes, soups, protein drinks, nutrition bars and vitamin and mineral supplements, which are made by Nestle. [4]
Optifast has been around since at least 2010, and the official website is very informative. There are clinic locations all over the United States and Canada. Also, a helpful FAQ section is provided on the website, but read on…
High Cost –"Concerning?"
The first issue we found was what the dieter was expected to pay."We did some digging and discovered that the actual cost of Optifast is quite steep. In fact, this weight-loss program may end up costing you well over $1,000. This is especially true if you stick with it for the full 26 weeks," says our Research Editor.
According to one customer, "There's a reason they don't post what their prices are! Here's the price breakdown I was given: $600 lifestyle mgt class membership (some insurance covers this), $122.50 Optifast per week and $185 Enrollment fee. For the privilege of just being there!"
"The Optifast program in my area costs $995 to start and $320 a month, plus your cost of food and supplement shakes are $37 for 18, so if you are drinking 3 to 5 a day…well you can do the math. On the "healthy solutions" it would cost $653 plus diet pills at $75 for 180 a month. You also have to pay in advance," said another dieter.
We were unable to find a single customer who felt the price was justified, but there are many who try out the program – so it may be cost-effective for some users.
Scroll below for one of the best products we've seen over the last year.
Negative Dieter Reviews of Optifast
There are some serious complaints regarding the taste of Optifast foods and supplements. This is never a good sign.
One customer complained, "The chicken and vegetable soups are disgusting!! After a couple of days of trying to get them down, I stopped using them completely."
Another person stated, "This is my first day and I have no idea how I'm going to do this…I can't stand the taste of these shakes and they make me feel sick."
We have to look at the other side of the coin.
One buyer said, "I have been very pleased with this product. I thought I could hold fast to no food, but two weeks I have to admit I was tweaking."
According to our research, if there is some certain aspect of a diet program that is very annoying or concerning (high cost, negative dieter reviews, a difficult exercise) the likelihood of prolonged weight-loss success is minimal. [5] [6] So, if Optifast does in fact taste bad or lead to unhappy customers, this could be problematic.
The Science – "Solid?"
Since Optifast is monitored by medical professionals, there is some real science and clinical tests involved to better ensure weight-loss results. [7] [8] [9] Here at DietSpotlight, we prefer to see actual science that supports the diet program or weight-loss supplement. Unfortunately Optifast does not really elaborate on clinical studies on their website.
Even though Optifast is regulated by medical professionals, we feel that the negative dieter reviews and very high cost are major drawbacks.
The Bottom Line – Does Optifast Work?
So, should you spend your money on this one? Well, we like Optifast's professional clinics and that they offer various supplements to assist dieters. On the other hand, we have some concerns about this diet program because it's so expensive. Also, we have some reservations about the numerous negative dieter reviews posted online.
If you'd like to get rid of serious pounds, we encourage you to find a diet program or weight-loss formula that is affordable, easy to use and backed by plenty of customer testimonials.
Among the best products we've seen in 2016 is one called Leptigen. This product contains four unique ingredients, which have been shown, via clinical testing, to possibly help speed up fat loss and boost metabolism. It's also amazing that user reviews posted online reveal people are seeing solid results.
Also, the makers of Leptigen are so confident in the formula, they're offering a Special Trial Offer, which is encouraging.