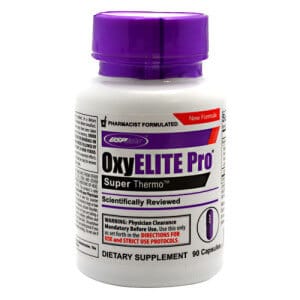 Give me two minutes of your time and I'll tell you whether Oxyelite Pro actually works. We conducted one of our detailed reviews, examining the side effects, ingredients, clinical studies and customer-service quality. Furthermore, we scrutinized countless dieter comments and user reviews found around the web. At this point we summed up the information we found to give you the bottom line.
EDITOR'S TIP:
Substitute OxyElite Pro with a proven fat burner such as
Leptigen
for better results.
What You Need To Know
To start, Oxyelite Pro is a dietary supplement that claims to suppress appetite, improve mental focus, boost energy levels and aid with sustained weight-loss. This product contains rauwolscine, cirsium oligophyllum, 1,3-dimethylamylamine HCL, yohimbe bark extract, caffeine (100mg), bacopa monniera leaf and bauhinia purpurea L. extract. It is directed to be taken daily (1-2 capsules before breakfast and 1-2 capsules eight hours later), and is fine for both women and men. You'll have no trouble taking this one anywhere you travel.
It looks like Oxyelite Pro first emerged in 2010, and it's made by USP Labs. It's available through online dealers for $34.99. Also, there are some before and after photos posted on the official website. We like that regular exercise is recommended with this product, but read on…
The FDA Recall – "A Problem?"
The first issue that bothered us about Oxyelite Pro was legal problems. According to our Research Editor, "After taking an extensive look at this one, we discovered that the FDA recalled it back in 2013. There were numerous cases of liver concerns linked to this diet pill."
The announcement stated, "Following actions by the Food and Drug Administration (FDA), a Texas-based company [USP Labs] has agreed to recall and destroy a dietary supplement linked to dozens of cases of acute [liver-related side effects]."
It is also important to note, "Companies are required to provide evidence of safety of the new dietary ingredient 75 days before the product goes to market," which USP Labs did not do when the Oxyelite Pro formula changed.
Scroll below for one of the best products we've seen over the last year.
Side Effects – "Yikes!"
It's evident that many dieters have experienced  Oxyelite Pro side effects. One customer complained, "Well about 2 hours after taking the 2nd pill my head ached, and nausea reached an awful peak to where I vomited and started shaking uncontrollably."
"I did experience SEVERE migraines and bloating after 5 days," said a user.
One customer stated, "I stopped taking this after 3 days and am still experiencing severe depression. I don't know why it happened, but I can't seem to get back to my old self."
Our research has proven that if one specific part of a weight-loss pill or diet program is especially burdensome (dangerous side effects, federal product recalls, steep price) the probability of long-term results is low. If Oxyelite Pro does in fact cause issues in numerous people, this could be very problematic.
The Science – "Legitimate Formula?"
We noticed that Oxyelite Pro states on the bottle's label that it's "scientifically reviewed." However, after doing some digging, we were unable to find any documented clinical research to support the claims made about this pill. We at DietSpotlight must see published science regarding the diet product and its ingredients or we can't stand behind the supplement.
The Bottom Line – Does Oxyelite Pro Work?
Well now, we found out quite a bit more than we expected when we took a deep dive into Oxyelite Pro. While it's nice to see that it is supported by some customer testimonials found on the official website, we are hesitant to suggest this diet aid to anyone. Aside from the lack of clinical results, this product was recalled by the FDA. Also, many users experienced side effects while taking Oxyelite Pro.
If you're anxious to shed more pounds and rock your best body, we recommend you go with a diet supplement that does not cause harsh side effects with ingredients supported by real clinical research. It's always a good thing if the company behind the product has not been addressed by the FDA.
Among the best products we've seen in 2016 is one called Leptigen. This diet pill offers a proprietary blend of four ingredients, which have been proven in documented scientific studies to help increase fat loss and ignite metabolism. Moreover, we are unable to find any negative talk of harmful adverse effects and customer responses online express people are seeing great results.
Additionally, the company that makes Leptigen is so confident in their proprietary blend that they're offering a Special Trial Offer, not your everyday offer.