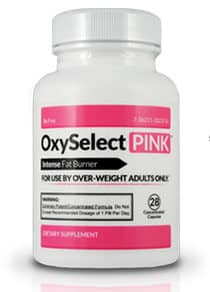 You may be surprised by what I say in this Oxyselect Pink review. We focused on ingredients, side effects, clinical research and customer service. Furthermore, we delved into hundreds of consumer comments and reviews. We then refined and consolidated to give you the info you need.
What You Need to Know
First off, Oxyselect Pink is a fat burner with ingredients that include Chromax, Razberi-K, irvingia gabonensis, CoQ10, green coffee bean extract and vitamins. The recommended dose is one capsule, twice per day and it supposedly promotes weight-loss. There's no issue with taking it anywhere, a benefit.
The product, introduced in 2005 by Advantage Nutraceuticals, uses natural ingredients, a good start. You can purchase the supplement on the official website and in select retail stores. We do like the longevity of the company and some of the customer comments we read were positive, but read on…
Side Effects – "Stomach Concerns?"
Our first concern relates to Oxyselect Pink side effects. "Those commercials for prescription medications are laden with potential reactions and issues," offers our Research Editor. "You shouldn't have to face the same with your supplements."
"After the second day, I started to feel like I am on the verge of a cold. You know, the body aches, chills, stuffy nose, etc.," said one customer.
"I am on my third day and I have really bad body aches, also made me shaky the first day," commented a user.
We often find that some dieters see adverse reactions and others do not. One person who saw no negative changes said, "It doesn't make me feel funny or sick."
Another shared, "I was really mostly worried about side effects, but I have had none."
Scroll below for one of the best products we've seen over the last year.
FDA Judgments – "Troublesome?"
In March of 2005, Advantage Nutraceuticals was sent a warning letter by the FDA. The communication told the company to change product claims that sounded like they were promoting a medication rather than a supplement. The message was ignored, so the US Marshalls seized the affected items in September of 2006. All problems have since been resolved.
Ineffectiveness – "A Concern"
Based upon multiple customer comments, Oxyselect Pink is ineffective or dieters didn't see the results they expected. "This product didn't make me shed a single pound, in fact, I gained 4 pounds. I cut back what I ate, had a healthy diet and still no pounds shed," said a dieter.
"Used it for a month. Not a thing changed. With working out and diet," offered a user.
"This supplement did absolutely nothing for me. I was watching my foods and working out and I didn't even drop a pound," commented a consumer.
It wouldn't be fair if we didn't share a couple of positive experiences. One dieter claimed, "It works as long as you keep up a routine of diet and exercise."
One other customer says, "Lost some weight taking these."
According to our research, all it takes is one thing, like reports of side effects, to shoot down any chances of long-term success. If Oxyselect Pink makes dieters feel worse for the wear, we're not sure why they would want to keep taking it.
The Science – "Validated?"
The Oxyselect Pink website does mention clinical studies, particularly as it relates to the calorie-reducing effects of Chromax, but no links are listed. We found one bit of research showing the ingredient was safe for human consumption, but that's it. At DietSpotlight it takes science to back up product claims. Without it, there's no reason to trust the company.
The Bottom Line – Does Oxyselect Pink Work?
It's that time again ladies and gentlemen. After taking a comprehensive look at Oxyselect Pink, we've reached a verdict. There are some positives like a money-back guarantee and a few favorable customer comments, but we just don't feel comfortable recommending this one because of the lack of published clinical research supporting weight-loss claims. Plus, we're concerned about the FDA judgments and the inclusion of the "fad" ingredient raspberry ketones.
If you'd like to improve your waistline, we recommend going with a product that contains ingredients backed by published clinical research and offers benefits without negative side effects. A company with a clean record with the FDA is always a consideration.
Among the best products we've seen in 2016 is one called Leptigen. The supplement contains a four-ingredient proprietary blend, highlighted in published scientific research to boost fat loss and enhance metabolism. There's no one talking about negative side effects and reviews on the web say dieters notice exceptional results.
Also, the company behind Leptigen is confident in their formula, so they're offering a Special Trial Offer, impressive.