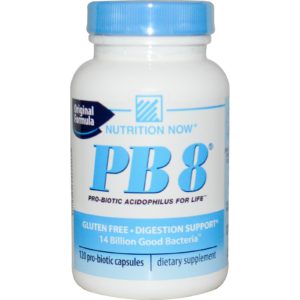 Give me two minutes of your time and I'll tell you whether PB8 probiotic actually works. We dug deep and did one of our in-depth reviews, examining the ingredients, side effects, clinical studies and overall customer service. We additionally looked at hundreds of user comments and customer responses from all over the internet. Lastly, we compressed all of the information we collected to give you the bottom line.
What is PB8?
To start with, PB8 is a probiotic supplement that supports digestive health. The ingredients include rice maltodextrin, inulin, lactobacillus acidophilus, lactobacillus plantarum, lactobacillus rhamnosus, lactobacillus casei, lactobacillus paracasei, lactobacillus salivarius, bifidobacterium bifidum and bifidobacterium longum. It is taken daily (two capsules). It aims to restore good bacteria, help with regularity and reduce common issues like bloating and gas.
This supplement has been available since at least 2011. It is made by Nutrition Now. This formula is vegetarian. It's also free of dairy, gluten, soy and preservatives. It's easy to find PB8 probiotic via websites like Amazon and vitaminshoppe.com. Also, there are all sorts of helpful user comments posted on the web, but read on…
Side Effects – "Concerned At All?"
The first issue we have is with Nutrition Now PB8 side effects. According to our Research Editor, "Some users have complained of adverse reactions such as gas, bloating, constipation, diarrhea, abdominal discomfort and nausea."
One customer reported, "After taking the recommended 2-per day, I started having really bad stomach cramps and bad gas. I discontinued use."
Then again, a different user had this to say, "Not bad. I have been taking it for a few weeks and it has upset my stomach a few times."
"Decent product. Not as effective as I'd hoped," mentioned another.
Scroll below for one of the best products we've seen over the last year.
Customer Complaints – "Be Careful"
Another concern is customer complaints and discouraging user comments. For instance, one person said, "Every time I take one of these, I am so miserable with cramps and constipated. Only probiotic that does that to me."
However, another user posted, "It does keep my bowels moving better than nothing at all."
"Although the price was okay for the product, the jury is still out for a repeat purchase. I can't say that I noticed this product was doing its job," revealed another individual.
Our research has shown if there is some particular part of a diet supplement or health product that is especially bothersome (side effects, customer complaints, low Amazon star rating) the odds of real results for the long term are not good. Therefore, if PB8 does in fact cause unpleasant reactions in a lot of people, this could be a serious drawback.
The Science – "Solid?"
Here at DietSpotlight, we prefer to see some solid clinical research that supports the product we're reviewing. However, we did not pinpoint any actual studies that back up PB8 probiotic as a weight-loss solution. However, it is thought that poor diet can lead to less healthy bacteria, so this could help fight this.
The Bottom Line – Does PB8 Work?
Okay, now the moment you've been waiting for. Here is our bottom line on PB8. First off, we like that this supplement contains healthy bacteria to potentially balance the digestive tract. It's also nice to see that this formula is easy to take anywhere. But we have some reservations about this product because it's not backed by any published studies. Also, we're concerned about the side effects that some users have reported.
If your goal is to boost fat loss and increase metabolism, then we recommend you go with a product that's backed by documented research. It should also not cause any harsh side effects and be supported by encouraging user reviews.
Among the best products we've seen in 2016 is one called Leptigen. This formula offers four key ingredients, which are shown in research to help increase metabolism and fat loss. We have not discovered any user complaints at all. Also, the customer comments posted online show people are seeing good results.
The makers of Leptigen are so excited about their product they're offering every customer a Special Trial Offer.