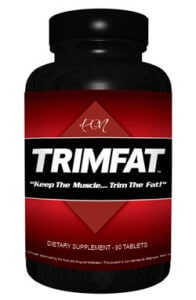 Why are people talking about PGN Nutrition Trimfat? It is a product filled with a common, so we wanted to find out if it worked as well as the company claims. As part of our review process, we looked at the ingredients, side effects, customer-service and scientific research. We've summarized what we found and provided it in a condensed format to give you the information you need.
EDITOR'S TIP:
Click here
to substitute PGN Nutrition TrimFat with a proven fat burner such as Leptigen for better results.
What You Need to Know
To start, PGN Nutrition Trimfat contains a variety of well-known ingredients including vitamin B6, vitamin B5, caffeine, vitamin B12 and various extracts and powders. Their proprietary blend doesn't provide the amount, but some do have proven benefits. Trimfat is to be taken two tablets at a time with water, up to twice per day. These capsules are convenient and easy to take and they can go with you wherever you're at.
PGN (or Phat Girl Nutrition) is the business behind Trimfat and they've been around since the 1990s. They do have the longevity that we look for in a company and the ingredients are readily available online. We also like that some parts of the formula are proven to boost energy, but read on…
Price – "Too Much?"
The first thing that bothers us with PGN Nutrition Trimfat ingredients is price. When we look at a weight-loss product, we always check to see if it's affordable. "While PGN Nutrition Trimfat isn't cost-prohibitive, it is more expensive than similar formulas," said our Research Editor. Containers cost about $55 plus shipping and handling, and each lasts 2-3 weeks, so the monthly dent in your wallet can quickly exceed $100.
"This costs way too much compared to similar products and supplements that I can find on Amazon," said one user.
"I found products with similar ingredients that cost less than half as much as Trimfat," said another.
Scroll below for one of the best products we've seen over the last year.
Harmful Side Effects – "A Serious Issue"
Because this product contains large amounts of caffeine and other stimulants, some people experience harmful side effects. There's also some concern about the inclusion of synephrine HCL, which has been banned by multiple organizations. "I had constant headaches, jitters, and palpitations with Trimfat," said one customer.
"I've had trouble sleeping ever since I started taking PGN Nutrition's Trimfat," claims another.
According to our research on diet supplements, when there's something particularly troublesome about a formula (taste, side effects, price, lack of results, etc.), the likelihood of achieving long-term weight-loss results is slim. If PGN Nutrition Trimfat really does cause adverse reactions from the synephrine and other ingredients, it could be a problem for many people trying to lose weight.
The Science – "Valid?"
There's plenty of research about some of the ingredients in PGN Nutrition Trimfat, but others haven't been studied as extensively. Caffeine is often used as a stimulant and the vitamins in minerals are all helpful for overall health, but because this is a proprietary blend, we're unsure if there's enough of each in this supplement to be effective. Here at DietSpotlight, we like to see clinical trials about each specific product and its formula. Without this information, we're skeptical of Trimfat's promises and we'd tend to believe the customers with less than stellar results rather than the unfounded claims.
The Bottom Line – Does PGN Nutrition Trimfat Work?
Well now, let's see what we've learned about this one. We were initially excited to look at PGN Nutrition Trimfat because of its popularity and some of the positive reviews online, but because of the lack of data behind their ingredients and the fact that there are several products with a similar formula at a much lower price, we are skeptical about recommending this as a weight-loss supplement. We're also concerned about the lack of results and the reported side effects.
If you'd like a healthy alternative that offers proven results, we suggest a supplement that has published research proving it's an effective weight-loss solution that's not associated with side effects of any kind.
Among the best products we've seen in 2016 is one called Leptigen. It contains a proprietary blend of four ingredients and has been featured in scientific research and clinical studies that have shown that it is an effective way to burn fat and boost your metabolism. Comments and reviews online indicate that customers see great results and we can't seem to find anything linking it to negative side effects.
If you'd like to try Leptigen, it's currently being made available as part of a Special Trial Offer, which is a great way for the makers to prove it delivers on its claims.