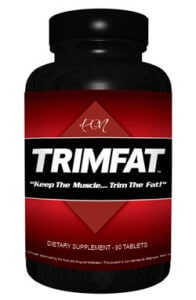 Why are people talking about PGN Nutrition Trimfat? It's called a "breakthrough," so we believed an in-depth review was in order. We focused on ingredients, side effects, clinical research and quality of customer service. Additionally, we scrutinized hundreds of dieter comments. Then, we summarized and condensed to give you the info you need.
What is PGN Nutrition Trimfat?
First off, PGN Nutrition Trimfat ingredients include cayenne pepper, caffeine, hordinine, synepherine, vinpocetine, astaxanthin, fucoxanthin, grape skin, blueberry, raspberry, cranberry, prune powder, cherry, bilberry, strawberry, broccoli, spinach, tomato, carrot and onion. The supplement promotes weight-loss by boosting metabolic rate and burning fat. Simply take two capsules per day for a minimum of 30 days.
Phat Girl Nutrition introduced PGN Nutrition Trimfat in the early 1990's. Professional fitness competitor, Jen Hendershott was one of the first celebrities to endorse the supplement. We looked and couldn't find any local retailer or online store selling the supplement. We do like that the company has been around for years and that it contains a few natural ingredients, but read on…
Price – "Too Much?"
The first negative was the high price of PGN Nutrition Trimfat ingredients. "This formula isn't anything special," said our Research Editor. "We expected something more, considering it costs more than $100 for a 30-day supply."
"This costs way too much compared to similar products and supplements that I can find on Amazon," said one user.
"I found products with similar ingredients that cost less than half as much as Trimfat," said another.
While cost is concerning to some, others didn't mind the price. "I don't care how much it costs, as long as it helps me lose weight," commented a dieter.
Scroll below for one of the best products we've seen over the last year.
Harmful Side Effects – "Concerning?"
According to customer comments, PGN Nutrition Trimfat side effects were a major concern. "I had constant headaches, jitters, and palpitations with Trimfat," said one customer.
"From day one, I felt like my heart was beating out of my chest," commented another.
While side effects from PGN Nutrition Trimfat are concerning, we did find some dieters that had a different experience when they used this one. "Was a bit shaky, but I realized I just needed to take one per day," stated a user.
"No different than drinking a few cups of coffee," stated another.
We've researched thousands of supplements and have found that when any part is considered concerning, like causing negative side effects, the chances of long-term success is slim. If dieters are talking about adverse reactions while taking PGN Nutrition Trimfat, it may be time to consider something safer.
The Science – "Valid?"
When a company claims a supplement is a breakthrough, we want to know that the science says. Well, caffeine boosts metabolism, but there's no mention of the amount used. We also have to consider it contains synephrine and hordenine. Both cause stimulating effects. When combined with caffeine, dieters could easily experience negative side effects. Overall, there's no direct connection between this formula and weight-loss. What's important to us at DietSpotlight is the use of clinical studies to support the claims. When there's no evidence, we become skeptical about it.
The Bottom Line – Does PGN Nutrition Trimfat Work?
Still considering PGN Nutrition Trimfat? Well, we like that it contains a few natural ingredients and that we did locate some favorable customer comments, but we're concerned about this one because there's no connection between this one and weight-loss. Also, we're hesitant about suggesting this one because customers are talking about hearmful side effects and a price tag they can't afford.
Do you want to lose weight and save money? We suggest going with an affordable supplement, containing ingredients connected to weight-loss and backed by excellent customer reviews.
Among the best products we've seen in 2016 is one called Leptigen. The formula contains four clinically-tested ingredients that have been shown to help accelerate metabolism and ignite fat loss; exactly what you need to lose those extra pounds. There's no chatter about harmful side effects. What we're hearing is that customers are seeing amazing results.
Also, the company that's behind Leptigen is offering customers a Special Trial Offer. This shows a high level of confidence in their supplement.