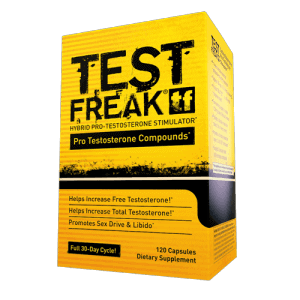 There are a lot of people talking about Pharmafreak dietary supplements, so we'll pay a bit more attention to ingredients, side effects, clinical research and customer service. Furthermore, we analyze hundreds of consumer comments and reviews. Then we summarize and condense to give you the info you need.
EDITOR'S TIP:
Substitute Pharmafreak with a proven testosterone booster such as
Pronabolin
for better results.
What You Need to Know
Pharmafreak is a line of supplements containing fenugreek, tribulus terrestris, saw palmetto, caffeine, green coffee bean extract, olive leaf extract and raspberry ketones, among others. Dependingon the product, the recommended serving can be one or more capsules per day, which supposedly promotes fat loss and helps dieters lose weight. You can take the pills anywhere, one benefit.
The brand, introduced as a line of dietary supplements in 2008, does include some natural ingredients, a plus. The products are available to purchase on the official website and through trusted retailers. We do like that we found some favorable customer comments and that several stores sell the brand, but read on…
Side Effects – Not Feeling Like Yourself?
The first concern about Pharmafreak side effects was stomach issues. "You want to lose that pooch not hurt it," said our Research Editor. "If the idea is to shed those extra pounds, that doesn't have to mean settling for adverse reactions."
"I bought Rapid Freak Fat Burner 2 days ago and I'm currently sick as a dog I can't keep anything down. I was vomiting like crazy and vomiting purple stuff," commented a dieter.
"The first time I took it, as per instructions I became dizzy, nauseated, and jittery," said a user.
Scroll below for one of the best products we've seen over the last year.
Ineffectiveness
When we analyzed customer comments, the consensus was Pharmafreak ingredients were ineffective. "[Pharmafreak Test Freak] did not do anything for me. I didn't see any kind of difference at all. This is very over rated. Don't waste your money," said a dieter.
"Felt no change at all. Would never buy again. Took a blood test and the levels were the same as before," reported a user.
"Really disappointed, after using a whole bottle, little to no results whatsoever. Gonna try another brand," commented a consumer.
According to our research and experience, something small, like a supplement being ineffective, could reduce the chances of long-term success. If Pharmafreak doesn't work, dieters will simply move on to a different line of supplements.
The Science
After visiting the official Pharmafreak website, we noticed the company claims the supplements are "clinically researched," but there's no published scientific studies supporting weight-loss claims. AtDietSpotlight, locating science to support the available information is imperative. If a company can'tdisclose the facts, there's a concern.
The Bottom Line
After careful consideration, we've reached a conclusion. We like that the company offers the supplements anywhere and that we located some positive customer comments, but we can't recommend it because there's no published clinical research to support the claims. Plus, we're concerned about the ineffectiveness of the products and the potential for side effects.
If you want to lose those extra pounds, we recommend going with a supplement with no reported side effects and effectiveness supported by published clinical research.
One of the best supplements we've reviewed in 2015 is one called Pronabolin. The product
contains a formula consisting of a four-ingredient proprietary blend, which has been shown in published scientific research to help promote fat loss and ignite metabolism. There's no one talking about negative side effects and customer reviews show dieters are seeing excellent results.
Also, the company that makes Pronabolin is so confident in the supplement, they're providing a Special Trial Offer, a great choice.