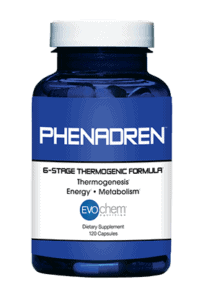 If you want the bottom line on Phenadren, give me just two minutes of your time. We did an in-depth review, looking carefully at the ingredients, side effects, clinical research and customer-service quality. Then we read dozens of user responses and comments from all over the web. At last, we compacted all of the facts and details to give you the information you need.
EDITOR'S TIP:
Click here
to substitute Phenadren with a proven fat burner such as Leptigen for better results.
What You Need To Know
First of all, Phenadren ingredients include dandelion root, uva ursi, buchu leaf, hoodia gordonii, raspberry ketone, fucoxanthin, DMAE, green tea, chromium, caffeine anhydrous, yohimbe, citrus aurantium, cayenne and B vitamins. You take two capsules, supposedly boosting thermogenesis, increasing energy levels and suppressing appetite.
The company behind Phenadren is EVOchem Nutrition. This diet product has been available since at least 2010. We like that it contains some vitamins and we did find a few positive comments on the web, but read on…
Fad Ingredients – "Does It Really Work?"
The first concern was that Phenadren ingredients are considered a fad. "The supplement contains raspberry ketone and hoodia gordonii to aid with weight-loss," said our Research Editor. "However, these components are not backed by solid clinical studies."
One customer stated, "Not sure what all the hype is about. Been taking this for three weeks now and no real results."
On the other hand, a different user commented, "I think it suppresses hunger a bit. Not sure how effective it is for burning off calories."
"I like it alright. Gives me a boost and lowers appetite," said another.
Scroll below for one of the best products we've seen over the last year.
Side Effects – "Watch Out"
Another issue we have is with Phenadren side effects. For instance, one user posted, "Have experienced jitteriness and fast heartbeat, which I don't like."
Then again, not all customers experience side effects with Phenadren. One individual stated, "I've noticed a difference in my body as far as definition and energy. It doesn't give me the jitters or shakes."
"Helps some. But it's not the best weight-loss pill I've tried," reported another person.
According to our extensive research, if there's some particular part of a weight-loss pill or diet program that's especially bothersome (fad supplement ingredients, side effects, low BBB rating) the chances of long-term results are slim. This means if Phenadren does in fact lead to unpleasant adverse effects in a lot of people, this could be a real problem.
The Science – "Anything Available?"
To start, Phenadren does contain some promising ingredients such as caffeine and green tea. These have been shown to aid with weight-loss. On the other hand, it's unclear how much of each substance is actually used in this diet pill, which means it could be quite minimal. At DietSpotlight, we prefer to see some solid clinical research that supports the supplement we're reviewing.
The Bottom Line – Does Phenadren Work?
Now the moment you've been waiting for. Here is our bottom line on Phenadren. Well, we like that it doesn't require a prescription and contains some natural ingredients, but we have some doubts about it because it's not backed by any solid science. Also, we're concerned about the fad ingredients and the side effects it may cause.
If you'd like to get rid of more pounds, then we encourage you to choose a product that does not lead to any unpleasant side effects, is backed by solid clinical research and gives you plenty of bang for your buck.
Among the best products we've seen in 2016 is one called Leptigen. Its formula is a proprietary blend of four powerful ingredients. Some of which have been shown in published clinical research to help accelerate fat loss and ignite metabolism. We haven't found any discouraging user reviews, and customer comments posted online indicate people are seeing substantial results.
The makers of Leptigen are so positive about their product they're offering a Special Trial Offer, which is uncommon.