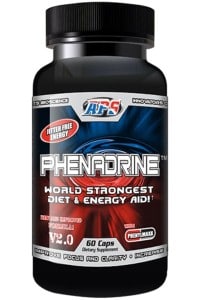 Don't laugh, but well over 50% of diet products simply don't work. So what about Phenadrine? We did one of our in-depth reviews, examining the ingredients, side effects, clinical research and customer-service quality. Furthermore, we looked at hundreds of customer comments and user reviews from around the internet. Lastly, we then summarized and compressed the data we found to give you the info you need.
EDITOR'S TIP:
Substitute Phenadrine with a proven fat burner such as
Leptigen
for better results.
What You Need To Know
Phenadrine is boasted as the "world's strongest diet and energy aid." This supplement is made by APS Nutrition and it's supposed to help you get more intense workouts, improve focus, enhance alertness and get rid of unwanted pounds. To use Phenadrine, you need to take one capsule each morning (or before a workout) and afternoon. The ingredients in this supplement include; Acacia Rigidula Leaf Extract, Theobromine, 1,3 Dimethylamylamine, Extend-Rx Naringin Fruit, Caffeine Anhydrous, N-Acetyl-L-Tyrosine and Methylsynephrine.
This product has been available since at least 2010 and it's easy to purchase via the official website for $59.95. Some natural plant extracts are found in Phenadrine and this product is easy to use anywhere, but read on…
Dangerous Ingredients – Concerning?
According to our Research Editor, "Phenadrine contains Synephrine, which comes from Citrus Aurantium or Bitter Orange. Synephrine mimics the effects of Ephedra (a banned weight loss ingredient) by increasing blood pressure and heart rate. Unfortunately this ingredient can cause serious health problems such as high blood pressure, heart attack and stroke."
One user commented, "This pill made my heart race like crazy. Pretty scary!"
Another person stated, "Not sure Phenadrine is actually safe. It makes be feel like I'm on drugs."
Scroll below for one of the best products we've seen over the last year.
Adverse Effects – Another Concern
It's clear that Phenadrine can cause side effects in some users. One customer said, "Leaves a horrible burn in my stomach, is this normal??? I am kind of scared to take it any longer."
"Gives me a very uncomfortable pain in my stomach. It almost feels like an extreme case of heart burn, it just hits a bit lower!," commented another user.
Our research has shown if there is some particular part of a diet product that is especially troublesome (a painful/difficult exercise routine, dangerous ingredients, adverse effects) the chances of long-term weight loss results are slim. So, if Phenadrine does in fact cause adverse effects in a lot of people, this could be problematic.
Any Solid Science?
Science is mentioned on the official website for Phenadrine. However, there are no actual clinical studies presented to support this product and its weight loss claims. Here at DietSpotlight, we prefer to see published clinical research that supports the product we are reviewing.
The Bottom Line: Does Phenadrine Work?
Now the moment you've been waiting for: our bottom line on Phenadrine. Well, we like that Phenadrine is easy to use anywhere and it contains some natural plant extracts. However, we have some reservations about it because it's not backed by actual clinical studies. Also, we're concerned about its dangerous ingredients and the adverse effects it causes some users.
If you'd like to drop more weight, then we advise you to go with a product that is backed by real clinical research, does not cause unpleasant adverse effects and does not contain any dangerous ingredients.
Among the best products we've seen in 2016 is one called Leptigen. Its formula is a unique blend of four ingredients, which have been shown in documented clinical research to help improve fat loss and boost metabolism. We can't pinpoint any talk of harmful side effects and user comments around the web indicate people are seeing great results.
The makers of Leptigen are so sure about their product they're offering a Special Trial Offer, which is a positive sign.