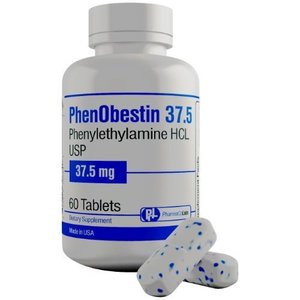 In the weeks that led to this review, I figured out whether Phenobestin actually works. Our attention turned toward ingredients, side effects, clinical research and customer service quality. Additionally, we analyzed hundreds of user comments and reviews. Then, we summarized and refined to give you the info you need.
What is Phenobestin?
Firstly, Phenobestin is a non-prescription alternative to phentermine. The ingredients include phenylethylamine hcl, methlysnephrine hcl, n-methyl-b-phenylethylamine hcl, synephrine hcl, theobromine anhydrous and yohimbe extract. You'll take two capsules per day.
Phenobestin is made by PharmaCoLabs. There's no mention of when the supplement hit the shelves. It's sold on the official website and through trusted retailers. We like that we found some positive customer comments and that it's readily available, but read on…
Phenobestin Ingredients – "Lots Of Stimulants"
The first concern was the amount of stimulants in Phenobestin ingredients. "The components of this formula may boost fat burning power," said our Research Editor. "But when combined, it many also lead to adverse reactions."
One upset customer said, "I felt sick the entire time I used this stuff."
"I couldn't sleep. I was anxious and nauseous. It worked, but it wasn't worth it to me," reported another.
Others didn't mind the stimulants and didn't notice any side effects.
According to a customer, "This is the only weight-loss supplement that has ever worked for me."
"I lost 10 pounds in a month, and I will keep using it," stated a happy reviewer.
Scroll below for one of the best products we've seen over the last year.
Price – "May Break The Budget"
According to Phenobestin reviews, the are concerns about the high cost. "I'd rather take $100 a month and spend it on healthy food," said a customer.
"It was just too expensive for how it made me feel," according to a customer.
Based on some reviews of Phenobestin, price wasn't a consideration.
"I don't mind spending up to $100 a month on something that works to help make me healthier," commented a dieter.
A dieter reported, "I've found the investment highly worth it because of how much it has helped me."
Over the years, we've learned that all it takes is one small thing like side effects, to stop users from achieving long-term success. If Phenobestin causes issues like insomnia, jitters, and nausea, this could be a problem for some dieters.
The Science Behind Pheobestin – "There, But…"
Not every product contains no clinically proven ingredients. Phenylethylamine HCl has been shown to improve mood and alertness, while promoting fat burning. Synephrine HCL also accomplishes the same goal, but has the potential for side effects is also apparent. At DietSpotlight, we want to see science used to connect a product to weight-loss. When there's no direct link, we raise the red flag.
The Bottom Line – Does Phenobestin Work?
Should we race out for a bottle of Phenobestin? We a like that it contains a few natural ingredients and that we located some positive customer comments. There are concerns considering there's no direct link to weight-loss. We're also skeptical due to customer comments about negative side effects and high price.
If you're ready to lose weight, we suggest turning to a supplement that contains clinically-tested ingredients shown to work, offering a price you can afford.
Among the best products we've seen in 2016 is one called Leptigen. It's made using clinically-tested ingredients shown to help accelerate metabolism an ignite fat loss. We've heard customers talking about seeing great results and there's no chatter about harmful side effects.
Also, the company behind Leptigen is so confident in their supplement, that they're offering a Special Trial Offer.