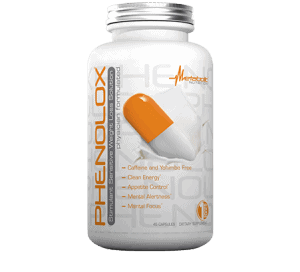 Metabolism boosters are flying off the shelves these days, so we decided to look into a metabolism booster called Phenolox. We examined the ingredients, side effects, clinical research, as well as customer-service quality. We also scoured the web for user experiences. Then, we summarized and condensed it all to give you the info you need.
What You Need to Know
First, Phenolox ingredients are green tea extract, Advantra Z, l-carnitine, l-phenylalanine, cayenne pepper extract, coleus forskohlii, chromium picolinate, and di-potassium phosphate. When taken as directed, Phenolox supposedly boosts metabolism, suppresses appetite, and burns fat. One pro is portability of the pills.
Phenolox is made by a company called Metabolic Nutrition, which was supposedly started in 1988. It's available on the official website for $52.99. Phenolox contains some natural ingredients and it's certainly simple to use, but read on…
Cost – "Breaking the Bank?"
The first concern we had with Phenolox ingredients was the high cost. "The big ingredient in this one is green tea. That can be purchased for less than $5 at your local pharmacy," says our Research Editor.
"Spending $53 isn't that bad, but when it only lasts less than two weeks, it gets expensive," said a customer.
"It's just too expensive to continue to buy on a regular basis," reported another.
Scroll below for one of the best products we've seen over the last year.
Side Effects – "Another Concern"
We have some concerns about Phenolox side effects. "There have been reports of fainting in healthy people after taking bitter orange supplements alone or combined with caffeine," the NIH says.
"I like this product, but within hours it gives me a terrible headache," said a consumer.
"I've been experiencing a itching/hot or burning episode around my lips, both arms, neck and head," stated another.
"Been taking for a few days and it feels like I'm angry all the time," reported a user.
Over years of research, we've found that it takes a small thing, like negative side effects, to ruin any chance of long-term effects. If Phenolox causes adverse reactions in customers, we have concerns.
The Science – "Any Real Proof?"
Scientific research is incredibly important when you make a supplement decision. Most of the main ingredients in Phenolox have been researched to a certain extent, but the findings don't relate to this formula. At DietSpotlight, solid science is imperative. If there's none, we start to raise the red flag.
The Bottom Line – Does Phenolox Work?
Are we racing out for this one? Well, we like that we found some positive customer comments and that it contains a few natural ingredients, but the lack of research supporting the weight-loss claims has us a bit concerned about this one. Also, with customers talking about negative side effects and a high price tag, this leaves us even more skeptical.
If you need a supplement to boost weight loss, we suggest going for something that offers real results for an affordable price. Clinical research is a pretty big deal too.
Among the best products we've seen in 2016 is one called Leptigen. It includes four ingredients that have been clinically tested and shown to help with increased metabolism and fat loss. We're also thrilled to find some amazing customer reviews.
A Special Trial Offer makes Leptigen all the more appealing to try. This tells us the makers are confident in their supplement.