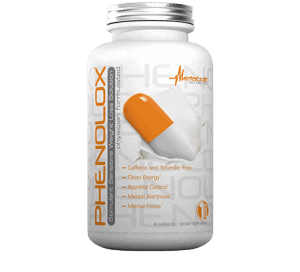 Metabolism boosters are flying off the shelves these days, so we decided to look into a metabolism booster called Phenolox. We examined the ingredients, the side effects, and the clinical research as well as customer-service quality. We also scoured the web for customer reviews; then we summarized and condensed it all to give you the info you need to make an informed decision for yourself.
EDITOR'S TIP:
Substitute Phenolox with a proven fat burner such as
Leptigen
for better results.
What You Need to Know
First, Phenolox is a dietary supplement pill containing a proprietary blend of the following ingredients: Green Tea Extract, Advantra Z, L-Carnitine, L-Phenylalanine, Cayenne Pepper Extract, Coleus Forskohlii, Chromium Picolinate, and DC Potassium Phosphate. When taken as directed, Phenolox is purported to boost metabolism, curb appetite, and burn fat. One pro is that you have to take only 2 pills every day, and you only take that many after you've "eased into the supplement" by testing your tolerance for the supplement with 1 pill per day.
Phenolox is made by a company called Metabolic Nutrition, which was supposedly started in 1988. It's available on the official website for $52.99. Phenolox seems to rely on fairly reputable ingredients rather than including speculative material that hasn't been researched, and it is certainly simple to use, but read on…
Price–"$53 for This?"
The first concern we had with Phonolox is cost. "If you take two of these pills every day, it would be surprising if you didn't see any results," said our research editor. "But at $52.99 for 45 pills, you're forking over a substantial amount of money for Phenolox. I'm concerned that the ingredients don't stand up to that kind of price tag." With the price-per-pill at over $1, two pills per day adds up quickly.
You can find 250 capsules of green tea extract on Amazon for under $10. You can purchase the same amount of chromium for the same price, and citrus aurantium is $5. You can even find other proprietary blends of the ingredients for under $50, so we don't necessarily think Phenolox presents a good value to the consumer.
Scroll below for one of the best products we've seen over the last year.
Side Effects of Citrus Aurantium–Another Concern
Citrus Aurantium, or bitter orange, has become the mainstream replacement for the now-illegal ephedrine. Bitter Orange isn't without its own health concerns, though. According to the National Center for Complementary and Integral Health, "Bitter orange contains the chemical synephrine, which is similar to the main chemical in ephedra." It has yet to be established that bitter orange is, in fact, safer to use than ephedra. Furthermore, "There have been reports of fainting, heart attack, and stroke in healthy people after taking bitter orange supplements alone or combined with caffeine," the NIH says.
We've found that even one or two drawbacks can keep an otherwise effective product from working. Cost is a big factor–and if it's too high, a product that is only moderately effective will often fall by the wayside. More importantly than cost is health; even slight heart-related side effects should be taken seriously.
If you are dead set on taking Phenolox with its accompanying Citrus Aurantium ingredient, the NIH has the following recommendation before your commit to it: "People should avoid taking bitter orange supplements if they have a heart condition or high blood pressure, or if they are taking medications (such as MAO inhibitors), caffeine, or other herbs/supplements that speed up the heart rate."
The Science
Scientific research is incredibly important when you make a supplement decision. Most of the main ingredients in Phenolox have been researched to a certain extent, although the proprietary blend hasn't been studied in any published research. The big question mark lies in the fact that we haven't seen enough research on bitter orange to know if it's safe and effective.
Furthermore, there's no indication that Phenolox is any better than other products on the market. You could save a significant amount of money by purchasing your own individually-sold ingredients. There are plenty of comparable products on the market that cost less.
The Bottom Line
Phenolox just doesn't seem to be anything special. It offers a very common list of ingredients that you can find elsewhere, all for a relatively uncommon price–in our opinion, the price is too high. The lack of clinical research into Phenolox itself is a disappointment, and we can't justify the use of Citrus Aurantium until further research clears it.
If you need a supplement to boost weight loss, we suggest going for something that offers real results for an affordable price. Clinical research is a pretty big deal too.
2015 has brought about the release of several interesting products, but Leptigen always stands out above the rest. It includes four ingredients in a proprietary blend, and it will boost metabolism and burn fat. Side effects haven't come up online, and customers are loving the results.
A special trial offer makes Leptigen all the more appealing to try, so don't wait until the offer is over.