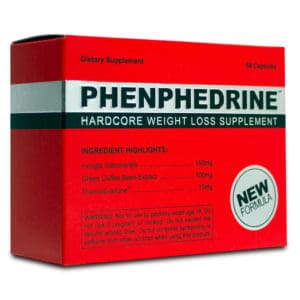 If you haven't looked carefully at Phenphedrine, now's your chance. Here at DietSpotlight, we conducted a thorough review, investigating the ingredients, side effects, scientific research and overall customer care. We also spent hours reading through various user responses and comments posted online. Finally, we compacted all of the facts and specifics to give you the info you really need.
EDITOR'S TIP:
Substitute Phenphedrine with a proven fat burner such as
Leptigen
for better results.
What You Need To Know
First off, Phenphedrine ingredients include dicaffeine malate, hops, chocamine, razberri-k, ginger, phenylethylamine, evodiamine, sclareolide, 1,3 dimethylamylamine, and yohimbine. Take one capsule 30 minutes prior to eating and it supposedly boosts thermogenesis, increases energy levels, suppresses hunger and speeds up metabolism. There is no special diet plan or fitness regimen mentioned with this supplement.
We are not sure when Phenphedrine was first released into the diet pill market, but it looks like it's been around since 2007. Natural herbs are used in this weight-loss formula, and it's fine for women and men alike, but read on…
Fad Ingredients – "Is It Effective?"
The first concern was Phenphedrine ingredients are often considered a fad. "The supplement contains raspberry ketones, which hasn't been proven to help with weight-loss," said our Research Editor. "So I concern centers on if the product will help you lose weight."
One customer reported, "I tried Phenphedrine, and it didn't work either way. It's not even worth considering to buy Phenphedrine even if it's a trial, as it is definitely not one of the best tested weight-loss pills."
Then again, another user revealed, "In my experience, it works on some level. Not a miracle pill though."
"Lost about three pounds total. Took Phenphedrine for about 6 weeks," said another person.
Scroll below for one of the best products we've seen over the last year.
Poor Results – "Not A Good Sign"
There are several reports of minimal fat-loss results from this diet product. One customer posted, "Phenphedrine does not work! I didn't get any good results on this weight-loss pill."
But, a different user had this to say, "My husband was using this for a couple of months, but lost only 2 pounds of weight."
Another commented, "I saw minor weight-loss and then gained it all back."
Our research has revealed that if there's a particular aspect of a diet pill or fitness program that is rather problematic or difficult (fad diet ingredients, poor results, side effects) the odds of real success are quite low. Therefore if Phenphedrine does fail to yield weight-loss effects in numerous customers, this could be a big problem.
The Science – "Any At All?"
To begin with, we at DietSpotlight like to see some actual research that supports the supplement we're reviewing. As for Phenphedrine, we did not find any clinical studies that back up the serious marketing claims regarding weight-loss. However, this product does contain dicaffeine malate, which is a mild stimulant that may help boost metabolism.
The Bottom Line – Does Phenphedrine Work?
So, should you pull out your credit card and order Phenphedrine? Well, first of all, we like that this diet pill contains natural ingredients. Also, it's fine for both women and men trying to shed unwanted pounds. On the other hand, we have some reservations about this formula because it's not backed by documented clinical studies. Furthermore, we're concerned about the fad supplement ingredients it contains. Not to mention the poor results some users have complained about.
If you'd like to drop more weight, then we suggest you select a product that contains clinically tested ingredients, is backed by positive user comments and reviews, and gives you plenty of bang for your buck.
Among the best products we've seen in 2016 is one called Leptigen. This diet supplement offers four ingredients, which have been shown in documented clinical research to help speed up fat loss and boost metabolism. Moreover, we did not find any negative customer comments online, and user reviews around the web indicate people are seeing wonderful results.
The makers of Leptigen are so certain of their product they're offering a Special Trial Offer, which is a good sign.