Updated: 09/29/2015 - Sponsored by Leptigen
PhenTabz Review - Does This Fat Burner Work?
Are ingredients and side effects deal breakers?
PUBLISHED: 09/05/2015 | BY: SUMMER BANKS, SENIOR REVIEWER
Editor
's Review:
3.5
/ 5.0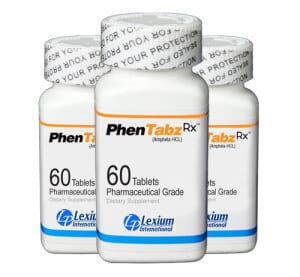 There's quite a buzz about Phentabz, so we dug deep into the ingredients, side effects, scientific research and customer service. Additionally, we jumped into hundreds of consumer comments and reviews. We then condensed and summarized to give you the info you need.
EDITOR'S TIP:
Substitute PhenTabz with a proven fat burner such as
Leptigen
for better results.
What You Need to Know
First off, Phentabz is a fat burner containing caffeine, DMAA and synepherine. The recommended dose is one capsule per day, not to exceed two capsules and this supposedly assists with weight-loss. One benefit of the capsule is ease of use.
The product was introduced in 2001 by Gentech Pharmaceuticals. The company also sells the supplement under the banner of Lexium International. You can purchase it on the official website, but we couldn't find it available anywhere else. We do like that the company has been in business for more than 10 years, but read on…
Ingredients Unsafe – "FDA Says Yes!"
The first concern for us was Phentabz ingredients. "Caffeine is considered a safe and effective weight-loss supplement," said our Research Editor. "But, when a diet pill contains a banned substance like DMAA, there could be an issue."
According to the FDA, "DMAA, especially in combination with other ingredients such as caffeine, can be a health risk to consumers. Ingestion of DMAA can elevate blood pressure and lead to cardiovascular problems ranging from shortness of breath and tightening in the chest."
It's also important to note, "DMAA-containing dietary supplements are illegal and their marketing violates the law. Based on the scientific information reviewed by FDA, DMAA is not a dietary ingredient."
Scroll below for one of the best products we've seen in 2015.
Side Effects – A Major Concern
Based upon several customer comments, Phentabz side effects are severe. "I have not experienced weight loss yet, but there are side effects like feeling edgy and jittery and going to sleep at night has been difficult," said a consumer.
"The only side effect was that it was making me jittery," offered a dieter.
"I get these hot sweaty episodes with a heavy weight feeling on my chest, and it gets hard to breathe," reported a user.
Our research shows that if an issue arises, like side effects, this could hinder long-term success. If Phentabz does in fact cause adverse reactions, there is a problem.
The Science
While the official Phentabz website makes the case that the supplement is an effective weight-loss pill, we can't find any clinical studies, speaking directly to the benefits of the ingredients. We did locate several cases where the Food and Drug Administration has banned DMAA from products. At DietSpotlight, finding science to back claims is critical. If there is no research, dieters should probably walk away.
The Bottom Line
After a comprehensive look at Phentabz, we've reached a decision. There are some favorable aspects of the product, like the longevity of the parent company and some positive customer comments, but we can't recommend it because of the lack of clinical research supporting weight-loss claims. Plus, we're concerned about the combination of ingredients and the "F" Better Business Bureau rating.
If you'd like to see real results, we recommend going with a product that doesn't put a dent in your wallet and contains ingredients backed by published clinical research.
Among the best products we've seen in 2015 is one called Leptigen. The supplement contains a four-ingredient proprietary blend, shown in published scientific research to help enhance fat loss and ignite metabolism. There's no talk of negative side effects and customer reviews state people are seeing exceptional results.
Also, the makers of Leptigen are confident in the supplement, so they're offering a special trial offer, which is an excellent choice.