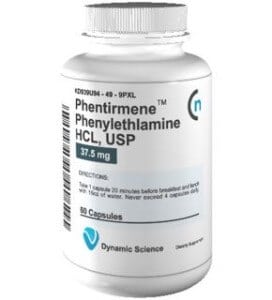 A diet product's worth depends on whether it actually helps people lose weight. Let's find out if Phentirmene really works. We at DietSpotlight did one of our in-depth reviews, examining the side effects, ingredients, clinical studies and overall customer service. Moreover, we focused on hundreds of user comments and customer reviews that are posted online. At this point we summarized and condensed the facts to give you the information you need.
EDITOR'S TIP:
Substitute Phentirmene with a proven fat burner such as
Leptigen
for better results.
What You Need To Know
Phentirmene is a weight loss pill created by SNC Laboratories. This supplement is suitable for women and men alike. It is directed to be taken twice daily, ideally 30 minutes before breakfast and lunch (two capsules each time). Plenty of water should be consumed while using Phentirmene. As for the ingredients in this diet pill, they include; Theobromine (25mg), Ginger (25mg), Phenylethylamine (37,5mg), Raspberry Ketones (100mg), Caffeine Anhydrous (200mg), Glucomannan (1,000mg), Chromium Picolinate (60mcg) and Vitamin B12 (510mcg). Unfortunately this product has been discontinued.
From what we gathered, Phentirmene was released back in 2010 and was sold online. This supplement is easy to use anywhere and it does contain some natural ingredients, but read on…
Fad Supplement Ingredients – A Concern?
"Phentirmene contains fad supplement ingredients such as Raspberry Ketones and Ginger, which are not backed by any solid clinical research when it comes to weight loss," says our Research Editor.
According to one user, "Got a slight caffeine buzz from this pill, but that's it."
"After 30 days of taking this diet pill, no actual weight loss," said another customer.
Scroll below for one of the best products we've seen over the last year.
Side Effects – Another Concern
The Phenylethylamine in Phentirmene can lead to rapid heartbeat, irritability and anxiety (according to WebMD). Some users have experienced side effects from this diet product. One customer stated, "Makes me quite jittery and gives me a headache."
Another person commented, "Not a good supplement for me. Makes me feel anxious and elevates my blood pressure."
Our research has revealed that if there is a certain part of a diet pill or program that is very concerning or problematic (fad supplement ingredients, a difficult exercise, side effects) the odds of long-term success are slim. So, if Phentirmene does cause side effects in a lot of people, this could be a serious dilemma.
The Science – Solid?
Sadly there is no scientific research or studies posted online to support Phentirmene. This might be due to the fact that this product has been taken off the market. For us at DietSpotlight, we need to see some actual published science that supports the diet product before we get behind, bottom-line.
The Bottom Line: Does Phentirmene Work?
Now the moment you've been waiting for: our bottom line on Phentirmene. Firstly, we like that this product contains some natural ingredients and we did find some positive comments about it online. However, we have some reservations about Phentirmene because it's not supported by any published science or clinical research. Also, we're concerned about the fad supplement ingredients it contains and the side effects some users have mentioned.
If you'd like to drop more pounds, then we advise you to go with a product that does not cause any unpleasant side effects, does not rely on fad supplement ingredients and is backed by real science.
Among the best products we've seen in 2015 is one called Leptigen. Its formula is a proprietary blend of four key ingredients, which have been proven in published scientific research to help kick-start metabolism and speed up fat loss. You should know that we can't locate any talk of harmful side effects and customer comments all over the web indicate people are seeing substantial results.
The makers of Leptigen are so sure about their product they're offering a Special Trial Offer, which is a positive sign.