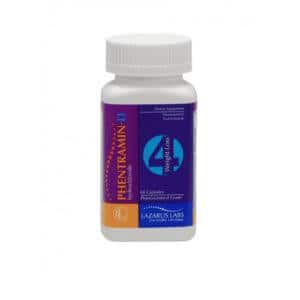 In the weeks that led to this review, I figured out whether Phentramin-D actually works. We took an in-depth look at the ingredients, side effects, clinical research, and customer service. Then, we went on to look through hundreds of user comments and reviews to see what people really thought. Then, we summarized and condensed to give you the info you need.
What is Phentramin-D?
Firstly, Phentramin-D is an alternative to the prescription weight-loss pill phentermine. The ingredients are 1,3-dimethyl-pentylamine-hydrochloride, 1,3,7-trimethylxanthine, hodenine, synpherine, and yohimbine. The recommended serving is one capsule 20 minutes before breakfast and another prior to lunch. These are supposed to stimulate the metabolism and suppress hunger.
Phentramin-D is made by Lazarus Labs, a company that's been in business since 2003. You can purchase the supplement through the official website and trusted retailers. We like that it contains a few natural ingredients and that we found some positive feedback, but read on…
Side Effects – "Be Careful"
The first concern related to Phentarmin-D side effects. "The formula may not have many ingredients, but they are stimulant in nature," said our Research Editor. "When combined, there's a chance adverse reactions could occur."
"Had to stop taking this because I couldn't sleep, even if I avoided taking it hours before bedtime," said one unhappy user.
"I felt so jittery and anxious, I lasted three days on this product," claimed another.
Not everyone experienced side effects.
"Zero side effects, just weight loss," mentioned one thrilled reviewer.
And we found one person who had this to say, "I lost 20 pounds in no time on this stuff, without side effects."
Scroll below for one of the best products we've seen over the last year.
Cost – "Is Phentarmin-D Expensive?"
According to Phentarmin-D reviews, the cost of the supplement was higher than expected.
"Not worth more than two dollars a day to me," grumbled one angry customer.
According to one critical review, "I understand you have to pay for quality, but this isn't what I was expecting."
Others are happy they made the investment.
One satisfied customer said, "This stuff works better than anything else I've ever tried, so I don't care how much it costs."
"Cost isn't an issue for me when something works this well," echoed another.
Over the years, we've found it takes a small thing like high price to stop any chance of long-term results. Looking at the total cost, Phentarmin-D may not be worth the investment.
The Science – "Research-Based?"
Studies of phenlethylamine found that it may have a link with reduced food consumption, while promoting energy and mood. We however, do not know if the clinically tested amounts are in the formula. Also, there's no solid science connecting the profile to weight-loss. At DietSpotlight, research is a critical part of the review process. When there's no evidence available, we walk away from it. At DietSpotlight, we want to see science before we can recommend any product, but we want those studies to show both safety and effectiveness.
The Bottom Line – Does Phentramin-D Work?
Should we race out for a bottle of Phentramin-D? While we like that it contains a few natural ingredients and the longevity of the company, there's an issue with the lack of research connecting it to weight-loss. We're also concerned about reports of high price and negative side effects.
If the time has come to jump-start your metabolism, we suggest going with an affordable supplement made with clinically-tested ingredients and not connected to harmful side effects.
Among the best products we've seen in 2016 is one called Leptigen. It consists of four clinically-tested ingredients, which have been shown to help accelerate metabolism and ignite fat loss. Our researchers weren't able to find any comments about harmful side effects, but people are talking about seeing great results.
Also, the company that makes Leptigen are so confident in their supplement, that they're offering a Special Trial Offer.