Updated: 09/29/2015 - Sponsored by Leptigen
Phentremine Review - Does This Meal Replacement System Work?
Are cost and harmful side effects deal breakers?
PUBLISHED: 09/18/2015 | BY: SUMMER BANKS, SENIOR REVIEWER
Editor
's Review:
3.5
/ 5.0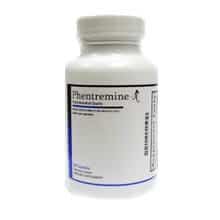 Phentremine has been billed as an alternative to Phentermine, which is a different product that requires a prescription. We did an in-depth review on Phtentremine, which does not require a prescription, looking at the ingredients, side effects, benefits, customer service, availability, and more. We also looked at the consumer reviews on dozens of website, and compiled the information we found into this concise review to give our readers the information they need to make a decision on whether or not Phentremine is right for them.
EDITOR'S TIP:
Combine Phentremine with a proven fat burner such as
Leptigen
for better results.
What You Need to Know
Phentremine contains caffeine, synephrine, phenylalanine, theorbromine, and copper sulfate, in a proprietary blend designed to help lose weight quickly. The capsules are convenient, and can be taken on the go, and many customers claim that the appetite suppressant is helpful in minimizing caloric intake.
Phentremine has been around since 2006, so they're still fairly new to the weight loss industry, but it seems to have some staying power. It can be purchased from a variety of sources online without a prescription, and there are some positive reviews claiming significant weight loss within just a few months, but read on…
Cost– "Yee-Ouch"
While Phentremine isn't expensive initially, the total cost can quickly add up. The first 30 day supply is only $65-80, but it reportedly signs you up for automatic renewal, which bills your card $80 months until you cancel it. After using Phentremine for a few months, many dieters see weight loss plateau, so they start taking a higher dosage, leading to a higher monthly cost. "There are many complaints online about the auto-subscription of Phentremine, which automatically re-orders and charges your credit card each month for $80," said our research editor. "Many reviews claim that the auto-subscription is difficult to cancel, and impossible to get a refund for."
"They charged me $80 extra, and I didn't even finish the 'free' trial period," said one disgruntled user.
"I'm not sure if these pills work or not, but the auto-subscription has me worried. Stay far, far away from Phentremine," said another.
Scroll below for one of the best products we've seen in 2015.
Harmful Side Effects – Another Concern
The next glaring concern was the obvious side effects associated with Phentremine. Two of the main ingredients are linked to lung infections, the caffeine causes jitters, and some long term side effects include severe mental changes, loss of vision, loss of hearing, irregular heartbeat, swelling, trouble breathing, insomnia, numbness, headaches, chest pain, and more.  "I was going to try Phentremine, but the long list of side effects make this an easy decision," said one customer.
"My sister recently started taking Phentremine, and she's now in the hospital with severe heart palpitations," said another. Most people that had success started with as little as one-quarter of a pill, and gradually increased their intake. "I started with ¼ of a pill, and increased to ½ a pill after 2 weeks. I've lost some weight, and the only side effect I've seen is restlessness at night," said one such customer.
Throughout our research into diet supplements and weight loss products, we've learned that any time there is a negative aspect of a weight loss program (painful exercise, negative side effects, cost, taste etc.) the likelihood of maintained weight loss is significantly decreased. If Phentremine really does have a long list of common side effects, this could make it difficult for many customers to lose weight and keep it off.
If you do choose to go with Phentremine, As with any weight loss program, we recommend you speak with a health care professional to determine what can be done to minimize your risk for these potentially serious side effects.
The Science
The lack of science behind Phentremine is a glaring issue as well. It seems as though the manufacturers hope that it will be confused with Phentermine and users will buy their product by mistake. The ingredients they use have some scientific research backing their effectiveness, but the formula that Phentremine uses has never been studied and proven to aid in safe, effective weight loss. Here at DietSpotlight, we think it's important to have published data behind your claims, so without scientific research proving what they're saying is true, we can't trust weight loss claims from the makers of Phentremine
The Bottom Line
There was some initial optimism when reviewing Phentremine. The product is easy to purchase, has some positive reviews, and has been around for almost 10 years, but that's where the positives end. Because of the lack of scientific research behind Phentremine's claims, we can't recommend it as a weight loss supplement. We also have serious concerns about the long list of side effects, the company's unethical practice of auto-subscribing customers, and the long term issues that can result from taking this product.
If you'd like a product that will help you lose weight without the high price tag or lifetime of side effects, we suggest a product that provides weight loss that is supported by published clinical studies.
Leptigen is one of our favorite products so far this year. This innovative, proprietary blend of four ingredients has been supported by numerous scientific studies, and has been used in published clinical trials to show its effectiveness versus a placebo. Users have seen great results with Leptigen without the side effects, and it's affordable and convenient for any lifestyle.
Leptigen's makers are so confident that you'll love their product, that they're currently offering a special trial offer for new customers.