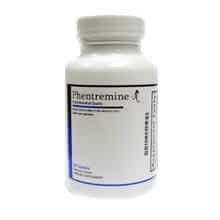 Why is it that so few diet products are backed by science? Let's find out if Phentremine is one of the good ones. This supplement has been billed as an alternative to Phentermine, which is a medication that requires a prescription. We did an in-depth review on Phentremine looking at the ingredients, side effects, customer service and clinical research. We also looked at the consumer experiences on dozens of websites and compiled and refined to give you the bottom line.
EDITOR'S TIP:
Combine Phentremine with a proven fat burner such as
Leptigen
for better results.
What You Need to Know
To start, Phentremine contains caffeine, synephrine, phenylalanine, theobromine and copper sulfate, in a proprietary blend designed to help you lose weight quickly. We did not find any information on how often you take the supplement, but we suspect it is once or twice daily. The capsules are convenient and can be taken on the go.
Phentremine has been around since 2006, so they're still fairly new to the industry, but it seems to have some staying power. It can be purchased from a variety of sources online without a prescription and there are some positive reviews claiming significant weight-loss within just a few months, but read on…
Cost– "Yee-Ouch?"
Our first issue with Phentremine ingredients is the cost. The first 30 day supply is only $65-80, but it reportedly signs you up for automatic renewal, which bills your card $80 a month until you cancel it. "There are many complaints online about the auto-subscription of Phentremine, which re-orders and charges your credit card each month," said our Research Editor. "Many reviews claim that the auto-subscription is difficult to cancel and impossible to get a refund for."
"They charged me $80 extra, and I didn't even finish the 'free' trial period," said one disgruntled user.
"I'm not sure if these pills work or not, but the auto-subscription has me worried. Stay far, far away from Phentremine," said another.
Scroll below for one of the best products we've seen over the last year.
Harmful Side Effects – "Troublesome"
The next glaring concern was the potential for adverse reactions associated with Phentremine. "I was going to try Phentremine, but the long list of side effects make this an easy decision," said one customer.
"My sister recently started taking Phentremine, and she's now in the hospital with severe heart palpitations," said another.
Throughout our research into diet supplements and weight-loss products, we've learned that any time there is a negative aspect (painful exercise, negative side effects, cost, taste etc.) the likelihood of long-term success is minimal. If Phentremine really does have a long list of common adverse reactions, this could make it difficult for many customers to lose weight and keep it off.
Is There Any Science?
The lack of science behind Phentremine is concerning. It seems as though the manufacturers hope that it will be confused with Phentermine and users will buy their product by mistake. The ingredients they use have some scientific research backing their effectiveness, but the formula that Phentremine uses has never been studied and proven to aid in safe, effective weight-loss. Here at DietSpotlight, we think it's important to have published data behind your claims, so without proof what they're saying is true, we can't trust it.
The Bottom Line – Does Phentremine Work?
So, we're at the end of this one – ready for the final take? There was some initial optimism when reviewing Phentremine. The product is easy to purchase, has some positive reviews and has been around for almost 10 years, but that's where the positives end. Because of the lack of scientific research behind Phentremine's claims, we have reservations recommending it as a weight-loss supplement. We also have serious concerns about the long list of side effects and the company's unethical practice of auto-subscribing customers.
If you'd like a product that will help you lose weight without the high price tag or lifetime of side effects, we suggest one that supports weight-loss with an ingredient list that is backed by published clinical studies.
Among the best products we've seen in 2015 is one called Leptigen. This innovative, proprietary blend of four ingredients has been supported by numerous scientific studies and has been used in published clinical trials to show its effectiveness at helping boost metabolism and spark fat loss. Users have seen great results with Leptigen without the side effects and it's affordable and convenient for any lifestyle.
Leptigen's makers are so confident that you'll love their product, that they're currently offering a Special Trial Offer for new customers.