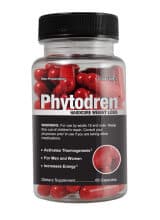 I need to make a confession: I was obsessed with researching Phytodren, so we created an in-depth review, examining the side effects, ingredients, scientific research and level of customer service. Furthermore, we focused on a multitude of dieter comments posted on the internet. Finally, we summarized the facts and specifics to give you the bottom line.
What You Need To Know
To start, Phytodren is an over-the-counter diet pill that can be used by both women and men. It contains a blend of chromium, irvingia gabonensis, caffeine anhydrous, dicaffeine malate, green coffee bean, Razberi-K, phenylethylamine, panax ginseng, poppy seed extract and thermodiamine. This supplement costs $69.96 per box, plus $5.95 for shipping and handling. You are directed to take one capsule prior to breakfast and lunch. According to the company website, this product helps boost energy levels, suppress hunger and burn off unsightly body fat. The bottle is just the right size to take with you.
Phytodren was released back in 2012 and it's available on the official website. There are some before and after photos posted online and a 90-day money-back guarantee is available, but read on…
Lack of Results – "Do You Have to Worry?"
The first problem we found when reviewing dieter comments, was lack of results with Phytodren ingredients. According to the Research Editor, "While it's great to see that the complete label for Phytodren is provided on the official website, that doesn't mean the formula will work for weight-loss as claimed."
One customer said, "I have not shown any results. I feel like I paid money for nothing. Very disappointed!"
Another stated, "This product was terrible. I saw no weight loss EVER!!!"
Scroll below for one of the best products we've seen over the last year.
Side Effects – "Watch Out!"
Many customers complained of Phytodren side effects while taking this diet aid. One said, "Phytodren is a total rip off. It made me feel terrible. At first I would feel nauseous and jittery, and about an hour later need a nap. I did not notice an increase in energy levels and my appetite was the same. The only change I saw was that in 30 days I lost an extra 2 pounds. Not worth the cost of the product."
"The product only made me dehydrated and did nothing else. There was no energy boost," explained another.
Through our research, we have discovered that if a particular aspect of a diet product or weight-loss program is especially problematic (pills that cause side effects, high price) the likelihood of real success is minimal. In other words, if Phytodren does in fact cause problems in numerous people, this could be a serious issue.
The Science – "Legitimate?"
Sadly there is no documented science presented on the official website to support Phytodren diet pills. You can easily find research into caffeine, but those pills can be purchased for less than $5 a bottle everywhere from the grocery store to a convenience market. Here at DietSpotlight, we need to see published clinical studies that show the product is truly effective for weight-loss as claimed. When that's not available, there's an issue the company needs to address.
The Bottom Line – Does Phytodren Work?
So much to digest with this one, but what was the final verdict? It's great to see that Phytodren is backed by a 90-day satisfaction guarantee, but we are skeptical about recommending this diet aid because it's not supported by any real clinical data. Furthermore, the price tag on this supplement is quite high and there are numerous complaints about side effects. Fad ingredients, like raspberry ketones, add to the problems.
If you need to speed up your weight-loss results, we encourage you to go with a dietary supplement that's easy on your wallet, backed by published clinical studies and void of fad ingredients.
Among the best product we've seen in 2016 is one called Leptigen. This supplement contains a proprietary blend of four proven ingredients, which have been shown in documented clinical studies to help increase fat loss and elevate metabolism. We were not able to find any talk of negative side effects and customer feedback posted online shows people are seeing awesome results.
Also, the makers of Leptigen are confident enough in this one so they're offering a Special Trial Offer, nice addition.