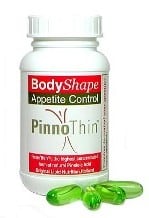 There has been plenty of buzz concerning Pinnothin taken from nuts, so we spent some time writing a comprehensive review, examining the ingredients, side effects, clinical research and level of customer care. We also scrutinized hundreds of dieter responses and customer comments from the internet. Lastly, we summed up all of the facts and user reviews we found to give you the bottom line.
EDITOR'S TIP:
Combine Pinnothin with a proven fat burner such as
Leptigen
for better results.
What You Need To Know
Pinnothin is an extract taken from Korean pine nut oil. This substance is 100 percent natural and it is used in some diet supplements and foods. It is rich in long-chain fatty acids, which includes pinolenic acid. This ingredient is claimed to cause the release of satiety hormones, which in turn allows you to feel satisfied (not hungry). Since your appetite is suppressed, you will likely eat less food, and this can lead to weight loss. Pinnothin is available in supplements such as; Body Shape Appetite Control, Nutrilab Pinnothin, PinnoSlim capsules, Apetit Control pills, Slimline and Ador Chocolate. These products are sold online, but many of them come from companies located outside of the United States.
We are not sure when Pinnothin first emerged, but it has been available for weight loss since 2012. There are many supplement options available online that use this ingredient and people of all body types can take Pinnothin. There is customer feedback posted online as well, but read on…
Lack of Real Weight Loss Results
According to our Research Editor, "From what we could tell, there is no solid research supporting Pinnothin for appetite suppression and weight loss. This ingredient appears to be similar to Hoodia Gordonii, which is also used for appetite suppression."
One dieter said, "Does not work, did not lose anything on this or feel any different."
"Don't do it to yourself, I bought these along with the diet patches and used them together and got no results what so ever," said another customer.
Scroll below for one of the best products we've seen in 2015.
User Complaints – Not Good!
We discovered quite a few customer complaints posted online for Pinnothin products. One dieter stated, "I took these for about 2 weeks and felt absolutely no change in my appetite. Didn't lose a pound!"
Another user commented, "This is a much-hyped alternative to Hoodia, but doesn't work!"
Our intense research has shown that if there is a certain facet of a weight loss product or diet program that is very problematic (lack of real weight loss results, too many user complaints, a very difficult exercise) the chances of real weight reduction for the long run are not good. So, if Pinnothin does lead to a high number of dieter complaints, this could be a serious problem.
The Science
Here at DietSpotlight, we prefer to see documented clinical studies that support the dietary supplement or weight loss ingredient. In regards to Pinnothin, there is some "science" presented on the official website. According to the website, some clinical trials have been conducted with this weight loss ingredient. However, not many details are given. For instance, the number of people who participated in the studies, how old they were, and whether or not they were male or female is not revealed. We prefer to see more details in order to fully understand the weight loss studies.
The Bottom Line
In the end, we feel that there is too much hype surrounding Pinnothin supplements for appetite suppression and weight loss. We do not recommend these products. In fact, you will find that many of the dieters who have tried them do not recommend them either. There are more promising alternatives out there.
If you want to shed pounds at a faster rate, we advise you to go with a weight loss ingredient or diet supplement that is backed by positive user feedback, real clinical studies and does not cost you a fortune.
One of the most impressive diet products we've spotted in 2015 is Leptigen. This diet supplement contains four ingredients, which have been proven in published clinical trial research to ignite metabolism and accelerate fat loss. Moreover, we have not located any complaints of negative adverse effects and user feedback on the web expresses people are seeing excellent results.
Also, the makers of Leptigen are so confident in their product they're offering a special trial offer, which is a good sign.