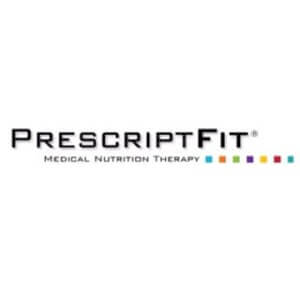 I need to make a confession: I was obsessed with researching PrescriptFit. So we at DietSpotlight decided to create a detailed review, examining the ingredients, side effects, clinical research and overall customer service. Plus we scrutinized all sorts of dieter comments and responses from around the web. At this point we compacted all of the facts and feedback we discovered to give you the info you need.
EDITOR'S TIP:
Combine PrescriptFit with a proven fat burner such as
Leptigen
for better results.
What is Prescriptfit?
To lead off, PrescriptFit is described as a "medical nutrition therapy and weight-loss plan." This method uses branched chain amino acids to help improve overall health and treat conditions that are often linked to weight gain, such as type 2 diabetes. There are several supplements involved with the plan, and these include protein shakes, snack bars, soups, puddings, soy crisps, egg protein and flavorings. There are 13 different "food phases" that are supposed to help increase satiety, reduce sugar cravings, lower insulin levels and aid with weight reduction. A 50/50 ratio of proteins and complex carbohydrates are consumed.
PrescriptFit has been around since at least 2010 and it's suitable for both women and men trying to lose weight. There are several supplements available and we did find some positive dieter comments about this program posted online, but read on…
Unpleasant Taste – "Concerning?"
First off, we found a few issues with the flavors and that makes it difficult to stick with the diet. According to our Research Editor, "Numerous dieters have complained about the taste of PrescriptFit food products and supplements. Naturally this is a concern because you're less likely to use them as directed if they're not good."
One customer commented, "Can't stand the taste of the shakes! Tried chocolate and vanilla. Not good!"
"The snack bars are gross. Not for me. No thanks," said another dieter.
Scroll below for one of the best products we've seen over the last year.
Lack of Product Availability!
From what we gathered, many dieters have some difficulty finding PrescriptFit products. One person asked, "Where do you buy the shake mix? Can't find this stuff anywhere online."
Another dieter stated, "How do you actually buy this? I can't find a website."
According to our research, if there is a particular facet of a diet program or supplement that is especially troublesome (a painful/difficult exercise routine, lack of product availability, unpleasant taste) the chances of long-term success are not very good. This means if PrescriptFit foods and supplements are difficult to come by and taste bad to a lot of dieters, this could be problematic.
Any Real Science?
Actual scientific research is not addressed on the official website. For us at DietSpotlight, we really need to see some solid clinical research that backs the weight-loss claims made by PrescriptFit or else we see a big red flag. But, we have to say that replacement foods,  like shakes and bars, can be used as part of an effective program when combined with a healthy diet and exercise program.
The Bottom Line – Does PrescriptFit Work?
So, should you spend your money on PrescriptFit? Well, we like that this company offers numerous products to address weight-loss and health issues and we did find some positive comments posted online. But we have some reservations about this therapy because it's not backed by any solid science. Also, we're concerned about the lack of product availability and the customer complaints regarding the supplements and their less-than-savory taste.
If you'd like to drop more weight, then we encourage you to go with a weight-loss program or supplement that is backed by real clinical testing, is easy to purchase online and is supported by all kinds of positive user reviews.
Among the best products we've seen in 2016 is one called Leptigen. Its formula is a proprietary blend of four potent ingredients, which have been shown in documented clinical testing to help ignite metabolism and speed up fat loss. We can't find much talk of unpleasant side effects and dieter comments around the web show people are seeing amazing results. Plus, you can combine it with a meal-replacement plan.
The makers of Leptigen are so certain of their product they're offering a Special Trial Offer, which is a good sign.