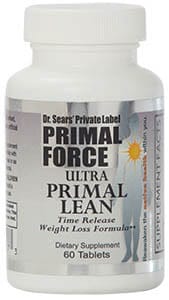 We caught wind of Primal Force's Primal Lean pill a while ago, so we were curious to see if it was a legitimate supplement. We examined not only the ingredients, the side-effects, and the clinical research but also the customer-service quality. We then added customer reviews into our research and put together this review so that you can make an informed decision about this product.
EDITOR'S TIP:
Substitute Primal Force Primal Lean with a proven fat burner such as
Leptigen
for better results.
What You Need to Know
Primal Lean is a pill that uses Irvingia Gabonensis Seed Extract as its tour-de-force ingredient. It also includes Fucoxanthin, Garcinia Cambogia Fruit Extract as a possible energy booster, and Chromium, which may assist in lean muscle building). You take one pill before breakfast and one before dinner, and the supplement supposedly blocks the formation of fat in your body and helps you burn pre-existing fat. The price is around $55 for a 60-count bottle, which is a one-month supply based on the recommended dosing.
The product is sold through PrimalForce.net and online retailers, or you can get it through an "affiliate," which is just the Primal Force version of a pyramid scheme. We like the fact that the pills don't contain any stimulants and that they are easily compatible with a regular lifestyle since you just need to pop 2 or 3 pills per day. You can even get your money back on the pills if they don't seem to be working, but keep reading …
Price–"Bad Value"
Our first qualm with Primal Lean is the cost. $55 for 60 pills may sound pretty mainstream, but the length of time you must continue using these pills before you see results really drains the wallet. You will basically be paying about $55 per month while sticking to the prescribed dosage. In our opinion, the mediocre ingredients in the pills aren't quite worth the cost.
"It's extremely overpriced. I would not buy Primal Lean again, and cannot recommend it in light of my experience with this product," said one user.
"The only thing leaner is my wallet! Don't waste your money," said another.
Scroll below for one of the best products we've seen in 2015.
Effectiveness– Concern #2
As we did our extensive online research of Primal Lean reviews, we started noticing that results from using Primal Lean were inconsistent to say the least. The product certainly doesn't seem to have well-documented success on a large scale. "I not only didn't lose weight while taking Primal Lean, I gained weight! It made me constantly hungry, so I ate a few more calories," said one customer online.
"Tried the product for about 12 weeks; actually gained 2-3 pounds," said another. Many other reviews pointed toward the same ineffectiveness, even among consumers who claim to lead a healthy lifestyle. "I've been taking Ultra Primal Lean for 6 weeks. Haven't seen any changes at all. . . I eat very well, exercise 4 times per week and was hoping to lose 20-25 pounds," said one person.
We have come to realize here at Diet Spotlight that a program with even one aggravating aspect to it (e.g., too expensive, ineffective over a long period of time, and others) significantly lowers the user's chance of success. If Primal Lean really does have spotty results and is over-priced, we have a problem.
The Science
Unfortunately, Primal Lean has not been tested in any clinical settings except for one–an in-house study by the maker of Primal Lean claims to have had great success. Obviously, an in-house clinical study lacks reputability. The various ingredients have been tested to a certain degree–Fucoxanthin, for instance, has been shown to manage weight, according to the National Library of Medicine. Garcinia Cambogia Fruit Extract also can cut down on abdominal fat. These ingredients are used in small proportion in Primal Lean, however, and they can be purchased separately for much less.
The Bottom Line
Primal Lean initially looked like a good supplement option. It has some valid ingredients, but the product hasn't been involved in any clinical studies (a big red flag to us). The reviews were very disheartening, too, and the company has an F rating on the Better Business Bureau–apparently many customers are dissatisfied with both the product and the service. Customers are automatically enrolled in an annoying auto-shipment program when making the first purchase.
If you want to burn some fat and shed some pounds, you need to look for a supplement that is worth your money and has published clinical verification. Leptigen is one of the best products we've found in 2015, and its formula blends four clinically proven ingredients to help you burn fat and boost metabolism. Nor can we find mention of any adverse side-effects in online reviews.
The makers of Leptigen are even holding a special trial offer, which is always a good sign that a company is willing to stand behind its product.