Updated: 09/22/2015 - Sponsored by Leptigen
Prolessa Duo Review - Does This Appetite Suppressant Work?
Are taste and ineffectiveness deal breakers?
PUBLISHED: 09/02/2015 | BY: SUMMER BANKS, SENIOR REVIEWER
Editor
's Review:
3.5
/ 5.0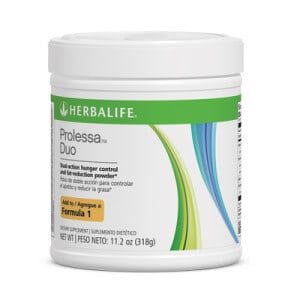 There's a lot of interest is Prolessa Duo, so we concentrated on ingredients, side effects, scientific support and customer service. Additionally, we paid close attention to hundreds of consumer comments and reviews. We then refined and condensed to give you the info you need.
EDITOR'S TIP:
Combine Prolessa Duo with a proven fat burner such as
Leptigen
for better results.
What You Need to Know
First off, Prolessa Duo is an appetite suppressant that has conjugated linoleic acid, palm oil and minerals. You can mix the supplement with a shake or consume as is once per day. The product supposedly assists with weight-loss. It's easy to mix and you can drink it on the go, two benefits.
The product, offered by the MLM company Herbalife in 1980, does not include artificial ingredients, a good choice.  We do like the longevity of the business behind Prolessa Duo and there are a few positive customer comments, but read on…
Taste – Not Flavorful
The first concern we had with Prolessa Duo was taste. "When you add a powdered appetite suppressant to a shake, you don't want it to alter the flavor," said our Research Editor. "If it just isn't any good, dieters will more than likely stop using it."
"This stuff taste like paint! I literally felt like I was drinking paint each time I used it," said a consumer
"It has a medicine taste," reported one customer.
Scroll below for one of the best products we've seen in 2015.
FDA Judgements
The Food and Drug Administration contacted Herbalife in December of 2014 because the company used a promotional video that implied the FDA supported products sold by the business. According to the Dietary Supplement Health and Education Act of 1994, that's not in the power or responsibility of the government agency. All relevant information has since been removed.
Ineffectiveness
According to numerous customer comments, when dieters  followed the recommendations for taking Prolessa Duo they didn't see results. "I was on the program for 3 weeks & lost absolutely nothing," commented a consumer.
"Didn't notice any difference and fat percentage did not decrease," said a customer.
"Did not lose anything and I am in the military so I'm constantly moving around. I actually gained a pound," said a user.
The Science
While the official Prolessa Duo website states the ingredients are "clinically tested," we couldn't locate published scientific research supporting the suggestion you'll lose weight. At DietSpotlight, finding clinical studies backing claims is critical. If there's no science, why take a chance?
The Bottom Line
After thoughtful consideration regarding Prolessa Duo, we've come to a conclusion. There are some positives like a few favorable comments and the longevity of the company, but we can't recommend it because of the lack of published clinical research supporting the weight-loss claims. Plus, we have concerns about the FDA judgments and the MLM opportunity, making purchasing smaller quantities more difficult.
If you'd like to rock your best body, we recommend going with a cost-effective supplement, containing ingredients backed by published clinical research.
One of the best supplement we've seen in 2015 is one called Leptigen. The product contains a four-ingredient proprietary blend, shown in published scientific research to stimulate fat loss and ignite metabolism. There's no talk of negative side effects and reviews on the web report customers are seeing excellent results.
Additionally, the makers of Leptigen are confident in the supplement so they're offering a special trial offer, nice bonus.