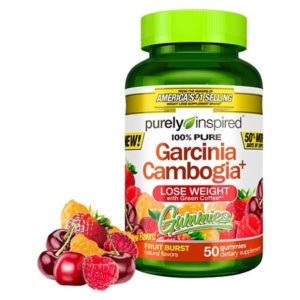 The results of my research into Purely Inspired Garcinia Cambogia Gummies were somewhat surprising. We at DietSpotlight conducted an in-depth review, focusing closely on the side effects, ingredients, clinical studies and overall customer-service quality. Furthermore, we looked at dozens of user responses and remarks from all over the web. At this point, we summed up all of the facts and feedback we found to give you the info you need.
What are Purely Inspired Garcinia Cambogia Gummies?
To start with, Purely Inspired Garcinia Cambogia Gummies is an over-the-counter dietary supplement. The ingredients include green coffee bean and garcinia cambogia extract. You simply consume two gummies, three times a day (30-60 minutes before meals). This product is intended to help suppress your appetite and aid with fat loss. A reduced calorie diet and regular exercise are encouraged.
There's no mention of when Purely Inspired Garcinia Cambogia Gummies were first released, but Iovate Health Sciences is the company behind it. The supplement is sold one the official website and through online retailers. We like the low price and that we located a few positive comments, but read on…
Unpleasant Taste – "Can You Handle It?"
The first concern related to the taste of Purely Inspired Garcinia Cambogia Gummies ingredients. "Several customers have complained about the flavor," said our Research Editor. "If it hits your pallete the wrong way, is there any benefit?"
One customer reported, "These taste awful, I could not even get one down. Don't order these unless your taste buds have been removed."
Then again, a different user said, "This product tastes fine, but it's high in sugar. I have been taking these for a little while, but have not seen a decrease in weight."
Another commented, "Taste is okay. Helps reduce my appetite and food cravings."
Scroll below for one of the best products we've seen over the last year.
Purely Inspired Garcinia Cambogia Gummies Ingredients – "Causing Weight Gain?"
Another concern is the five grams of sugar per serving. This may cause some weight gain. One user stated, "This is a waste of money. Does absolutely nothing for you. If anything, this makes me hungrier and more sluggish. I'm actually up five pounds since starting these."
On the other hand, a different customer said, "I didn't see any difference using this product. They taste okay though."
"Not sure about these gummies. Noticed some Purely Inspired Garcinia Cambogia Gummies side effects. Made me bloated and gassy," posted another.
The extensive research we've done has revealed that if there's some specific part of a diet product or program that is quite difficult or concerning (unpleasant taste, added sugar, low Amazon star rating) the probability of lasting results is low. This means if Purely Inspired Garcinia Cambogia Gummies do in fact taste bad to a lot of people, this could be problematic.
The Science – "Any Presented?"
We did find some clinical research mentioned for Purely Inspired Garcinia Cambogia Gummies. However, we also found conflicting studies on other websites. Therefore we are not convinced this diet supplement will work as well as claimed. Especially not after reading the user feedback posted online.
The Bottom Line – Do Purely Inspired Garcinia Cambogia Gummies Work?
So, should you race out to the store and buy Purely Inspired Garcinia Cambogia Gummies? Well, we appreciate that this diet product is easy to use anywhere. We also like that it can be purchased through online dealers like Amazon. However, we have some doubts about this weight-loss formula because it contains five grams of sugar per serving. Also, we're concerned about the less-than-savory taste.
If you'd really like to shed some pounds, then we suggest you go with a product that does not have an unpleasant taste, is backed by encouraging user comments and does not lead to weight gain.
Among the best products we've seen in 2016 is one called Leptigen. This potent formula contains a blend of four key ingredients. Some of which have demonstrated in solid clinical research to help speed up fat loss and boost metabolism. We can't find any negative user reviews, and comments around the web indicate people are seeing wonderful results.
The makers of Leptigen are so positive about their product they're offering a Special Trial Offer.