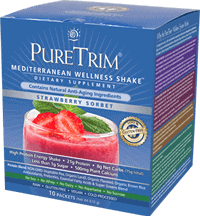 I did two things this week. I obsessed over every aspect of PureTrim Shakes. Then I wrote this review about it. We delved deep into the ingredients, side effects, customer service quality and clinical research. We devoured hundreds of consumer comments. Then, we condensed and summarized the facts to give you the info you need.
What are PureTrim Shakes?
First off, PureTrim Shakes ingredients are vegetable protein, brown rice, lentil, flaxseed and calcium. There are also some prebiotics and antioxidants in the formula. When you use it twice daily you are supposed to lose more weight. The product comes in packets so you can mix them anywhere.
The shakes, offered up by Awareness Corporation after 1995, contain more than 20 grams of protein, a great choice. You can buy it on the official website, but we didn't find it for sale from other retailers. We like that there are some positive reviews, but read on…
Price – "Off the Charts?"
Our first concern is Pureslim Shakes price. "There is some evidence that using a meal-replacement in your diet can promote weight-loss," says our Research Editor. "There are plenty of options on the market and most cost far less than Pureslim Shakes."
"Pure Trim Shakes ARE expensive, $30 for 5 days?," says one dieter.
"Its not a poor mans shake. If you got the money, you can get the [P]ure Trim," offers a buyer.
Scroll below for one of the best products we've seen over the last year.
Unrealistic Weight Loss Claims – "You Lost What?"
We agree that meal-replacement shakes can be a good addition to any program, but we don't believe it's healthy to lose more than one to two pounds a week after the initial water loss that comes with any new diet. Some Pureslim Shakes testimonials are a little over the top especially when the company says, "For our in-house preliminary study, weight-loss averaged 1-2 pounds per week."
One dieter claims to have lost "31 lbs in 11 weeks." That's nearly three pounds in seven days.
Another reports, "42 lbs in 12 weeks." That adds up to about 3.5 every seven days.
In our research, we found that one problem, like high cost, is more than enough to affect your chances of long-term success. If Pureslim Shakes costs $180 a month, that's more than any dieter should spend.
The Science – "Legit?"
The Pureslim Shakes ingredients are supposed to promote weight-loss of around two pounds each week, according to a preliminary study as mentioned on the official website. There is no link to this clinical research. There's no doubt cutting calories by using a meal-replacement shake can help you lose more, but there's no proof this product works better than that $5 pack of shakes at your local grocery store. At DietSpotlight, it's the science that helps us choose whether or not to give a supplement the green light. This one leaves that information out of the description.
The Bottom Line – Do PureTrim Shakes Work?
So, we've reached a solid conclusion about PureTrim Shakes. Do you want to know what it is? We thought it interesting that so many people were asking questions about Pureslim Shakes. We like that the ingredients are a good source of protein and we did find some customers who'd lost weight on the products, but we have reservations about this one because the price is way over the top. We're also concerned that the company does not have a BBB rating and the headquarters is located in a shopping center next to a traffic school and bank.
It's your time to lose those extra pounds, so we suggest going with a supplement that packs in clinically proven ingredients at a price that won't break the bank. We also look for a good customer service department to answer questions.
Among the best products we've seen in 2016 is one called Leptigen. The four-ingredient proprietary blend is supported with strong clinical proof showing it helps boost metabolism and fat loss. There's no talk of adverse side effects, but there's more than a few reports of dieters seeing great results.
Also, the company behind Leptigen is confident in the formula so they're offering a Special Trial Offer, not your average extra.