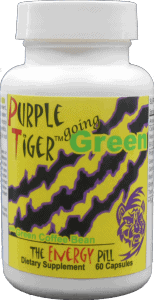 Why are people talking about Purple Tiger Energy? We wanted to find out, so we conducted a comprehensive review, scrutinizing the side effects, ingredients, clinical studies and overall customer care. We also checked out numerous dieter comments from all over the web. Finally, we summarized all the facts and details in order to give you the bottom line.
What You Need To Know
First off, Purple Tiger Energy is an over-the-counter pill that is intended to increase your energy levels, boost metabolism and help with the "toughest cases" of weight-loss. The ingredients used in this supplement are caffeine, chromium, vitamin B-6, vitamin B-12, calcium aquamin, magnesium, zinc, B-phenylalanine, dark cocoa powder, green tea, Advantra Z or citrus aurantium, choline bitartrate, alpha keto glutaric acid, cinnamon, trace minerals, 5HTP, vanadium sulfate, chocamine and silica. You need to take it every day with water.
This product was initially released back around 2012. It is conveniently available online for $49.95 for 60 capsules and some customer feedback is posted on distributor websites. Furthermore, Purple Tiger Energy provides some vitamins and minerals, but read on…
Adverse Effects – "Watch Out?"
The first thing we felt needed to be addressed with Purple Tiger Energy ingredients what that some may not be safe for all dieters. "After reading through a number of customer reviews posted online, it's clear that many users have experienced side effects like jitters, headache, rapid heartbeat and nausea while taking this energy supplement. Naturally this is very concerning," says our Research Editor.
One dieter commented, "Makes my heart race like crazy and I feel really nauseous."
According to another user, "These pills make me too jittery."
Scroll below for one of the best products we've seen over the last year.
Questionable Ingredients – "Uh Oh!"
Purple Tiger Energy uses Advantra Z, which is also known as citrus aurantium or bitter orange extract. This ingredient contains synephrine, which works like ephedra, which is no longer legal for use in diet products. One customer complained, "Purple Tiger Energy makes me seriously nauseous and I have a headache."
"This stuff is not safe. Experienced side effects," said another user.
Some dieters didn't notice negative side effects while using this supplement. "I take Gone Wild before it gets too late. If not, it interferes with sleep," stated customer.
Our research has proven that if there is a particular aspect of a diet supplement that's problematic, like causing adverse reactions,  the odds of real success for the long-term are not very good. If Purple Tiger Energy does use a formula that causes negative side effects, this could be a serious issue.
The Science – "Legit?"
While we appreciate that some vitamins and minerals are used in Purple Tiger Energy pills to benefit your overall health, we could not find any published clinical studies to support this supplement. In fact, the official website provides very minimal information. At DietSpotlight, we prefer to see some solid research that proves the product works as claimed.
The Bottom Line – Does Purple Tiger Energy Work?
So, what's the take on this one ladies and gentlemen? Although Purple Tiger Energy uses some natural ingredients, we are skeptical about recommending this supplement. The stimulants can certainly lead to side effects. Not to mention, there does not appear to be a refund guarantee provided. Also, the official website does not offer much information.
Those who really want to boost energy levels and enhance overall performance, we suggest you go with a supplement that uses ingredients that are backed by real science and does not lead to harsh side effects.
Among best products we've seen this in 2016 is one called Leptigen. It is made with a unique blend of four clinically proven ingredients all known for their ability to help increase metabolism and fat loss. As we conducted our research, we couldn't find anything negative in terms of comments or side effects, but we did locate many reports of dieters seeing amazing results.
We are glad to see the makers of Leptigen are so confident in their product they're giving new customers a Special Trial Offer.