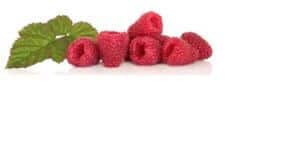 The results of my research into raspberry ketones were somewhat surprising. We took a closer look at the side effects, ingredients and clinical studies. Additionally, we sorted through hundreds of user responses and comments from around the web. At this point, we condensed and summarized to give you the info you need.
What are Raspberry Ketones?
To start with, raspberry ketones are derived from red raspberries. This is a chemical that is sometimes used to manufacture fragrances, foods and cosmetics. It has a potent flavor and aroma. Furthermore, this substance is used in a number of over-the-counter weight-loss supplements. This ingredient may help elevate adiponectin (a hormone) levels, which in turn aids with fat reduction. It is also a natural component that provides some antioxidants. This ingredient is often combined with other natural herbs as well.
We are not sure when the first raspberry ketones weight-loss supplements were released. However, this ingredient gained a lot of popularity after being discussed on television programs in 2012. As a product, you can purchase it at local retailers and through online stores. We like that it's natural and that we found some positive customer comments, but read on…
Fad Ingredient – "Concerned?"
One concern we have is with raspberry ketones ingredients. "There is no solid clinical evidence that supports this fruit extract as an effective weight-loss aid," said our Research Editor. "WebMD even states that this substance has not been proven to help treat obesity."
One user stated, "These did absolutely nothing for me. No change in how I felt. No extra energy. Nothing."
Then again, a different customer said, "Hoping for some weight-loss. Been taking this for a few days and eating well, but I don't feel a difference yet. No raspberry ketones side effects either."
Another posted, "These are fairly easy to take. Not sure if they are working though."
Scroll below for one of the best products we've seen over the last year.
Minimal Results – "Losing Weight with Raspberry Ketones?"
According to raspberry ketone reviews, dieters aren't exactly noticing results. One person revealed, "Waste of money. I did not notice a difference in my appetite or weight."
"Still not sure about this one. Been taking a month and have dropped a pound," commented another.
However, a different customer said, "Didn't work much for me, but my wife said she liked it."
"I have noticed some results from these raspberry ketones pills," posted another.
The research we've done has shown if there's a specific part of a diet product that's concerning, like being ineffective, the chances of long-term success are limited. If raspberry ketones fail to produce real results, this could be a dilemma.
The Science – "Solid?"
Although some research has been conducted with raspberry ketones, it is inconclusive at this point. There are no clinical studies that truly support this ingredient as an effective weight-loss aid. We at DietSpotlight look for solid science that backs any claims. With this one, there's nothing available.
The Bottom Line – Does Raspberry Ketones Work?
Now the moment you've been waiting for. Here is our bottom line on raspberry ketones. We like that it's readiliy available and that we found some positive customer comments. On the other hand, we have some concerns because it's not backed by any solid science. Moreover, we're also skpeitcal about this one due to discouraging customer comments and that it's considered a fad ingredient.
If you'd like to drop more weight, we suggest going with a product that is backed by solid clinical research, supported by encouraging user reviews and gives you a lot of bang for your buck.
Among the best products we've seen in 2016 is one called Leptigen. Its formula contains four clinicially-tested ingredients, which have been shown to help speed up fat loss and boost metabolism. There's no talk of harmful side efffects and the comments around the web indicate people are seeing great results.
The makers of Leptigen are so confident in their supplement, that they're offering a Special Trial Offer.