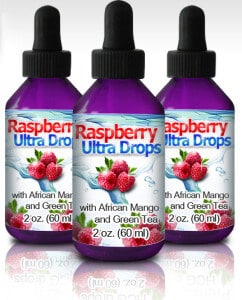 We've heard a lot of buzz about raspberry ultra drop, so we decided to conduct a thorough review, to look closer at the ingredients, the scientific research, company background, and customer service. We went on to read hundreds of testimonials and user reviews from across the Internet. Then, we summarize the condensed everything to provide you with the information you're looking for.
EDITOR'S TIP:
Substitute Raspberry Ultra Drops with a proven fat burner such as
Leptigen
for better results.
What You Need to Know
First of all, Raspberry ultra drops is a weight loss product. Ever since Dr. Oz made a statement about how raspberry ketones were miracle ingredient linked to weight loss, a number of manufacturers use his name to sell their products instead of relying on scientific research and clinical trials. This product is in the long line of supplements without proven results. It contains raspberry ketones, African Mango, green tea, L-carnitine, and L tyrosine.
We were unable to determine when the company was founded. There was a lot of information relating to research on the doctor all show. Though he is a great doctor and more than likely researches his products prior to endorsing them, we feel this product is merely using his name as there was no information available on the website relating to the effectiveness of the product. We like the fact that the drops are easy to find, but read on…
Price – "Yee-Ouch!"
2 ounces of clinical grade raspberry ultra drop, which will last for 15 days, are advertised in a normal price of $99.99. This means you would have to spend $200 a month to consistently use the product. However, the time of this review, the price is marked down to $59.95. While this is a significant discount, it still makes use of the supplement over $100 a month.
"Given that this is a fad ingredient with a high price tag, we advise dieters to proceed with caution." said our Research Editor.
Scroll below for one of the best products we've seen in 2015.
Snopes Debunks Dr. Oz Endorsement
While Dr. Oz may endorse raspberry ketones, he does not endorse this particular product.
"In short, consumers who want raspberry ketones (for whatever reason) should look for something other than the Raspberry Ultra Drops product." said Snopes.
Our research indicates that if there's part of a diet program that's hard, like the price, customers won't be able to continue to use it for very long.
The Science
Webmd states that no studies in humans have demonstrated raspberry ketones as an effective weight loss aid. No human studies have established the safety of using raspberry ketones for such purpose.
The Bottom Line
Initially, we were looking forward to reviewing raspberry ultra drops, because we thought they may be different from other raspberry ketone-based products. Given issues with price, the lack of science to support the ingredient, and the false claim of Dr. Oz endorsing the product, we cannot recommend this product.
If you'd like to drop some weight, we recommend buying a supplement that gives you clinically proven safe and effective ingredients at a price that won't break the bank.
Among the best products we've seen so far in 2015 is Leptigen. it features a unique blend of four clinically proven ingredients known to support metabolism and increased fat burning power. As we researched, we could not find negative mention of the product or side effects, which tells us users are seeing solid results.
We're thrilled to see the makers of Leptigen are so confident in their product they're giving new customers a special trial offer, which is always a good sign