Updated: 09/29/2015 - Sponsored by Leptigen
RealDose Weight Loss Formula No1 Review - Does This Weight Loss Pill Really Work?
Are lack of scientific results and customer complaints deal breakers?
PUBLISHED: 09/12/2015 | BY: SUMMER BANKS, SENIOR REVIEWER
Editor
's Review:
2.9
/ 5.0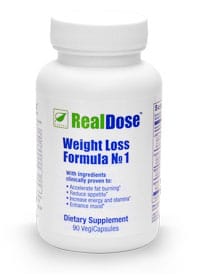 There has been a great deal of buzz about Realdose diet pills, so we took the time to create an in-depth review, examining the side effects, ingredients, overall customer care and clinical research. We additionally read countless user reviews and dieter comments found online. Finally, we summed up this data to give you the info you need.
EDITOR'S TIP:
Substitute RealDose Weight Loss Formula No1 with a proven fat burner such as
Leptigen
for better results.
What You Need To Know
Realdose offers six different supplements, and one of them is specifically for weight loss. It's called Realdose Weight Loss Formula No 1 and it sells for $60.30. This supplement is claimed to convert more food into energy, suppress appetite, balance hormone levels and accelerate weight loss. This product contains Piper Betle Leaf, Dolichos Biflorus Seeds, Green Coffee Bean Extract, Rhodiola Rosea and Bioperine. This supplement is taken daily, and it's fine for both women and men.
Realdose Nutrition LLC released this weight loss product in 2013. There is an informative video presentation provided on the company website, and a money-back guarantee is also available. Some customer feedback is posted on the website as well, but read on…
Lack of Scientific Research
"Unfortunately the official website does not provide any clinical research on Realdose Weight Loss Formula No 1." In fact, one user stated, "Find this product worthless. It made absolutely NO difference in my appetite or metabolism. Just another worthless scam for overweight people desperate to try anything!"
Another said, "A lot of money for something that seemed to have little/no noticeable difference in my weight loss regimen – wasn't impressed."
Yet another said, "Been taking this for almost a week. I only take 2 a day as my stomach is sensitive in the morning. Not seeing any difference yet."
Scroll below for one of the best products we've seen in 2015.
Too Many Customer Complaints!
According to one dieter, "I just started on weight loss formula, I had a very sore stomach for days, maybe I never ate enough food, I think that it may have been the pepper in it."
"Don't waste your money, it's not worth it," said another dieter.
After doing a lot of research, it's clear that if a specific part of a weight loss pill or diet program is especially burdensome (no clinical studies, pills that cause side effects, too many complaints) the chances of long-term weight loss success is very low. If Realdose fails to cause actual weight loss for a lot of customers, this could be quite problematic.
The Science
Although scientific studies are mentioned on the official website, you will notice that these studies do not pertain specifically to Realdose supplements. In other words, there is no published clinical research presented on Realdose Weight Loss Formula No 1. Here at DietSpotlight, we must see documented clinical evidence that a diet product actually works to assist with weight reduction.
The Bottom Line
There are some interesting ingredients found in Realdose Weight Loss Formula No 1, but we can't recommend this diet pill. First of all, there is no published scientific research to support this weight loss product. Moreover, there are plenty of customer complaints posted online, and we are concerned about the fact that Realdose doesn't disclose the ingredient amounts.
If you're anxious to get started losing weight, then we encourage you to choose a diet formula that is supported by real clinical studies and will not break your bank account.
One of the top-rated weight loss products we've seen in 2015 is Leptigen. Its proprietary blend of four key ingredients have been proven in published scientific studies to help boost fat loss and accelerate metabolism. We can't pinpoint any negative talk of harmful side effects and user feedback posted online reveals people are seeing great results.
Also, the makers of Leptigen are so confident in their product they're offering a special trial offer, which is a good sign.