Updated: 09/29/2015 - Sponsored by Leptigen
Redline Ultra Hardcore Review - Does This Diet Supplement System Work?
Are lack of results and negative side effects deal breakers?
PUBLISHED: 09/17/2015 | BY: SUMMER BANKS, SENIOR REVIEWER
Editor
's Review:
3.5
/ 5.0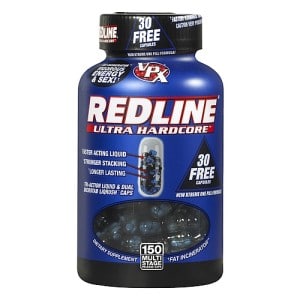 We've heard a lot about Redline Ultra Hardcore as a way to improve the effectiveness of your workouts, so we conducted an in-depth review on this product from VPX. We looked at the ingredients, common side effects, customer service quality, and any published scientific research about this product. We then wrote a summary for our readers so that they can make an educated decision on Redline Ultra Hardcore.
EDITOR'S TIP:
Substitute Redline Ultra Hardcore with a proven fat burner such as
Leptigen
for better results.
What You Need to Know
Redline Ultra Hardcore is designed to give you the energy you need to power through your workouts. In order to provide this energy, this supplement relies heavily on stimulants. The list of ingredients includes caffeine and other stimulants, mood changers, fat burning ingredients, metabolism boosters, and more. This supplement comes in capsule form, and users take 2 pills twice per day on an empty stomach. Redline Ultra Hardcore is convenient and can be taken anywhere, making it a good option for dieters with a busy schedule.
VPX or Redline Sports Nutrition and Performance Beverages has been around since 1993. They produce a wide variety of supplements, energy drinks, and weight building supplements. VPX products, including Redline Ultra Hardcore, are readily available online, and the longevity of the company is an encouraging sign, but read on…
Lack of Results – The Main Issue with Redline Ultra Hardcore
Our primary concern with Redline Ultra Hardcore is the fact that it doesn't work for weight loss. "The ingredients in Redline Ultra Hardcore are designed for lifting weights and strength exercises," said our research editor. "They do have some metabolism boosting ingredients, but many of these ingredients will actually increase muscle mass, ultimately leading to weight gain."
"I didn't lose any weight with this product, but I did have a lot more energy," said one user.
"Redline Ultra Hardcore gave me the energy I needed to work out, but I found that I was gaining weight with my work outs rather than slimming down," said another.
Scroll below for one of the best products we've seen in 2015.
Harmful Side Effects – Another Concern
Something else that is often a major issue with weight loss and health supplements is negative side effects. Redline Ultra Hardcore has plenty of adverse side effects, including some potentially dangerous issues associated with Yohimbe, one of the ingredients in Redline Ultra Hardcore. Yohumbe has been found in studies to be highly unsafe for human consumption. It can cause irregular heartbeat, kidney failure, seizures, and even heart attacks when taken in high doses. Some reviews also state that the stimulant content is way too high. "This product led to jitters and heart palpitations for me, especially when I take it on an empty stomach," said one customer.
"After the first day on Redline Ultra Hardcore, I had to go to the doctor with heart palpitations and my doctor recommended that I stop taking it immediately" said another. Many reviewers had similar comments, with complaints about the high stimulant contents. Some had some suggestions to combat the side effects, like this review that said "Make sure to start slow, because the stimulants are extremely powerful; start with just a half dose per day for the first week or so."
Our research has shown that diet supplements or workout routines with elements that are particularly difficult or troublesome (cost, negative side effects, painful routine, etc.) are less likely to lead to long-term success. With these troublesome elements, losing weight and keeping it off is more difficult than normal. If Redline Ultra Hardcore really does have these negative side effects, this could be an issue.
For those that are set on trying Redline Ultra Hardcore, we recommend you check with a doctor prior to starting and start slow to make sure your body can handle it before increasing your dosage.
The Science
Redline Ultra Hardcore has some data suggesting that the ingredients they're using are beneficial for exercise, but no published studies have been conducted linking Redline Ultra Hardcore to improved weight loss. While it does help increase energy, no studies have shown that the increased energy will ultimately lead to more weight loss than exercise and diet alone. We value unbiased information on diet supplements, so when a product is missing published studies, it's a red flag for us at DietSpotlight.
The Bottom Line
We like the longevity of the company behind Redline Ultra Hardcore, how easy it is to buy this product, and the affordability of this product, but because of the lack of published clinical data this is not a product that we're endorsing. The lack of weight loss that most users see and the high likelihood of negative side effect are also concerns that we have about Redline Ultra Hardcore.
If you'd like to lose weight, but you prefer a healthy alternative, we suggest a product that provides clinically proven results. A good product will also help you lose weight without the negative side effects, and it will contain ingredients that are proven to help you burn fat and boost your metabolism.
One of our favorite products so far this year is a product called Leptigen. This weight loss supplement contains four revolutionary ingredients combined in a proprietary blend that has been shown in published scientific trials to help accelerate weight loss by burning fat and boosting your metabolism. We can't find anyone claiming to have experienced negative side effects from Leptigen, and most customers have seen great results.
For a limited time, the makers of Leptigen are offering a special trial offer. It's always good to see a company stand behind their products with risk free offers.