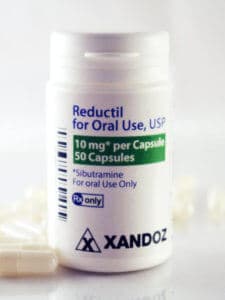 I need to make a confession: I was obsessed with researching Reductil. We spent hours looking into the ingredients, side effects, customer service, and science behind it. We also looked at hundreds of comments and reviews. Then, we condensed everything here so you could get the bottom line.
What is Reductil?
First things first – Reductil is marketed to men and women who are obese, and only available online with a prescription. The drug is available in three strengths 5, 10, and 15 milligrams. It is also known as Meridia, and was pulled from the US market in 2010 as a result of side effects.
Abbott Laboratories makes the drug, and it was first approved by the FDA in November 1997. While it was marketed to the obese and only meant to be taken for a year, and designed to trick the brain into thinking the stomach is full, the side effects were dangerous enough for the FDA to step in.
Prescription Only – "Can't Buy Over the Counter"
Our first issue is that Reductil was only available with a prescription from a doctor. "While this is a good thing in a way, since it is targeted at people who are obese, it means there are people out there who could benefit from it, without being able to get to it," said our Research Editor.
"I'm obese and can't get this medication," said one dieter.
"My doctor wouldn't write me a prescription," claimed another.
Not everyone feels this way, though.
"My doctor gave me a prescription and it really helped," one review said.
"I started on a low dose and was able to go up to the next stage before I got results," another said.
Scroll below for one of the best products we've seen over the last year.
Major Side Effects – "Serious Safety Issues"
The FDA cautioned against continued use of this drug because of the unnecessary risk to patient's cardiac health. Their study showed at 16% increased risk of major adverse cardiovascular events, such as heart attack and stroke, compared to patients who were on a placebo. The FDA asked the manufacturer to pull the drug from the market, which they did. Though the drug did work to help patients lose weight, the benefit didn't outweigh the risks.
Over the years, we've found it takes a small thing, like risks to your health, to send customers looking for something else that will work better. If Reductil causes more harm than good, it's only right for the FDA to have pulled it.
The Science – "Real Clinical Proof?"
Clinical studies showed this medication to be effective at helping people lose weight. The only problem is use, especially continued use, increased the risk of harmful cardiovascular events to the point where they negated the weight-loss benefit. At DietSpotlight, we want to see science before we can recommend any product. And even if the it is there, we want to know it can be used safely.
The Bottom Line – Does Reductil Work?
Should I race out for a bottle of Reductil? The facts on this one are simple. It was clinically proven to work and helped some people lose weight, but the risks were outweighed by health risks so it's no longer available.
If you want to shed those extra pounds, why not try using a clinically tested supplement with ingredients known to help you burn more fat? Better yet, combine that supplement with a reduced calorie diet and exercise routine.
Among the best products we've seen in 2016 is one called Leptigen. Made with a unique blend of four clinically tested ingredients, you can count on it to help you boost your metabolism so you are losing more weight compared to diet and exercise alone. The FDA has never been involved with the supplement and users are seeing some amazing results without harmful side effects.
Plus, right now, dieters can get in on a Special Trial Offer, available directly from the manufacturer. We always like to see this – it's quite a vote of confidence.