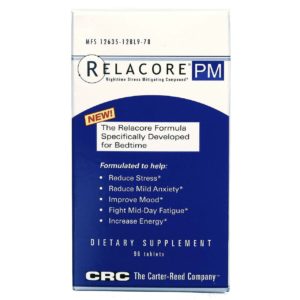 You're about to learn everything you need to know about Relacore PM. Why? Because we researched the ingredients, side effects, clinical research, and customer service. Then, we went on to sift through hundreds of reviews. Then, we condensed everything here to give you the bottom line.
What is Relacore PM?
To begin with, this is a weight-loss supplement designed to help you lose weight while you sleep. Relacore PM ingredients include calcium, vitamin C, vitamin B12, magnesium, and other B vitamins. It is supposed to help block cortisol, and make it easier for you to sleep at night.
The Carter-Reed Company is behind the Relacore line. It started sometime around 2002, according to the Better Business Bureau. You can buy on the official website, which is a good thing. The BBB gives it a good rating and the ingredients are natural, but read on…
Basic Ingredients – "Nothing Impressive"
The first thing we noticed is the Relacore PM ingredients. This is essentially a multivitamin, and there aren't any appetite suppressants or fat burners in the formula. "The information we have suggests this is nothing more than a glorified multivitamin," said our Research Editor. "We aren't sure how the company expects the formula to boost weight-loss."
"I didn't see anything that made me think this would make a difference to my weight-loss," said one user.
"There are no fat burners or appetite suppressants in this formula," claimed a potential customer.
Others disagreed.
"I slept more soundly while using this product," said a reviewer.
"This helped me relax before bed at night," shared another dieter.
Scroll below for one of the best products we've seen over the last year.
Ineffective – "No Results"
Many people said the product was not effective at helping them reach their weight-loss goals.
"I took this for two months and saw no changes," was one experience.
"I never lost any weight while using this product," said a similar review.
Some people did get results, though.
"I used this with Relacore and the two products together helped me lose 10 pounds in a month," said a dieter.
"I lost weight using this product," shared another happy dieter.
Over the years, we've found it takes a small thing, like ineffectiveness, to stop any chance of long-term results. If Relacore PM doesn't do anything, eventually customers will turn to another company.
The Science – "Where Is It?"
B vitamins and minerals in this formula are associated with energy production, which can help with overall health but the connection is mild at best. There is nothing to say Relacore PM will help you lose weight. The problem is, we don't see any science that separates this product from a regular run of the mill multivitamin.
The Bottom Line – Does Relacore PM Work?
Is Relacore PM living up to the hype? Not exactly. We are hesitant to raise the green flag, because there is no research behind these ingredients, in terms of weight-loss. There's also the number of reviews saying users saw no results.
Want to say your final goodbye to those extra pounds? You may want to try using a weight-loss supplement that contains clinically tested ingredients known to help support the metabolism and suppress your appetite. Then, eat well and exercise with it for even better results.
Among the best products we've seen in 2016 is Leptigen. The formula includes four clinically tested ingredients all designed to help boost your metabolism and keep your appetite at bay so you can lose more weight. As we researched, we found no negative mentions of the product, or talk of harmful side effects, and users are getting great results.
Also, if you're interested, you can get a Special Trial Offer, straight from the makers of Leptigen. This tells us they are confident their product works.