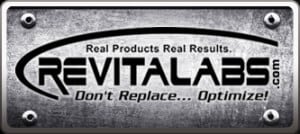 Revitalabs offers a product called Revita Maxx that caught our interest. We decided to research the business practices of Revita and the clinical studies of this supplement as well as to examine the ingredients. Then we read all of the customer reviews we could get our hands on so that we could offer you an in-depth review of Revita Maxx.
EDITOR'S TIP:
Substitute Revitalabs with a proven fat burner such as
Leptigen
for better results.
What You Need to Know
First off, Revita Maxx comes as a bottle of 62 capsules available from Revitalabs.com for $36.99 + shipping. It contains EGCG (green tea extract), White Willow Bark and Guarana Berry, Vitamins B6 and B12, Chromium, and raspberry ketone, the combination of which Revitalabs claims can help with fat burning, metabolism, appetite control, and dietary hormones control. Consumers are advised to take 2 pills per day, either two in the morning or one in the morning and one at night.Revitalabs first entered the scene back in 2007, when Dr. Mark began making supplements that he believed were effective. The company now has an office in Tampa, FL. We like the ease with which Revita Maxx is taken and the use of natural ingredients, but read on…
Lack of Reviews? – "Suspicious"
The first concern we had about Revita Maxx was the lack of online user reviews. "The combination of ingredients seems like it should work," said our research editor, "but we had a tough time finding any customer reviews outside of Revitalabs.com. We have reason to doubt that Revita is choosing to include negative reviews on its website." When the only place to find reviews on a product is on that product's website, there might be review manipulation going on. Since we couldn't locate any user reviews anywhere else on the web, we looked through the reviews on Revita's website. We weren't surprised when we didn't find any negative reviews whatsoever–almost every review was a 5-star. If we had been able to find great reviews elsewhere we would have taken them more seriously, but scores of 5-star reviews from Revitalabs.com need to be taken with a grain of salt.
Scroll below for one of the best products we've seen in 2015.
Price– "A Bit High"
At $36.50 per bottle (without adding shipping), this isn't the most expensive supplement we've seen. Our concern with the price is that the ingredients may not be worth it. Some of these individual ingredients can be effective at times, but you can purchase them separately at a lower cost. Chromium and green tea extract are two of the more effective fat burning supplements, and they can each be purchased for about $6.00. If you must have raspberry ketones (they are not scientifically verified), you can find some in much greater potency than Revita's for about $15.00, and white willow bark and guarana is about $5.00 (again, in great potency). We have found that when there is least one especially troublesome issue with a supplement or diet, long term success is severely limited. In this case, the generally unverified nature of Revita Maxx and the price tag may prove to be problems in the long term.
The Science
One quote from Revitalabs.com is as follows: "There has been an overwhelmingly positive response to the products, however, there has not been any clinical studies done to prove their effectiveness nor an independent review of customer responses." For us at DietSpotlight, being able to find published scientific research about a product's ingredients supporting weight-loss claims is critical to us. If there's no good science, we see big red flags.Some of the ingredients in Revita Maxx have been shown to aid fat loss. Green tea extract and chromium, for instance, work to boost metabolism. White willow bark and guarana have also been shown as effective but not in the combination present in Revita Maxx. And therein lies our problem with the science: the product itself has not been clinically studied at all, and different combinations of ingredients can render those ingredients ineffective. The
Bottom Line
We were initially interested in the claims Revita Maxx made. Our interest waned before long, however: lack of reviews and scientific research is a big red flag to us at DietSpotlight. The list of ingredients is also a concern. You can find several of these ingredients in higher potency for far less than Revita Maxx costs, and some of those ingredients have actually been clinically studied and proven to work.If you'd like to burn fat, we suggest you go with a supplement that has been adequately reviewed, delivers more for your money, and is backed up by clinical research.One of the best products we've seen in 2015 is Leptigen. Four clinically tried ingredients blend together in Leptigen, and it has been proven to burn fat and boost metabolism. The online reviews indicate a great success rate and lack of negative side-effects. In fact, the makers of Leptigen are so sure you'll like it, they are even offering a special trial offer.