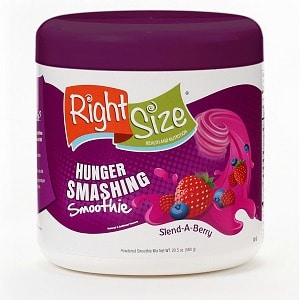 Don't laugh, but well over 50% of diet products simply don't work. So what about Right Size Smoothies? We chose to conduct one of our thorough reviews, taking a closer look at the ingredients, side effects, clinical research and customer service. We also pored through hundreds of user experiences. Then, we summarized and refined it all to give you the information you need.
What are Right Size Smoothies?
First of all, Right Size Smoothies is a protein-based meal replacement shake. Ingredients include low fat milk, fructose, natural and artificial flavors, gellan gum, sodium citrate, potassium citrate, sodium phosphate, carrageenan, sucralose, salt, acesulfame K, magnesium phosphate, zinc citrate, chromium, biotin, green tea leaf, guarana seed extract, copper citrate, potassium, sodium selenate, white willow bark, folic acid, riboflavin, calcium pantothenate, cayenne pepper and cinnamon twig extract. It is available in a number of flavors including chocolate, vanilla and mixed Berry. Each container provides 20 servings or enough to get through 10 days, using it twice daily. You can mix and go, one benefit.
The official website does not provide any information about when the company was founded. We like that there are several flavors to choose from and that the ingredients are easy to find, but read on…
Hunger – "Need to Eat?"
The first thing that caught our attention about Right Size Smoothies ingredients is that they may not suppress hunger. "Dieters are claiming they want to eat soon after using the shakes," says our Research Editor. "That is not part of the equation when you want to lose weight."
"Within an hour of drinking my shake, I am already hungry. It does not "smash" your appetite. This is great as a snack but not so much for a meal replacement," said one user.
"The new formula is nothing like the old formula. The taste is different but worse than that this no longer keeps my hunger away. Less than 2 hrs later and I'm hungry again," explains another.
Scroll below for one of the best products we've seen over the last year.
Customer Complaints – "A Big Problem"
Overall, the website presents a credible company, even featuring a clinical study. However upon further review, we discovered a number of complaints on websites suggesting it doesn't work and some customers were charged without ever receiving the product. One user said, "I never received my smoothies and the money was taken from my account. I now want my money back!!!! NOW!"
"I was told it would "smash" the hunger, get rid of the cravings and give me energy. It literally did the exact opposite," offers another.
According to our research, it takes something tiny, like customer complaints, to deter your chances of long-term success. If Right Size Smoothies do not live up to expectations or promises, there are other products that will.
The Science – "Clinical Evidence?"
Right Size Shakes shows a clinical trial conducted for 12 weeks with an outside testing firm. However, because the study itself was funded by the company, we are unsure as to whether or not the results are legitimate. We at DietSpotlight are looking for proof that this product is better than other meal replacement options. Based on the information provided, that's not necessarily the case.
The Bottom Line – Do Right Size Smoothies Work?
So, are Right Size Smoothies the best around? We were initially excited to review this one because it appeared like the shake may be a promising way to reach your weight-loss goals, but we're not sold on suggesting this one to dieters because the clinical proof is just not there. Plus, we are concerned about customer complaints that claim it doesn't work.
If you'd like to shed some pounds, we suggest using a weight-loss supplement that gives you not only safe and effective ingredients at an affordable price, but something that reviews indicate provides positive results.
Among the best products we have seen in 2016 is one called Leptigen. It is made with a proprietary blend of four clinically proven ingredients, all of which are known to help support metabolism and boost fat loss. Throughout our research, we were unable to find talk of negative side effects, but we easily found conversations from dieters seeing great results.
We're happy to see the makers of Leptigen are so confident in their product they're giving new customers a Special Trial Offer, which is always good.