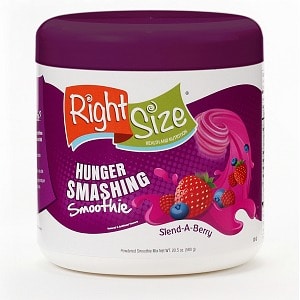 We've heard a lot of chatter about Right Size Smoothies, so we chose to conduct one of our thorough reviews, take a closer look at the company, the shape, the science behind it, and customer service. We also read hundreds of user reviews and testimonials from all over the Internet. Then, we summarized and convinced it all to give you the information you're looking for so you can make an informed purchasing decision.
EDITOR'S TIP:
Combine Right Size Smoothies with a proven fat burner such as
Leptigen
for better results.
What You Need to Know
First of all, Right Size Smoothies, is a protein-based meal replacement shake. It is available in a number of flavors including chocolate, vanilla, and mixed Berry. each container provides 20 servings, or enough to get through 10 days, using the meal replacement twice daily for breakfast and lunch. Ingredients include: Low fat milk, fructose, natural and artificial flavors, gellan gum, sodium citrate, potassium citrate, sodium phosphate, carrageenan, sucralose, salt, acesulfame K, magnesium phosphate, zinc citrate, chromium, biotin, green tea leaf, guarana seed extract, copper citrate, potassium, sodium selenate, white willow bark, folic acid, riboflavin, calcium pantothenate, cayenne pepper and cinnamon twig extract.
The official website does not provide any information about when the company was founded. We like that there are several flavors to choose from, but read on…
No Prices are Listed
Unfortunately, the official website for this product does not allow customers to make online orders. As such no pricing information is available. There is however a list of retailers where this product can be found including: CVS, select Walgreens locations, Amazon, drugstore.com, Rite Aid, Winn-Dixie, and a few others.
"Meal replacement shakes can be a good way to assist with weight loss, however without pricing information publicly listed, it is hard to say whether or not it is an affordable way to lose weight." said our Research Editor.
"Within an hour of drinking my shake, I am already hungry. It does not "smash" your appetite. This is great as a snack but not so much for a meal replacement." said one user.
"The new formula is nothing like the old formula. The taste is different but worse than that this no longer keeps my hunger away. Less than 2 hrs later and I'm hungry again.", said another.
Scroll below for one of the best products we've seen in 2015.
High Number of Complaints on Consumer Review Sites
Overall, the company's website presents a credible company, even featuring a clinical study. However upon further review, we discovered a number of complaints on humor review websites suggesting the product doesn't work, and some customers were charged for their product back when it could be ordered directly from the manufacturer, without ever receiving the product.
One user said, "I never received my smoothies and the money was taken from my account. I now want my money back!!!! NOW!"
"I was told it would "smash" the hunger, get rid of the cravings and give me energy. It literally did the exact opposite. " said another.
Our research indicates that if there's part of a diet program that's hard, like being hungry within an hour or two after using the meal replacement, it can be hard to sustain long-term use, which is necessary to reach weight loss goals
The Science
Right Size Shakes shows a clinical trial conducted for 12 weeks with an outside testing firm. However, because the study itself was funded by the company, we are unsure as to whether or not the results are legitimate. This study shows that the average participant lost one or more pounds every week by following a reduced calorie diet while drinking the meal replacement shakes. For us to believe the setting holds credibility, it would have to be conducted by an outside testing firm without being funded by the manufacturer.
The Bottom Line
We were initially excited to review right size shakes, because it appeared like the shake may be a promising way to reach your weight loss goals. However, because it has a number of consumer complaints and reviews indicate that it does not work as well as advertised, and the clinical study is funded by the company itself, we were disappointed.
If you'd like to shed some pounds, we suggest using a weight loss supplement that gives you not only safe and effective ingredients in an affordable price, but something that reviews indicate provides positive results.
Among the best products we have seen this year is Leptigen. It is made with a proprietary blend of four clinically proven ingredients, all of which are known to support metabolism and increase fat burning power. As we researched, we were unable to find negative mention of the product or side effects, which tells us users are seeing good results.
We're happy to see the makers of Leptigen are so confident in their product they're giving new customers a special trial offer, which is always a good indication of the product's success.