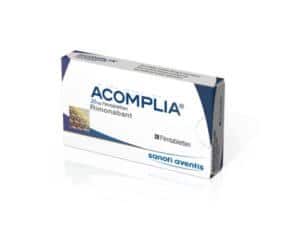 You may be surprised by what I say in this Rimonabant review. We took the time to focus closely on the scientific studies, ingredients, side effects, and customer-service quality. Then we looked at user reviews from all over the internet. At last, we summarized the data we collected to give you the facts.
What is Rimonabant?
To begin with, Rimonabant is the generic version of Acomplia. It was approved as an anorectic anti-obesity drug in several European countries but it was never approved by the FDA. Two of the most worrisome side effects were depression and suicidal thoughts.
Rimonabant was developed by Sanofi-Aventis, a French pharmaceutical business, which is the product of a merger between to smaller companies, the oldest of which was established in 1899. It has undergone several mergers and has grown to become one of the largest in France but read on…
Safety– "Serious Health Concerns"
Our first issue is the safety of the product. According to our Research Editor, "Post market analysis indicated a higher prevalence of suicidal thoughts and major depressions in patients treated with Rimonabant. The results were concerning enough to have approval revoked in a number of countries."
One dieter said, "I was in France when this was released and it worked great but I became severely depressed. How can you be that sad and losing weight?"
Another claimed, "I was willing to try anything when I was at my heaviest. The side effects were brutal, nothing is worth feeling like that."
Others did not experience the debilitating depression as a side effect and had a more positive experience. One explained, "It worked great for me and I lost the weight I needed. I didn't have a problem."
Another said, "I wasn't as happy as I normally am while I was taking it but it worked so well I would totally use it again."
Scroll below for one of the best products we've seen over the last year.
Availability– "Not Approved in Most Countries"
It is very difficult to find Rimonabant now because it has been banned in the countries where it was once available.
One disappointed dieter said, "I loved it when I used it before but now I can't find it anywhere!"
Another complained, "I don't understand why when something works that can't be enough for everyone. They take away all the useful options."
Some were appreciative of the safety measures. One consumer said, "I liked that it worked so well but it was dangerous. I'm hoping the company tweaks the formula so I can get it again."
Another claimed, "I still have access to it so it isn't as big of a deal to me. It isn't easy but I can get it."
According to our research, safety and availability are two of the major concerns for dieters. If a product isn't safe, it is difficult to trust that Rimonabant will lead to improved health overall and that ruins your chance of lasting results.
The Science – "Strong Clinical Support?"
At DietSpotlight, we are primarily concerned with how effectively a product works. In the case of Rimonabant, the studies indicated it worked quite well for the majority of dieters. However, the science also shows that a greater number of participants had side effects that could have resulted in their death. This is simply unacceptable.
The Bottom Line – Does Rimonabant Work?
Should I race out for a bottle of Rimonabant? Even if you are able to locate a bottle, the potential side effects associated with the drug are potentially serious. They cannot be ignored and that's why we have reservations about suggesting it.
If you want to drop those extra pounds why not try a natural weight-loss supplement that is safe and effective. A good product will be made of ingredients that are backed by scientific research and a customer service department that is friendly and helpful.
Among the best products we've seen in 2016 is named Leptigen. It contains a combination of four key ingredients, which have been shown in documented clinical testing to help increase fat loss and metabolism. We didn't find any negative reviews but we did find a lot of dieters discussing their great results.
The manufacturers of Leptigen are so confident of their product that they are now offering a Special Trial Offer, which has been very popular with our readers.