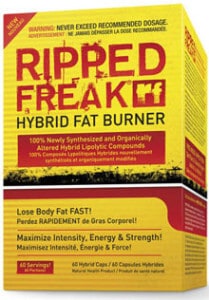 If you haven't looked carefully at Ripped Freak, now's your chance. We took the time to write an in-depth review, focusing closely on the side effects, ingredients, clinical studies and level of customer service. Moreover, we read countless customer comments and user reviews that are posted online. Lastly, we took all of the data we collected and compressed it to give you the facts you need.
EDITOR'S TIP:
Click here
to combine Ripped Freak with a proven testosterone booster such as Pronabolin for better results.
What You Need To Know
Ripped Freak is a "hybrid fat burner" made by PharmaFreak. This supplement is claimed to increase epinephrine and norepinephrine levels, while supporting fat loss, increasing thermogenesis and maximizing strength and intensity. To use this product, you take one capsule 30-60 minutes before your workout. You can take one capsule on non-workout days as well, in the morning (with eight ounces of water). The core ingredients found in this supplement are; Caffeine, Green Tea Leaf Extract, Olive Leaf Extract, Green Coffee Bean Extract, CH-19 Sweet Red Pepper Extract (200mg) and Raspberry Ketone Complex (167mg).
Ripped Freak has been around since at least 2010 and it can be purchased through online stores for $42.99 (60 capsules). This supplement does contain some natural ingredients and a helpful FAQ section is provided on the official website, but read on…
Fad Supplement Ingredients – A Concern?
"Unfortunately Ripped Freak uses fad supplement ingredients such as Raspberry Ketone, which has not been proven to help burn off fat or boost thermogenesis. Nor does this ingredient help you maximize strength for workouts," says our Research Editor.
According to one customer, "I have been taking ripped freak for 10 days and I am really disappointed. I feel no increase in energy."
"Did nothing…save your coins!," said another user.
Scroll below for one of the best products we've seen over the last year.
Too Many Customer Complaints
You will find quite a few user complaints posted on the web for Ripped Freak. One customer commented, "I took just one capsule and within an hour I was collapsed on the floor nauseous, jittery and weak for over 12 hours. I couldn't move, eat, sleep, talk or open my eyes. Needless to say, I would NOT recommend this product to anyone- unless you enjoy feeling like you're going to vomit, pass out and die. I will be sending this product back."
Another user stated, "This product was not at all what I was looking for. I was hoping to have a nice little kick up in my daily workout routine and have an edge as far as help with dieting. I experienced neither, unfortunately."
Our extensive research has proven that if there is one aspect of a supplement or workout product that is very concerning or difficult (fad supplement ingredients, customer complaints, bad taste) the likelihood of long-term results is slim. In other words, if Ripped Freak does in fact result in a high number of user complaints, this could be a serious issue.
The Science – Solid?
There is "science" mentioned on the official website for Ripped Freak. However, there is no actual clinical proof that this supplement really works as claimed. A few of the key ingredients are simply explained on the website. At DietSpotlight, we really need to see some actual scientific research that supports the product.
The Bottom Line: Does Ripped Freak Work?
So, should you run out and buy Ripped Freak? Well, we like that Ripped Freak contains some natural ingredients and we appreciate that this supplement is easy to purchase online. However, we have some reservations about Ripped Freak because it's not backed by any real science. Not to mention, we're concerned about the fad supplement ingredients and customer complaints.
If you're ready to maximize strength, increase workout intensity and boost stamina, we recommend you go with a supplement that is backed by solid science, does not contain fad diet ingredients and is supported by positive customer feedback.
Among the best products we've found in 2016 is one called Pronabolin. The formula is a proprietary blend of nine powerful ingredients, which are clinically proven to enhance stamina, improve vitality and boost testosterone levels. There are no complaints of unpleasant adverse effects and customer comments all over the web indicate people are seeing solid results.
Also, the makers of Pronabolin are so positive about their product they're offering every customer a 120-day money-back guarantee and multiple-bottle discounts.