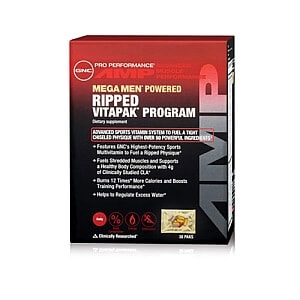 If you haven't looked carefully at Ripped Vitapak, now's your chance. We entrenched ourselves in ingredients, side effects, scientific support and customer service. Furthermore, we investigated hundreds of comments and reviews. We then condensed and refined to give you the info you need.
EDITOR'S TIP:
Click here
to combine Ripped VitaPak with a proven testosterone booster such as Pronabolin for better results.
What You Need to Know
First off, Ripped Vitapak is a multivitamin that includes green tea extract, branch-chain amino acids, minerals and B-vitamins. The recommended dose is one packet, once per day; supposedly to support weight-loss. One benefit is that the product is portable.
There is no information relating to when Ripped Vitapak was introduced, but the parent company GNC has been in operation for more than 80 years. The supplement is available on the official website and in stores. We do like the longevity of the company and there are some favorable customer comments, but read on…
Side Effects – "From a Vitamin?"
The first negative regarding Ripped Vitapak side effects was nausea. "Taking a multivitamin is an excellent decision when you are starting a weight-loss plan," said our Research Editor. "A supplement designed to improve overall health and wellness should not cause negative effects."
"Made me quite nausea's had to stop even when drinking a lot of water," reported a customer.
"I throw out! I throw out and feel I could not breathe and heart beat crazily fast, I feel that I am going to die!," said a buyer.
Scroll below for one of the best products we've seen over the last year.
State Regulations – "A Concern"
The New York Attorney General's office came to an agreement with GNC in March of 2015 regarding mislabeling ingredients in supplements. The ruling came after an investigation proved formulas didn't contain a specific plant DNA as marked on bottles.
Ineffectiveness – "Does it Work?"
After researching customer comments, the consensus is that Ripped Vitapak ingredients are ineffective. "I followed the instructions and took them regularly while increasing my exercise routine and managing my meals better. The end result: I ended up GAINING weight on the program," said a user.
"Second week and have had NO effects of this, good OR bad. Followed the "take them at once" way then the "some with breakfast, some with workout"- nothing! I do the gym daily. No extra energy then either," commented a customer.
"So I purchased the Mega Men Powered Ripped Vitapak Program and took all the pills as directed for 1 month. I work out 4-5 times a day and at the end of the month I gained a few pounds," claims another.
Our research has shown that any part of a supplement deemed troublesome, like lack of effectiveness, could potentially hinder long-term success. If Ripped Vitapak doesn't work, there are concerns.
The Science – "Any Validity?"
The official website claims the supplement is "scientifically designed," but we can't locate published scientific research linking the ingredients to weight-loss. At DietSpotlight, finding science to support claims is critical. If there's none, customers will walk away from the product.
The Bottom Line – Does Ripped Vitapak Work?
Hmm, this one was interesting, so what's the verdict you need to hear? There are positives, like the favorable BBB rating and a few supportive customer comments, but we can't get past our reservations because of the lack of scientific research supporting weight-loss claims. We're also concerned about issues with labeling as reported by the Attorney General's office and comments regarding ineffectiveness.
For a more economic product that can increase testosterone, enhance muscle mass and burn fat we recommend you go with a product that includes ingredients supported by published clinical research.
Among the best products we've found in 2016 is one called Pronabolin. The formula is a nine-ingredient proprietary blend clinically proven to help you get back that energy and naturally improve testosterone levels. There's no talk of adverse side effects and reports all around the web show people are seeing great results.
The company responsible for Pronabolin is so confident in the formula that they're offering every customer a 120-day money-back guarantee and multiple-bottle discounts.