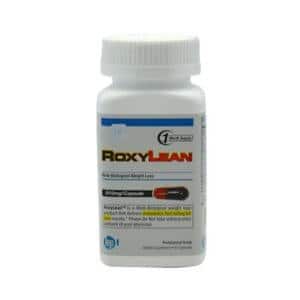 I'm here to cut through the noise and get you the bottom line on RoxyLean ECA. We at DietSpotlight created one of our in-depth reviews, scrutinizing the side effects, ingredients, clinical research and overall customer care. We also read hundreds of user comments and responses from around the web. At this point, we summarized and condensed everything to give you the info you really need.
What is RoxyLean ECA?
To begin with, RoxyLean ECA is a thermogenic supplement. The ingredients are rauwolfia, Chinese skullcap, white willow bark, goldenseal, yohimbe bark, adhatoda leaf, lemon, caffeine anhydrous and B-vitamins. After taking one capsule per day, it supposedly helps burn fat and ignite metabolism.
The company behind RoxyLean ECA is BPI Sports; a business started around 2012. The supplement is sold on the official website and through trusted retailers. We like that we found some favorable customer comments and that it contains a few natural ingredients, but read on…
Side Effects – "Concerned Yet?"
The first concern related to RoxyLean ECA side effects. "This formula has some solid ingredients, including caffeine and B-vitamins," said our Research Editor. "Unfortunately, when combined with other stimulants, there's a chance adverse reactions could occur."
One customer stated, "Took RoxyLean ECA pills and felt jittery and nauseous."
According to some reviews of RoxyLean ECA, side effects are rare.
"I can feel a real boost with these. It does cause some nausea and fast heartbeat. But I think it helps too," commented a customer.
Another mentioned, "Not for everyone, but I like RoxyLean ECA. I think it does increase thermogenesis."
Scroll below for one of the best products we've seen over the last year.
RoxyLean ECA Reviews – "Negative?"
We did locate some negative customer reviews of RoxyLean ECA. One person reported, "It gave me a terrible headache and did nothing else for me."
"Not sure if it works or not. I take it, but I just feel really tired afterward," posted another.
To tell the complete story, we searched for positive RoxyLean ECA reviews.
"I have had pretty good results with this product," reported a dieter.
"To stop the jitters, I take it about an a hour before I exercise and it seems to work," commented a user.
The research we've conducted has shown if there's a certain part of a fitness supplement that is quite troublesome, like being connected to negative customer comments, could reduce the chances of long-term success. If dieters aren't pleased with RoxyLean ECA, this could become concerning.
The Science – "Is It Solid?"
Well, RoxyLean ECA capsules do contain some stimulants to help boost thermogenesis. The caffeine is a solid ingredient and the white willow bark may act similar to aspirin. The attempt to reproduce the effects of the ECA stack are appreciated, but there's no research available to prove this formula promotes weight-loss. At DietSpotlight, research is a critical part of the review process. When there are no studies used as evidence, we become concerned.
The Bottom Line – Does RoxyLean ECA Work?
So, should you spend your hard-earned money on RoxyLean ECA? Well, we like that the profile contains some natural ingredients and that we located a few natural ingredients. The lack of research connecting it to weight-loss is a bit concerning. We're also skeptical about this one because we found several negative customer reviews, especially relating to side effects.
Losing weight is probably your top priority, so we suggest going with a product containing ingredients backed by science, not connected to harmful side effects and supported by positive customer comments.
Among the best products we've seen in 2016 is one called Leptigen. The supplement contains four clinicially-tested ingredients, which have been shown to help accelerate metabolism and jump-start fat loss. While no one's chattering about harmful side effects, there are dieters that are talking about seeing great results.
Also, the makers of Leptigen are so confident in their supplement, that they're offering customers a Special Trial Offer.