Updated: 09/29/2015 - Sponsored by Leptigen
Saba ACE Review - Do These Products Work?
Are ingredients and questionable company deal breakers?
PUBLISHED: 08/23/2015 | BY: SUMMER BANKS, SENIOR REVIEWER
Editor
's Review:
3.5
/ 5.0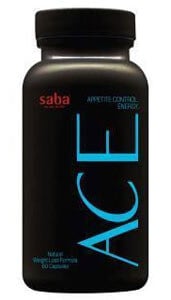 There's been talk about weight-loss products from Saba, so we did one of our in-depth reviews, examining the ingredients, side effects, clinical research and customer-service quality. Plus we read hundreds of user comments and reviews from around the web. We then summarized and condensed to give you the info you need.
EDITOR'S TIP:
Combine Saba ACE with a proven fat burner such as
Leptigen
for better results.
What You Need to Know
There are quite a few weight-loss products from Saba. Common ingredients in the formulas include green tea, caffeine, synephrine and phenylethylamine. Dosing information differs from one product to the next, but no detailed information is available for any Saba products. One bottle could last a month or less than a month. This makes pricing an issue – you have no idea how much you will need for a month.
There is no information on when the Saba company was started. The official website offers the products to the consumer, but the products are not available from other websites or retailers. Slight, negative consumer comments stood out to us. We like the fact that the company has a dedicated headquarters and a money-back guarantee.
Ingredients – Not Safe?
Saba offers several weight loss products, many with the same core ingredients. Caffeine, an ingredient in nearly every supplement, is a good choice for weight loss. Science backs this ingredient to help increase energy and boost metabolism. However, when Saba combines caffeine with other stimulants like synephrine, there is potential for side effects.
One dieter reports some pretty bad side effects. "Horrible! I hated it. I felt nausea and jittery. I couldn't wait for the effects to wear off.
"The product made me feel funny then it gave me the shakes and made me feel drunk…bad experience will not try it again," claims another dieter.
Scroll below for one of the best products we've seen in 2015.
Questionable Company – Maybe
The company behind Saba is AMS Health Sciences. The address for this company is in a residential community. The phone number for the company headquarters is disconnected. There is another address for Saba. This address is for a standalone business with an active phone number, but what happened to the original company? There is no BBB rating for AMS Health Sciences or Saba.
The Science
Saba does sell supplements with ingredients that have clinical support. However, we found no clinical testing on any of the Saba formulas specifically. It is the clinical information on some of the more dangerous ingredients that interest us the most. Synephrine is associated with increased heart rate, increased blood pressure and jitters. Caffeine is an excellent ingredient, but when combined with synephrine, it can increase the risk of side effects. Phenylethylamine is another potentially troublesome ingredient. Phenylethylamine can affect mood in a way similar to amphetamines.
The Bottom Line
We're always excited to look into products like those offered by Saba. We like that the company now offers a standalone headquarters and some of the ingredients are clinically proven to boost weight loss. Unfortunately, when good ingredients are combined with ingredients that could potentially cause side effects, the entire formula is called into question. We don't like the lack of product information on the website. We are also a bit concerned about the fate of the original company AMS Health Sciences.
Instead of Saba products, we suggest trying a supplement that combines bang for your buck, great customer service and a formula with multiple ingredients supported by published scientific research.
Among the best products we've seen in 2015 is one called Leptigen. Its formula is a proprietary blend of four ingredients, which have been shown in published clinical research to help accelerate fat loss and boost metabolism. We can't find any talk of harmful side effects and comments around the web indicate people are seeing great results.
Also, the makers of Leptigen are so confident in their product they're offering a Special Trial Offer, which is a good sign.