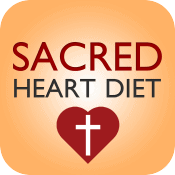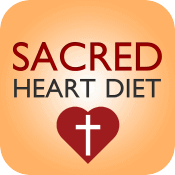 This week, I obsessed over every aspect of the Sacred Heart Diet, so we did one of our comprehensive reviews, focusing closely on the ingredients, side effects, customer care and clinical research. Plus we took a look at all sorts of user comments and dieter reviews that are posted online. Finally, we compressed all the data and feedback we found to give you the bottom line.
EDITOR'S TIP:
Combine Sacred Heart Diet with a proven fat burner such as
Leptigen
for better results.
What You Need To Know
The Sacred Heart Diet is essentially a 7-day eating plan. This diet claims to help you drop 10-17 pounds in only one week. It's fine for women and men alike, and you are expected to follow a very strict eating plan. This diet allows you to eat and drink the following; vegetable soup (recipe is provided online), unsweetened juices, tea, cranberry juice, skim milk, coffee, water, fruits (except bananas), vegetables, some beef, brown rice and potatoes. There is a very specific 7-day eating plan you need to follow, which means a very low calorie intake. No fried foods, alcohol, carbonated drinks or bread is allowed. Furthermore, you are encouraged to drink eight glasses of water per day.
This diet has been around since at least 2008 and there are some positive user comments posted online. Also, no prepackaged foods are needed for the Sacred Heart Diet, and you can find the food preparation instructions online, but read on…
Ridiculous Weight Loss Claims – A Consideration?
"The claim that the Sacred Heart Diet will help you shed 10-17 pounds in only seven days is quite extreme and unrealistic. This is not even a healthy amount of weight to lose in only one week's time. Most healthcare professionals will tell you 1-2 pounds per week is healthy," says our Research Editor.
One dieter said, "This diet was a fail for me. I can't stick to it. Too strict. Definitely didn't lose 10 pounds."
"This is a starvation diet! It's not realistic and it's not healthy," said another person.
Scroll below for one of the best products we've seen over the last year.
Too Much Calorie Restriction
The Sacred Heart Diet is a very low-calorie eating plan. In fact, one dieter said, "No! No! No! According to My Fitness Pal, I only consumed 700 calories in 3 days. I literally had a breakdown and ended up crying in a public bathroom. I thought about food ALL the time and felt like an addict. This diet is the devil!!!"
Another person commented, "Horrible!!! The second day I felt as if I was dying, my whole body was weak and I felt as if I was getting a bad case of the flu. I am quitting and
doing it the hard way!"
Our research has revealed if there is one aspect of a diet program that is very concerning or problematic (too much calorie restriction, high price, ridiculous weight loss claims) the likelihood of prolonged weight loss is minimal. In other words, if calorie restrictions for the Sacred Heart Diet do bother a high number of people, this could be a major problem.
The Science – Solid?
We were unable to locate any actual scientific studies regarding the Sacred Heart Diet. However, restricting your daily caloric intake can lead to weight reduction. At DietSpotlight, we like to see actual science that supports the weight loss program or supplement or else we see a big red flag.
The Bottom Line: Does the Sacred Heart Diet Work?
Now the moment you've been waiting for: our bottom line on the Sacred Heart Diet. Well, we like that the Sacred Heart Diet encourages you to eat plenty of fruits and vegetables and that a lot of water is consumed daily. On the other hand, we have some worries about this diet because it's not backed by real clinical research. Also, we're concerned about the calorie restrictions and extreme weight loss claims.
If you'd like to get rid of more pounds of fat, then we suggest you choose a diet plan or supplement that is supported by real scientific studies, does not leave you starving and is easy to use anywhere.
Among the best products we've seen in 2015 is one called Leptigen. This product contains a proprietary blend of four ingredients, which have been shown in documented scientific research to help improve fat loss and elevate metabolism. We have not located any complaints of harmful side effects and customer reviews posted on the web indicate people are seeing excellent results.
The makers of Leptigen are so excited about their product they're offering a Special Trial Offer, which is a good sign.