Updated: 09/29/2015 - Sponsored by Leptigen
SAFSlim Review - Does This Weight Loss Liquid Really Work?
Are absence of clinical studies and consumer complaints deal breakers?
PUBLISHED: 09/16/2015 | BY: SUMMER BANKS, SENIOR REVIEWER
Editor
's Review:
3.5
/ 5.0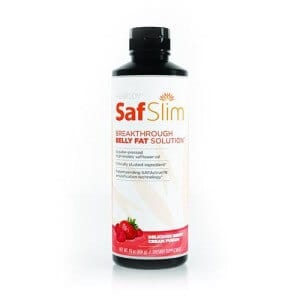 There's been a lot of discussion about SafSlim weight loss liquid, so we took the time to write an in-depth review, examining the ingredients, side effects, scientific research and customer-service quality. Furthermore, we read countless user reviews and dieter comments from all over the web. Finally, we compacted all the data we found to give you the most important information you need.
EDITOR'S TIP:
Combine SAFSlim with a proven fat burner such as
Leptigen
for better results.
What You Need To Know
SafSlim is one of several weight-management supplements available from Re-Body. This liquid formula is available in four different flavors, which include pina colada fusion, key lime cream fusion, berry cream fusion and tangerine cream fusion. The cost of one 16-ounce bottle is $32.99. In order to use this supplement, you simply take one tablespoon, twice each day (before meals). SafSlim should be taken for at least 16 weeks in order to see real results. This product is claimed to reduce unwanted belly fat. It contains SAFActive78 High-Linoleic Safflower Oil as the core ingredient, but doesn't contain any stimulants.
SafSlim has been around since 2011. This liquid supplement does not contain any sugar at all. Furthermore, regular exercise is recommended with this diet product. SafSlim can be purchased directly from the company website, which is convenient, but read on…
Lack of Real Clinical Research
"While we appreciate that SafSlim contains natural Safflower Oil to help promote heart health, there is no proof that this supplement in particular aids with belly fat reduction," says our research editor.
"I saw no discernible benefit (less abdominal fat) after using this product for a month. I would not recommend it," said once customer.
Another stated, "Don't waste your money with this Diet Product. As is the case with most, there is NO MAGIC BULLET! Some reviewers said they gained weight, but My wife did not believe them. Well she found out after 2 bottles (following the directions exactly as instructed) and more than $40.00 she actually gained weight and FAT in the belly area."
Scroll below for one of the best products we've seen in 2015.
Too Many Consumer Complaints
One customer wrote, "Product does not live up to expectations. Does not assist in any weight loss whatsoever. Don't waste your money."
"I got no results after using this product. I followed the directions and would get sick to the stomach. Save your money," said another. "I measured my belly not any inches lost from this product. So please reconsider," said yet another user.
Our extensive research has shown that if one individual aspect of a diet program is seriously problematic (no fat-loss results, pills that make you jittery, too many customer complaints) the likelihood of real success for the long run is slim. So, if SafSlim does not cause fat loss and leads to a lot of customer complaints, this could be a big dilemma.
The Science
If you take a look at the official Re-Body website, you will notice that there is some "science" presented with SafSlim. According to the website, this product is clinically proven to help reduce belly fat. However, this is not the case at all. We at DietSpotlight researched Safflower Oil, and it has only been proven to help lower bad cholesterol levels. Therefore we could not find any documented clinical research that supports SafSlim as an effective treatment for belly fat reduction.
The Bottom Line
While we like that SafSlim is available in four different flavors, we do not recommend this liquid formula for cutting belly fat. After all, it's not supported by any documented science. First of all, it's much cheaper to just buy some Safflower Oil, which is essentially what this supplement is. Moreover, there are dozens of user complaints that SafSlim does nothing for fat loss.
For those of you who need to slim down and rock your best body, we recommend you choose a weight loss supplement that actually is backed by clinical results and does not cost you an arm and a leg.
Among the highest-rated products we've encountered in 2015 is Leptigen. Its unique formula is four key ingredients, which have been shown in published scientific studies to help elevate metabolism and improve fat loss. We were unable to find any discussion of dangerous side effects and user reviews posted on the internet express people are seeing great results.
Also, the makers of Leptigen are so confident in their product they're offering a special trial offer, which is a good sign.