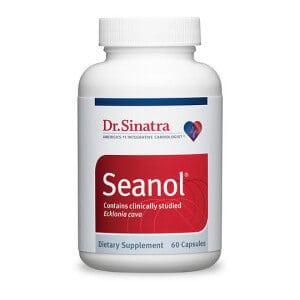 Diet products either work or they don't. Period. Let's find out which one Seanol is. Taking an algae-based formula as a weight-loss supplement seems a bit unusual. Nevertheless, we decided to dive in and do an in-depth review of Seanol. We looked at the ingredients, side effects, clinical studies and customer service for it. We then compiled and condensed to give you the bottom line.
What You Need to Know
First off, Seanol is an algae-based diet supplement that claims to harness the power of the ecklonia cava, a plant found deep in the ocean near Japan and Korea. The benefits are supposed to include reduced joint pain, lower blood pressure, reduced cholesterol and more. It comes in convenient capsules that are taken daily and it contains antioxidants that are beneficial for heart health.
This product has only been around for a few years, but it's already generated a lot of interest. There seem to be several positive reviews online, the company uses all-natural ingredients and it's readily available online, which are all encouraging signs, but read on…
Price – "Too Pricey?"
Our first concern with Seanol ingredients is the high price. While unauthorized retailers are selling similar products for less, Seanol costs up to $150 per month. "For an unproven supplement, it seems the company expects the consumer to spend a bit too much. There are some perceived benefits, but very little to back up their claims," said our Research Editor.
"Too pricey for me," said one user.
"I'm not sure I want to spend $100 or more a month on seaweed, I think I'll pass," claims another dieter.
Scroll below for one of the best products we've seen over the last year.
Health Concerns  – "Dangerous Ingredients"
Something else that we found concerning was that some Seanol supplements contained lead, which can lead to birth defects and can cause other long-term health problems. "I was planning to buy this product until I realized that it contained lead," said one customer online.
"With all the dangers of lead, I can't buy this product because of the long-term risk," says another potential buyer.
Our research shows that whenever a diet supplement, exercise program, or weight-loss routine has a particularly troublesome aspect (taste, cost, health concerns, difficult workout routine, etc.) the likelihood of sticking with it long-term is slim. If Seanol really does cause potential issues, this could be something to take into consideration.
The Science – "Validated?"
While there is some science proving that algae and seaweed have some effect on overall health, there is no proof that Seanol will help you lose weight. None of the research into this product has anything to do with weight-loss, our major focus. At this high price tag, we need justification proving that it's worth it. Without that, it's just a supplement that over promises and under delivers.
The Bottom Line – Does Seanol Work?
So, are you ready for the final word on this one? We like the all-natural ingredients in Seanol and that some customers have positive things to say about the benefits, but without published research proving that it is worth the higher price tag and offers weight-loss results, we're not sold on recommending the product. We're also concerned about the chance that it could contain lead and the prior run-ins with the FDA.
If you'd like a safe, proven way to lose weight, we suggest you go with a supplement that backs up its weight-loss claims with unbiased clinical studies and published scientific papers. It's important to find one that does not come with the risk of health concerns.
Among the best products we've seen in 2016 is one called Leptigen. This supplement contains a proprietary blend of just four ingredients. These have been proven to help boost metabolism and increase fat loss, making achieving long-term weight-loss goals a reality. Reviews and comments online are positive with most customers seeing great results and we can't find anything linking it to negative side effects.
Also, Leptigen is currently being made available in a Special Trial Offer, which is a sign that the makers of are confident that their product will help you reach your weight-loss goals.