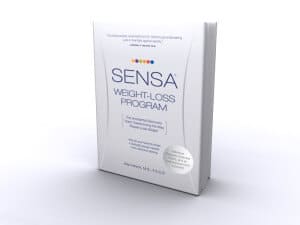 Sensa isn't your grandmother's diet product. Our in-depth review put the spotlight on the ingredients, side effects, clinical research and customer service quality. Additionally, we scrutinized hundreds of user comments and forum posts. Then, we summarized and refined to give you the info you need.
What is Sensa?
First off, Sensa ingredients are maltodextrin, tricalcium phosphate, silica and flavoring. The system promotes weight-loss by suppressing appetite. You simply sprinkle it on your food prior to eating. One of the benefits is that you can use it on sweet or savory foods.
Sensa was created by Dr. Alan Hirsh and hit the shelves in 2008. The supplement is no longer sold on the official website. We found the book detailing the program being sold through trusted retailers. We like that it's easy to follow and that it appeared to be affordable, but read on…
Lack of Results – "No Weight-Loss?"
The first concern relating to Sensa ingredients was the lack of results. "The premise of the program was to sprinkle flakes on your food and you would lose weight," said our Research Editor. "Unfortunately, not everyone noticed results."
One customer said, "I tried this according to the instructions and I was still just as hungry. It did absolutely NOTHING."
"I started taking Sensa 3 weeks ago. I work out religiously every day for 1-2 hours doing the elliptical, riding the bike and Pilates. I have gained 3 lbs in 3 weeks," revealed another.
Although some users didn't see any changes, we found some that reported positive results.
"From the 2nd day I could tell the difference. I wasn't hungry, had no cravings, in fact, I didn't even think about food or eating," stated a dieter.
Scroll below for one of the best products we've seen over the last year.
Side Effects – "Not the Good Kind!"
We were surprised by the results after searching for Sensa side effects. "Although there is no mention of specific side effects in the literature that came with the product, I experienced (highly acidic and burning) diarrhea when I used the amount recommended," said a customer.
"I was in the 3rd week of using Sensa and started to experience really bad head aches that lasted all day," stated another.
Side effects are rare, so we found some dieters that didn't experience negative reactions. "I had no side effects whatsoever, except that I lost my taste for sweets," reported a user.
"I have had minimal side effects. I had an unexplained sore belly for a couple days but it has passed so I'm not convinced it was Sensa," commented a consumer.
We've research supplements for  years and have found that when any part of a product is deemed concerning, such as being the cause of negative reactions, the chances of long-term success is reduced. It may be time to think of an alternative if Sensa is the reason you're noticing adverse reactions.
The Science – "Following the Research!"
The literature for Sensa was strainght forward. You'll sprinkle the flakes on your food, you'd become full and possibly lose weight. We at DietSpotlight wanted to know how, so we followed the research. There are studies relating to maltodextrin. But, the findings don't show the link between this ingredient and weight-loss. In fact, there's no solid science proving this supplement is effective. Science-based facts are critical to the review process, but when there's no evidence to back claims, we raise the red flag.
The Bottom Line – Does Sensa Work?
So, what are our thoughts on Sensa? Well, we like that it was simple to use and was affordable, but the lack of research connecting the ingredients to weight-loss leaves us skeptical about giving this one the green light. Also, we're concerned about customer reviews talking about not losing weight and negative side effects.
You want to lose weight and we're here to help. That's why we suggest going with a supplement packing ingredients backed by science, not connected to harmful side effects and supported by positive customer comments.
Among the best products we've seen in 2016 is one called Leptigen. This supplement contains four clinically-tested ingredients, promoting weight-loss by helping to increase fat loss and accelerate metabolism. There's no chatter about harmful side effects, but dieters are talking about seeing excellent results.
As an excellent sign of confidence in their supplement, the makers of Leptigen are offering customers a Special Trial Offer.