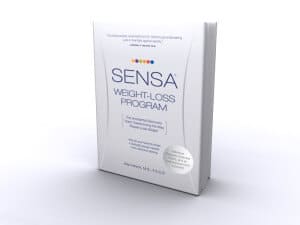 Sensa isn't your grandmother's diet product. So we dug deep and created a comprehensive review, examining the ingredients, side effects, customer care and clinical studies. Plus we scrutinized all sorts of dieter and user comments from around the web. Finally, we compressed all of the facts and feedback we found to give you the bottom line.
What You Need To Know
To start, Sensa is a weight-loss system that was created by Dr. Alan Hirsh. This program involves a shaker product that is sprinkled on food before you eat each meal. It is claimed to help suppress your appetite so you eat less food. However, it is not supposed to change the taste of food. There are actually two different shakers, one sweet and one salty. This allows dieters to use on both sweet and savory foods. The ingredients in this product are Maltodextrin, Tricalcium Phosphate, Silica, Soy, Milk, Natural Flavors and Artificial Flavors.
From what we discovered online, Sensa was released in 2008. This weight-loss system is suitable for people of all body types and the shakers are easy to take with you anywhere, but read on…
Class Action Lawsuit – "Something to Think About?"
The first, and maybe most important, issue is with legal action against the company. According to our Research Editor, "There was a class action lawsuit filed against Sensa in 2011. Apparently the weight-loss claims for these "magic crystals" are not supported by any scientific proof."
One customer said, "This is a rip off. I tried this according to the instructions and I was still just as hungry. It did absolutely NOTHING and when you call to get a number to return it, they took 25 minutes to answer."
"I started taking Sensa 3 weeks ago. I work out religiously every day for 1-2 hours doing the elliptical, riding the bike and Pilates. I have gained 3 lbs in 3 weeks," revealed another user.
Scroll below for one of the best products we've seen over the last year.
Low Amazon Rating!
The Amazon star rating for Sensa is only 1.8 out of 5, which is quite low. One customer commented, "I ordered the product and paid the $89 at that time. Two months have passed and I have gradually gained 8 lbs."
Another user stated, "Even though advertisements state that the Sensa product is odorless and tasteless, it affects the taste of food. I also experienced stomach upset with the product. Most disappointing however, I actually gained weight while using the product as instructed."
According to our intensive research, if there is some particular aspect of a product or diet program that is quite troublesome (class action lawsuit, low Amazon rating, high cost) the probability of real weight-loss results for the long term is low. This means if Sensa is rated poorly by a lot of customers, this could be a big problem.
What About Solid Science?
Sadly there is no solid scientific research to support the weight-loss claims made by Dr. Alan Hirsh regarding Sensa. This is unfortunate because we at DietSpotlight need to see some documented science that supports Sensa or else we just see a big red flag.
The Bottom Line – Does Sensa Work?
Now the moment you've been waiting for: our bottom line on Sensa. Well, we like that the product is for all dieters and it can be taken anywhere and used on any foods. On the other hand, we have some issues because it's not backed by any real science. Furthermore, we're concerned about the class action lawsuit and the low Amazon customer rating for the Sensa weight-loss program.
If you'd like to drop more weight, then we encourage you to find a weight-loss program or product that is clinically tested, is rated well by customers and is not the subject of a class action lawsuit.
Among the best products we've seen in 2016 is one called Leptigen. This supplement contains four key ingredients, which have been clinically tested and shown to potentially help increase fat loss and elevate metabolism. We can't find any complaints of unpleasant side effects and dieter feedback around the web shows people are seeing great results.
The makers of Leptigen are so satisfied with their product they're offering a Special Trial Offer, which is a good sign.