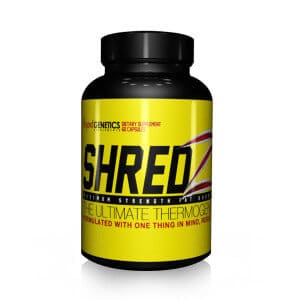 Buzz and controversy seem to swirl around Shredz, so we decided to cut through the hype and write one of our detailed reviews. We looked at ingredients, side effects, clinical research and customer-service quality. Plus we read hundreds of user comments and reviews from around the web. We then summarized and condensed to give you the info you need.
EDITOR'S TIP:
Substitute Shredz with a proven fat burner such as
Leptigen
for better results.
What You Need to Know
First off, let's quickly get you the basic info. Shredz is a fat-burning pill that comes in two varieties – men's and women's. Both of the supplements contain common ingredients like caffeine, synephrine and green tea extract. If you are taking Shredz for fat burning, you take two capsules a day. With 30 servings per container, you get one month for $49.99. If you are using the supplement as a toner, you take three capsules a day. That reduces the time one bottle will last to 20 days. That means you'll spend more like $75 a month.
The company claims the staff has decades of experience, but there is no mention of how long Shredz has been on the market. Many of the ingredients are commonly used in weight-loss products and the product is offered on the official website. The business has not been accredited by the Better Business Bureau, but it does have a decent BBB rating. There are some positive reviews on forums.
Side Effects – "Tough"
"Shredz is packed with caffeine and green tea extract. Clinical studies proven both can work to increase metabolism – when taken in beneficial amounts," claims of Research Editor. "However, Synephrine is a concern, especially when taken with caffeine. Based on consumer reviews, the side effects associated with Shredz may not be what dieters are looking for."
"Felt good and energized for the first 30 minutes and thought that the jittery/heart pounding feeling would go away after a big workout because it says it won't make you jittery…it didn't…and then world's worst stomach ache came on…wouldn't wish the never ending stomach pain and nausea on anyone," complains a dieter.
"I was very excited about this product. Unfortunately, after taking just one pill my heart was racing and my blood pressure skyrocketed. I felt like I was going to pass out," says another. "Horrible it gave my terrible shakes and nausea," reports yet another dieter.
Scroll below for one of the best products we've seen in 2015.
Professionalism and Research – Not Really
When we looked for the Shredz company headquarters we were surprised to find it in a large building shared with a software company and a forwarding company. There doesn't seem to be a place for research or customer service. Speaking of customer service, you'll wait on hold for quite a while before an agent picks up the call. The agent was friendly, but we did not like waiting in excess of five minutes.
Customers report having poor experiences with the customer service department. "I wrote to the company to ask for assistance but no one responded," reports a Shredz customer. "Do not order from the Shredz website. Worst customer service ever," says a dieter. You cannot return your Shredz order unless the bottle is unopened. "I wish I [could] refund this product back and at [least] get… half my money back," complains a customer.
In our experience reviewing diet products, if there are significant issues such as side effects or poor customer service, we find the likelihood of long-term success is slim. With reported negative side effects and poor customer service, Shredz may cause more problems than benefits.
The Science
There is some science backing up caffeine and green tea as strong weight loss ingredients. But there is also research that reports negative side effects associated with synephrine. According to the Texas Heart Institute Journal synephrine can cause, "shortness of breath, chest pain and anxiousness." At DietSpotlight we believe in clinical research that supports weight loss ingredients. When clinical research warns dieters about side effects, that is cause for a red flag.
The Bottom Line
We're always interested in looking deeper into products like Shredz. We did see some positive comments and some of the ingredients are supported with clinical evidence, but we cannot recommend a supplement that causes side effects like chest pain and increased heart rate.
For dieters who want to melt away the pounds, DietSpotlight suggests trying out a product with multiple safe ingredients that are backed by published scientific research.
Among the best products we've seen in 2015 is one called Leptigen. Its formula is a proprietary blend of four ingredients, which have been shown in published clinical research to help accelerate fat loss and boost metabolism. We can't find any talk of any harmful side effects and comments around the web indicate people are seeing great results.
Also, the makers of Leptigen are so confident in their product they're offering a special trial offer, which is a good sign.