Updated: 08/25/2015 - Sponsored by Leptigen
Skinny Fiber Review – Does This Fiber Supplement Work?
Are high price and common ingredients deal breakers?
PUBLISHED: 07/16/2015 | BY: TORY GRAY, SENIOR REVIEWER
Editor
's Review:
4.3
/ 5.0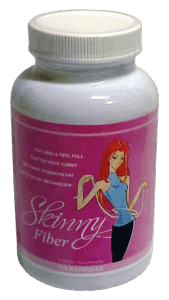 Not surprisingly, Skinny Fiber is all about using fiber to increase weight loss. We were interested in how this supplement differed from a traditional fiber supplement so we did one of our 360-degree reviews, examining ingredients, side effects, clinical research and customer-service quality. Plus we read hundreds of user comments and reviews from around the web. We then summarized and condensed to give you the info you need.
EDITOR'S TIP:
Combine Skinny Fiber with a proven fat burner such as
Leptigen
for better results.
What You Need to Know
Skinny Fiber is a diet pill featuring glucomannan, a water-soluble fiber that is supposed to expand in the stomach to help you feel fuller and eat less. You take two capsules before lunch and dinner. One bottle contains 30 days worth of the product. You can take Skinny Fiber anywhere because pills are portable.
All of the ingredients in Skinny Fiber are natural. Many are found naturally in foods. The website offers the product and there are a few positive comments from dieters who've tried Skinny Fiber and lost weight.
Price – A Consideration?
We are concerned about the price of Skinny Fiber. "Skinny Fiber contains a good source of fiber," says our Research Editor. "There is a chance you will feel fuller after taking the supplement. The problem is that fiber is widely available for less than $5 in most stores. At $39.90 a bottle, Skinny Fiber does not sell us on why this supplement is better than other fiber supplements that cost much less."
"Not only did this not help subside my hunger, it didn't help me lose any weight. I wouldn't suggest wasting your money," according to one dieter. Another dieter suggests the same thing. "This product doesn't work. I tried it and it just made me sick. I won't try this again. Save your money."
You can scroll below for one of the best products we've seen in 2015.
Other Concerns – BBB, Customer Service & Headquarters
We are concerned about the company's poor BBB rating and lack of customer service support. We called the customer service department and were told that no representative could take our call. The recorded message suggested we send an email to the customer service department. Skinny Fiber's Better Business Bureau rating is an "F". Not a good sign.
Also, the Skinny Fiber headquarters is located smack dab in the middle of a shopping center. You can turn the corner to visit AT&T or a small bakery. We can't imagine a research facility or anyone in lab coats testing ingredients and formulas. Without research, where are the product claims coming from?
Our experience reviewing weight-loss supplements has delivered one important fact. If the product is priced too high for what it is or the company is not professional, your chances of success with the supplement are typically not high. In addition to price, BBB, headquarters and customer service are potential issues for Skinny Fiber.
If you insist on using Skinny Fiber for weight loss, consider information from the Harvard Medical School. Taking 30 grams of fiber can help you lose weight, but Skinny Fiber contains less than 1.16 grams of fiber.
The Science
Skinny Fiber does not offer research proving the supplement is more effective than common, widely available and inexpensive forms of fiber. For us at DietSpotlight, it's critical when reviewing a product to find scientific research indicating the supplement delivers results beyond those you'd experience with a much-cheaper alternative.
The Bottom Line
We are always interested in looking deeper into supplements like Skinny Fiber. We like that the company offers a supplement that can help you feel fuller, longer. However, we're not fans of the fact Skinny Fiber is priced several times higher than common fiber supplements, yet delivers the same results. We also don't like Skinny Fiber's "F" rating with the BBB.
If you're going to invest real money and time into a diet supplement, you may try one that delivers both bang for your back and excellent ingredients backed by published research.
Among the best products we've seen in 2015 is one called Leptigen. Its formula is a proprietary blend of four ingredients, which have been shown in published clinical research to help accelerate fat loss and boost metabolism. We can't find any talk of any harmful side effects and comments around the web indicate people are seeing great results.
The makers of Leptigen are so confident in their product they're offering a special trial offer, which is a good sign.
(Feel free to scroll below for our previously published full-length reviews of Skinny Fiber)
Previous Skinny Fiber Review (Updated March 18, 2014):
What You Should Know
Click Here To See Our Highest Rated Review
Skinny Fiber, sold by Skinny Body Care, is a fiber supplement that expands in the stomach to reduce hunger. According to the supplement description, the fiber expands 50 times its normal size. In addition to reducing hunger, the supplement will boost metabolism and suppress the formation of fat. This sounds like a super supplement, but chances are the ingredient list will not support these extraordinary claims.
List of Ingredients
Glucomannan, Caralluma Fimbriata and Cha de Bugre.
Product Features
Skinny Fiber is not a supplement with special ingredients known only to the manufacturer. The three ingredients in the supplement are commonly used in other weight loss supplements. Glucomannan is a water-soluble fiber. It does absorb water and expand, but there needs to be enough water in the stomach for the fiber to absorb for it to expand 50 times. There is a button for dieters to learn more about how to take the supplement, but the button only leads to a "Coming Soon!" page.
Caralluma Fimbriata is a cactus extract that reduces appetite. Sounds a lot like the Hoodia cactus, right? The supplement company claims Caralluma Fimbriata will stop hunger and block the formation of fat, but they don't bother to back up these claims with clinical research. There are clinical studies supporting the antiobesogenic effects of the ingredient, but only on the rat population. Human studies are not available.
The final ingredient is Cha de Bugre. Cha de Bugre is a Brazilian plant that contains caffeine. The caffeine levels are lower than other stimulant herbs, but the stimulating effects may be stronger than standard caffeine. The ingredient also contains acids known to improve healing.
The official website for Skinny Fiber leaves much to be desired. There is very little proven information on any of the ingredients and some of the pages are under construction. There are no testimonials for the supplement and before and after pictures of dieters losing weight on the supplement are nonexistent.
Skinny Fiber is sold through the official website, but the order page does not list a price. The consumer is told to enter shipping information, but no credit card information. The terms and conditions of the website list the price as $59.95. There is a 100% money back guarantee for 30 days following the purchase.
Advantages
Contains fiber, which may reduce hunger.
All ingredients are revealed on the official website.
Priced comparably to other fat burners.
Disadvantages
No proven weight loss ingredients.
No pricing information on the order page.
Conclusion
Skinny Fiber makes huge claims but offers no clinical research to support the ingredients. There are no ingredient amounts and many of the website pages are under construction. Dieters may want to choose a different supplement.
GD Star Rating
loading...