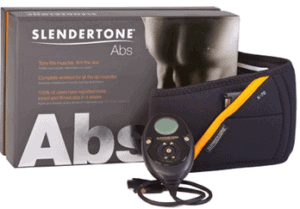 In my never-ending quest to find the best diet product, this week I reviewed Slendertone. We looked closely at the side effects, ingredients, research, and customer service. Then, we took hundreds of comments into consideration. To make it easier, we condensed and refined it to give you the bottom line.
EDITOR'S TIP:
Click here
to combine Slendertone with a proven testosterone booster such as Pronabolin for better results.
What is Slendertone?
Firstly, Slendertone is an electronic ab belt that's an older version of the Flex Belt, designed to help you work your core without ever actually working out. Ideally, it works to improve tone and shape so you look slimmer. We didn't find mention of a diet or cardio exercise.
Bio-Medical Research is the name of the company behind Slendertone. They've been around for more than 50 years – impressive. We like that there' proof it will work abdominal muscles and it's easy to use, but read on…
Price – "Expensive"
The first thing we noticed was the Slendertone price. You may spend $150 or more for the belt. "We're all for suggesting a product with clinical support, but affordability has to come into play," said our Research Editor. "If this is your first step in weight-loss, it may not be the best investment."
"Worked well for two sessions then stopped. Not sure if I got a bad one…but I am sure it was likely not worth the price," said one user.
"For a product that is approaching the $100 dollar cost, this should be better," one customer shared.
Others didn't seem to mind.
"I really like this belt," said a reviewer.
"Amazing. I will be buying another one. My husband and I share the belt but exchange our pads after each use," a user commented.
Scroll below for one of the best products we've seen over the last year.
Ineffectiveness – "Does It Really Work?"
We were worried when we saw quite a few reviewers used the product with no difference to their core. We don't expect it to give you a six pack by any means, but some progress is ideal, like the changes that happen when you use the Flex Belt.
"I don't think this has made my abs look any better," said a user.
"So disappointing. It hurts my sides and I've gotten zero results," claimed a buyer.
There were some, however, who loved their results.
"After a few weeks I'm already showing definition. Never had that before," a happy customer mentioned online.
A user also said, "With this belt my abs are tighter. I love the result and I recommend this belt who has similar issues."
Over the years, we've found it takes a small thing, like expensive price or ineffectiveness, to send customers running in the other direction. If they're going to spend a lot of money on Slendertone, they want it to be on something they know will get the job done.
The Science – "It's There"
Electrical stimulation does help the muscles contract, but likely not enough to get the same experience from a real workout. It also doesn't help you lose weight, so if there is a layer of fat over the abdominal, you may not see any changes.
The Bottom Line – Does Slendertone Work?
Is it time to clear the shelves of Slendertone? We like that there's some clinical support and if you are already relatively fit, you may notice some changes. However, we are hesitant to suggest it to those of you trying to lose weight as it won't help with calorie burn.
If you're ready to lose weight, we suggest going straight to a supplement that contains clinically tested ingredients known to help support your weight-loss efforts. For even better results, use it alongside a balanced diet and regular exercise program.
Among the best products we've seen in 2016 is one called Leptigen. It's made using only clinically tested ingredients, all of which support a healthy metabolism. And, perhaps what's even more impressive is the lack of negative comments or mentions of harmful side effects. It's safe to say users are happy with their experience and the price.
Plus, right now, you can get a Special Trial Offer straight from the manufacturer. We always like to see this kind of thing because of the confidence it shows in the product.