Updated: 10/06/2015 - Sponsored by Leptigen
Slendesta Review - Does This Diet Supplement System Work?
Are lack of results and scientific evidence deal breakers?
PUBLISHED: 09/11/2015 | BY: SUMMER BANKS, SENIOR REVIEWER
Editor
's Review:
2.6
/ 5.0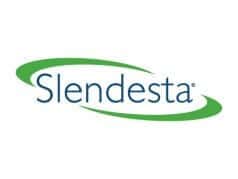 Slendesta uses white potato extract, which is an unusual extract for a diet supplement. Because of the uniqueness of this product, we did an in-depth review for readers that may not be familiar with white potato extract. We looked at the ingredients, side effects, clinical research, customer-service, and any other info we could find on this product. We also scoured the web for customer reviews and compiled what we found into this review to give you the info you need to make an informed decision.
EDITOR'S TIP:
Combine Slendesta with a proven fat burner such as
Leptigen
for better results.
What You Need to Know
Slendesta only lists one ingredient: White Potato Extract. This ingredient supposedly suppresses appetite, allowing you to feel fuller and eat less. Slendesta comes in capsule form, and is convenient enough to take anywhere, even with the busiest of lifestyles.
This product is produced by Kemin, who has been around since 1961, which is an encouraging sign. The company has a great BBB rating, the product has no stimulants so side effects are minimal, and it's available online from a variety of retailers, but read on…
Lack of Results – Our First Red Flag
Weight loss supplements are designed to help people lose weight, so when they don't deliver on their primary function, it can be a huge disappointment, and waste of time and money. "Slendesta aims to reduce appetite and minimize caloric intake," said our research editor. "But we couldn't find anyone that actually agreed that this product had an effect on their weight loss goals or calorie count."
"I feel like I just spent money on a placebo," said one user.
"I don't see this working, I'm just as hungry as ever, and am not losing any weight," said another.
Scroll below for one of the best products we've seen in 2015.
Scientific Evidence against Slendesta – Another Concern
Another issue that we took with Slendesta is the fact that there was actually scientific data against their product. Not only does the scientific study claim that there was no weight loss benefit to taking White Potato Extract when trying to lose weight, but they even performed a double blind study and put Slendesta up against a placebo. The placebo group ended up losing more weight than the group taking Slendesta, suggesting that Slendesta doesn't even work as well as a Placebo. "After seeing no results, I researched online and found a study proving that this doesn't work," said one disappointed review.
"I bought this product and now I found out that there's no scientific evidence that white potato extract helps suppress appetite," said another. Most people coupled this with diet and exercise, but the primary way this helps people lose weight is through the placebo effect. "I lost 5 pounds in one month, I don't care if it's the placebo effect, this worked for me," said one 3 ½-star review.
Our research has proven that whenever a negative aspect of a diet or exercise program exists (lack of results, scientific data against a products claims, taste, cost, etc.) the likelihood of meeting your weight loss goals and keeping the weight off is slim. If Slendesta really doesn't work as a weight loss supplement, this could make it nearly impossible to lose weight with this product and keep it off permanently.
The Science
The most disappointing thing about Slendesta isn't the lack of published scientific studies about their ingredient; it's the plethora of studies directly refuting their weight loss claims and the effectiveness of their products. According to numerous clinical trials, Slendesta provides weight loss by way of the placebo effect. This is the best case scenario with this product: results on par with a placebo. In some studies, the placebo group even outperformed the group taking Slendesta. At DietSpotlight we always look for published data about a product, but when the unbiased studies prove a product's ineffectiveness, we see major red flags and reason to avoid that product.
The Bottom Line
We like that the makers of Slendesta have been around for over 50 years, so we were excited about this review, but the scientific data directly refuting Slendesta's weight loss claims mean that we cannot pass this product on as one of our recommended weight loss supplements. We're also concerned about the lack of results that people see, the missing information about additional ingredients, and the lack of testimonials on the company website.
If you're interested in finding a safe and effective way to lose weight, we suggest you find a supplement that offers proven weight loss with scientific proof that it works. A product with published trials proving that it's more effective than a placebo is a great place to start when looking for a weight loss product that offers safe weight loss.
One of our favorite products that we've seen so far in 2015 is a product called Leptigen. This revolutionary product contains a proprietary blend of four ingredients that have been proven in scientific trials to speed weight loss by boosting metabolism and targeting fat loss. There have also been no links between Leptigen and negative side effects, which is a great sign that this is a safe way to see steady weight loss.
The makers of Leptigen are currently offering a special trial offer, which is a sign that they're confident that you'll see quick results.